In the recent past, technology has emerged as a critical driving force sustaining several businesses across the length and breadth of various industries. The insurance sector is no exception to this trend. As the role of technology in the insurance industry becomes more prominent, it fosters a culture of innovation based on technological advancements. As a result, we are witnessing the integration of cutting-edge technology with insurance workflows and business processes across the value chain at an accelerated rate. The resulting amalgamation has led to the rise of even more emerging technologies in the insurance industry to drive the much needed digital transformation even faster.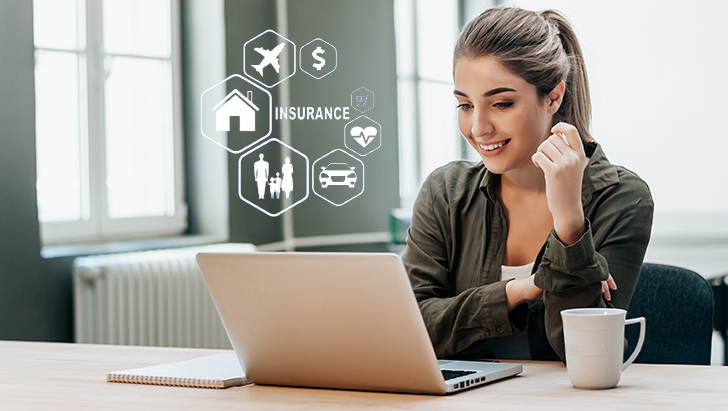 Within such a self-sustaining and flourishing ecosystem, here's a look at certain new-age insurance technologies that are shaping the future of the industry.
Robo-Advisory Assistants
Robo-advisory tools like digital assistants are gaining prominence as most policyholders now prefer a DIY or self-service approach to figuring out the best customized option available to them. Powered by cutting-edge technology like Artificial Intelligence (AI) and Machine Learning (ML), robo-advisory assistants or cognitive web chats can expertly handle first-stage customer interaction for:
Capturing customer information efficiently
Understanding their needs, preferences, risk tolerance, etc.
Proposing an insurance product based on different factors
Opening customer account or profile and recording product selection
Some can even go a step ahead and use intelligent algorithms to personalize existing policies. Once such preliminary interactions prove to be successful, they can be effortlessly handed over to a human agent who can then take over and fine-tune the policy even more. Robo-advisory assistants can also help with periodic reviews of the policy, managing and monitoring it, triggering renewals and collecting premiums from time to time. It's a perfect example of human-assisted technology to help insurance businesses capitalize on intelligent omni-channel customer conversations to improve their revenue and customer experience.
Predictive Analytics
Predictive Analytics in insurance relies on data and data patterns to anticipate the likelihood of an event occurring. From this definition, it is evident that predictive analytics will be instrumental in eliminating all the guesswork involved to fuel well-rounded, data-driven decisions. As such, it has led technology innovation in the insurance industry in the following segments:
Policy optimization and rate setting
Predicting customer risks
Estimating the probability of high-value losses
Detecting and mitigating fraud
Triaging and prioritizing claims
Personalizing the CX by predicting customer intent
Hence, businesses must embrace this latest technology in the insurance industry to streamline processes, inject efficiency, enhance customer experience, improve employee satisfaction, and increase overall profitability.
Internet of Everything (IoE)
The Internet of Things (IoT) has warmed up the insurance industry and paved the way for a greater advancement – the Internet of Everything (IoE). While IoT focuses primarily on the interconnectivity of devices, IoE expands on it by infusing this network with business intelligence. As a result, the world of insurance would become more tightly knit and conducive to smart automation. In simpler words, a lot of activities – from automatically identifying FNOL to the settlement of claims can be automated with minimal human intervention. Such an approach would not only improve the customer experience but would also prove to be profitable to insurance businesses by ramping up efficiency, cutting costs, and mitigating fraud.
Telematics
Telematics are new-age insurance technologies that are causing a tectonic shift in automobile and property and casualty (P&C) insurance especially in the general insurance segment. These are essentially sensors that can communicate the state and the health of any subject including vehicle, machine, or equipment. The historical data acts as a benchmark to measure usage and performance in real time. At the same time, the data collected so far can also be used to predict any future repair or maintenance requirements before any major breakdown. By doing so, one can effectively increase the lifespan of such assets. On the other hand, it can be used to detect the cause of a breakdown and its corresponding impact.
Most importantly, all of this can be done off-site, which means that you can closely track all the vitals even remotely. A personalized premium plan can also be developed based on the usage pattern.
Optical Character Recognition
Documentation is one of the most cumbersome parts of insurance. Whether it is capturing customer information while preparing a policy or collecting claims-related details – agents have to deal with tons of paperwork. Although digitization is making the process easier, the existing data may still be present in the form of files and written/printed material. Fortunately, Optical Character Recognition (OCR) has welcomed technology trends in the insurance industry to simplify the modernization of paper-based legacy systems. As the name indicates, OCR translates scanned images of textual (printed or typewritten) content into machine-encoded text. The process makes the data more searchable, scannable, and visible. Intelligent Character Recognition (ICR) is a refined version of OCR that can even identify handwritten content with higher accuracy.
Hybrid Cloud Technology
The digital transformation of insurance paired with the inherently distributed nature of the industry has made cloud technology the backbone of new-age insurance. Almost every digital innovation in the insurance industry stems from cloud-backed solutions. Resultantly, most insurance businesses now use cloud-based applications and software solutions for a variety of functions – from marketing to policy management to claims processing. Such a move promises a host of advantages like cost-efficiency, business scalability, increased scope for integrations, remote accessibility, collaborative working, etc. Apart from these benefits, the sheer ease of using professionally developed and managed solutions without the liability of maintaining them makes cloud technology a far more lucrative option than on-premise assets. Nowadays, hybrid cloud approaches are widespread because almost no one today relies entirely on the public cloud. Insurers are combining a public and private cloud environment, like an on-premises data center, and a public cloud computing environment, like Google Cloud. This new-age technology has provided insurers with more effective application governance, improved performance and reduced latency, flexible operations and Improved ROI.
Leverage InsuranceNXT and Harness the Power of New-Age Technologies to Drive Growth
Conclusion
Above are six of the most critical emerging technologies in the insurance industry. They may be at different stages of adoption and maturity within the insurance sector but they are all serving a common goal – making the industry more customer-friendly while staying profitable. The trick lies in understanding what aligns with your business objectives and readiness. For instance, businesses drowning in obsolete paperwork can get back on their feet using OCR/ICR software solutions. On the other hand, a business struggling on the customer service front can deploy a chatbot to engage customers and resolve their concerns expeditiously. Some new-age insurance technology solutions come equipped with a combination of different technologies, making them mission-critical to staying resilient.
Simply put, find out what works for you and stick to it.
Case in Focus
A leading US-based claims adjuster was facing revenue losing challenges including inaccurate loss estimation reports, human-errors in data, lower productivity and inefficient claims adjustment process. Damco helped the client detect errors in their loss reports in minutes leveraging Artificial Intelligence (AI)-based solutions. Tools like OCR, ML, and technologies like Pytorch and Fast AI were used in the implementation process. The client was able to improve its credibility in the competitive adjustment market with faster time to market and accurate report submissions to insurance carriers.
Read the case study here.