Strategic Salesforce® Partner with Technology Expertise across the Salesforce® Ecosystem
Salesforce can help you transform how your company operates, streamline the way you connect with prospects and customers, automate and track your sales, service, and marketing activities, optimize employee collaboration, and build custom applications to fit business needs. When it comes to getting the most out of Salesforce, experience matters and you need a reliable Salesforce partner.
As a leading Salesforce partners in USA and India, we have a skilled team of certified Salesforce consultants, wide range of domain expertise, more than 400 person years of experience, and technical excellence in the numerous areas of Salesforce including the development of Enterprise Apps on Force.com, CRM Migration, Implementation, Maintenance, Integration, and Consulting. We bring a proven, real-world perspective of how businesses can use the Salesforce platform for improving growth and productivity. As a true technology partner and one of the leading Salesforce development companies, we are committed to helping you maximize your Salesforce investments.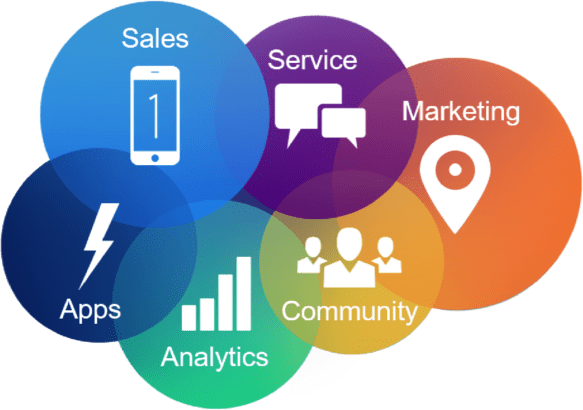 Damco can handle complex Salesforce work for various industries. As one of the renowned global Salesforce Partners in USA, our expertise spans Salesforce Cloud, Service Cloud, Community Cloud, Commerce Cloud, and App Cloud. We've developed a robust consulting methodology over the course of numerous successful Salesforce implementations to deploy successful solutions in a short span of time. We understand that your reputation is on the line when selecting a Salesforce partner, Damco Solutions is one of the leading Salesforce Companies in USA focused on helping our clients outspace their competition. We are committed to helping you maximize your Salesforce investments.
We are preferred
Salesforce® Partner
of businesses worldwide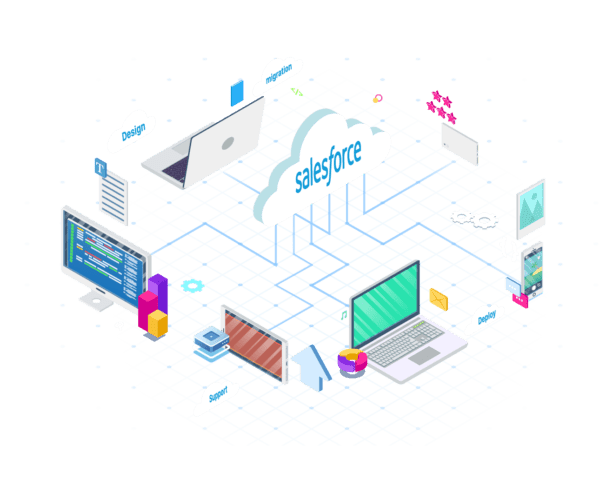 Salesforce Gold Partner, 30+ Salesforce Consultants, 400+ Person Years of Experience in Salesforce
Certified Salesforce professionals skilled in managing complex integrations using REST, SOAP, Metadata APIs, and various ETL tools. They hold multiple Salesforce certification credentials – App Builder, Platform Developer, Administrator, and Sales Cloud Consultant to name a few.
Technical Competence in Sales Cloud, Service Cloud, Marketing Cloud (ExactTarget), Communities, Pardot, Integrations, Lightning Apps, Lightning Components, Apex and VisualForce, Force.com, Salesforce1, Reports and Dashboards, Security Model, Automation, and Analytics.
Successfully created multiple AppExchange products-OptimaPro, TimeSlatePro, PostObjectPro, AddressFinder- which are live on AppExchange and used by over 2000 companies today.
Salesforce global partner with resource availability in USA, UK, Luxembourg, and India.
Inside Our Salesforce® Services
Tailored CRM solutions and strategy to keep pace with your changing business needs.
Leverage the power of Custom applications with tailored Salesforce solutions to suit your requirements.
Streamline workflow, reduce cost, integrate and control information assets with Salesforce Data Integration services.
Boost productivity, increase revenue and enhance the visibility of your business with Salesforce Cloud Services.
Proactive monitoring, maintenance, and Salesforce support services to ensure high end-user adoption.
Get in-depth insights into various metrics that impact your productivity with Salesforce Analytics Cloud.
Hire Certified Salesforce® Developers
Damco was recommended to us as a competent and reliable supplier of the expertise we required.

Their task was to re-build an existing online customer feedback and reporting platform which we had successfully introduced into the automotive sector. The team which Damco assembled delivered on the initial project to our complete satisfaction, and have since become a valued and strategic partner with whom we continue to work closely with on a daily basis to launch new products and refine existing platforms."
A year ago when we were looking to scale our technology engineering team, DAMCO reached out to us and provided an excellent solution.

They were able to quickly understand the technology staffing needs and provided verified and knowledgeable resources within a short amount of time. I have personally visited their campus and was pleased to see that they have every amenity that one would expect from an IT service provider. Their associates are very professional and knowledgeable in their area of expertise. I would recommend DAMCO for any organization looking to grow with the right technology teams.
Navigating the Salesforce 'Maze of Twisty Passages' – Working with Damco is an Absolute Delight!

They may be several thousand miles away, in a different time zone – but working with my Damco team has been one the best experiences I have encountered in working with 'solutions partners' over the last 30+ years! Working for a small company and with a limited budget – we experienced the pains of working with a couple of the more illustrious (and very expensive!) UK based Salesforce Consultant partners… Not with the Damco Team!"