The insurance industry in the Middle East has witnessed a renaissance in recent years. The sector is growing exponentially thanks to the region's expanding economy, rampant urbanization, increasing tech-savvy population who're demanding digital-first products, and growing awareness surrounding risk management. Countries like the United Arab Emirates (UAE), Saudi Arabia, and Qatar have established themselves as emerging insurance markets in the Middle East.
However, this thriving industry faces intense competition that can make it difficult for insurance companies to stand out or acquire a considerable market share. Fortunately, a lot of these concerns can be addressed by contesting in the field of customer experience.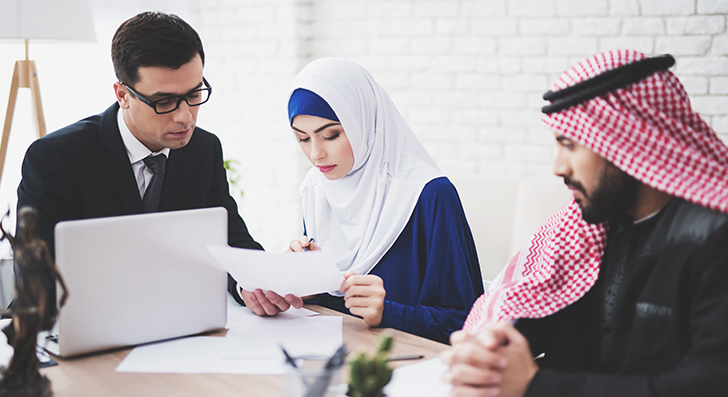 Here is a detailed look at how Middle East-based insurance companies can grow their business by bolstering customer experience in the insurance industry.
A Commentary on the Impact of Customer Experience on Business Growth
Before one gets to how Middle East-based insurance companies should focus on improving customer service, one needs to understand the gravity of such an endeavor. To put things in perspective, here's an overview of how customer experience can be a catalyst for business growth:
In short, customer experience lays the groundwork for long-term advocacy, deeper relationships, and sustainable operations. As such, meaningful and value-driven customer experiences are no longer an option for Middle East-based insurers. By making way for a digital shift, Middle East insurers can transform customer experiences.
How Can Middle Eastern Insurers Grow Their Business by Enhancing Customer Experience?
Now that the 'why' is clear, it is time to deep dive into the 'how.' Here are some actionable ways in which Middle East-based insurance companies can enrich their customer experience:
1. Develop a Customer-First Mindset
Insurance companies cannot make an overnight decision to turn customer-centric. It has to originate at the top level and trickle down throughout the organization. Such a change should seep into the work culture, with every employee developing the spirit to aid, assist, and service customers to the best of their abilities. Moreover, a customer-first mindset needs to be codified, documented, and incorporated within the company's mission and vision statements so that these principles are not lost on the employees.
2. Leverage Digital Technologies
The success of the above customer experience enhancement strategies would only materialize if it rests on the foundation of technology. Whether it is system consolidation or personalization or value-centric communication or self-servicing – everything revolves around technology. As such, Middle East-based insurance companies should commence such an operation by developing a digital transformation roadmap. A planned approach to upgrading legacy systems and replacing them with modern insurance technologies will uplift customer experiences.
3. Diversify Product Offerings
The Middle East Insurance Companies stand at an interesting crossroads where they can leverage technology to diversify and expand their product offerings. For starters, it can be critical to personalizing the product suite, with a unique policy for every customer. At the same time, Middle Eastern insurers can branch into new insurance verticals like life, health, property, and even specialized sector like cyber insurance. Finally, they can even offer add-on services that complement such products or bundles that cover multi-line insurance!
4. Offer Personalized Products & Services
Product and service personalization is severely missing in the insurance sector. In contrast, there are diverse ways to embed personalization in insurance. Middle Eastern insurers can resort to personalized messaging and offers, targeted pricing, or even requirement-led product bundling. Seeing as how 88% of customers attest to the importance of personalization and 95% are willing to share their data for it, data-driven personalization should not come as a challenge for insurers.
5. Target Emerging Markets and Focus on Customer Awareness
Explore opportunities in emerging markets within the Middle East region, where insurance penetration may be relatively low but has potential for growth. While the middle east market is behind the developed insurance markets such as North America and Europe, the insurance companies should make special efforts to conduct awareness campaigns to educate potential customers about the benefits of insurance and the importance of risk management.
Unlock the Power of Customized Insurance Software Solutions
6. Improve Communication With Localized Marketing
Tailor marketing efforts to suit the cultural preferences and languages of different countries within the Middle East to resonate better with the local population. Speaking of localized messaging, insurers can also up the customer experience through consistent, personalized and value-loaded communication. Persistent communication will foster a transparent environment where policyholders can stay in the loop. It will also present the business as accessible and approachable, especially when the communication works both ways and is omnichannel. Of course, the trick here lies in offering value to the customers as only then will they appreciate any kind of outreach, updates, or notifications.
7. Extend Self-Servicing Options
Self-servicing transfers the power into the customer's hands. So, what can be a better way to improve customer experience than setting up self-servicing portals or kiosks? Whether it is reviewing policy details, making policy changes, paying premiums, submitting claims, or renewing the policy, it will cater to all these activities and boost customer experience. Tech-savvy insurance companies can also explore the possibility of leveraging conversational AI in the form of interactive chatbots and other customer experience solutions that can engage and assist customers.
8. Seek & Incorporate Feedback
Considering that the competition in the Middle East insurance market is intensifying, insurers can position themselves at a vantage point by listening to what customers have to say about them. After all, customer reviews and feedback are the greatest windows into the customer experience at the grassroots level. Such first-person insights will allow companies to optimize and enhance the customer experience in the precise manner their customers expect to be serviced. Proactive responses to customer feedback also improve customer relationships.
Closing Thoughts
Insurers in the Middle East can leverage rich customer experiences to drive customer satisfaction, loyalty, and continued business. In other words, customer experience is the stepping stone for a sustainable, growth-oriented business. As such, insurers should prioritize building rich, meaningful, and engaging customer experiences to reward and delight customers that have chosen them to do business. Such efforts will pave the way for making your insurance company a lucrative and credible brand.
Case in Focus
Data accessibility is one of the greatest obstacles for insurers looking to improve customer experience in the insurance industry. The same was the case with a full-service insurance company that had been operational for nearly 150 years. When they came to us with this issue, we started developing a multi-faceted solution that started with system consolidation and data flow optimization. Such interventions left a positive impact on the customer experience, which accelerated the insurance company's growth. You can read about this case study to know more.