Digital transformation has been the undisputed buzzword for quite a while now. Everyone, from C-suite executives to entry-level employees, has heard about it and may have even participated enthusiastically in the organizational venture to make it happen. The digital transformation wave has caught on to such an extent that even industries that did not enjoy a high degree of digital maturity have taken the leap of faith to reap its benefits. The same can be said about digital transformation in the insurance industry.
Digital transformation in insurance has offered a shot in the arm for the sector. It has not only helped insurers overcome any underlying challenges but unlocked new avenues to improve products and services and make it more customer-oriented. If you are still on the fence as to whether it is viable, here's everything you need to know about insurance company digital transformation.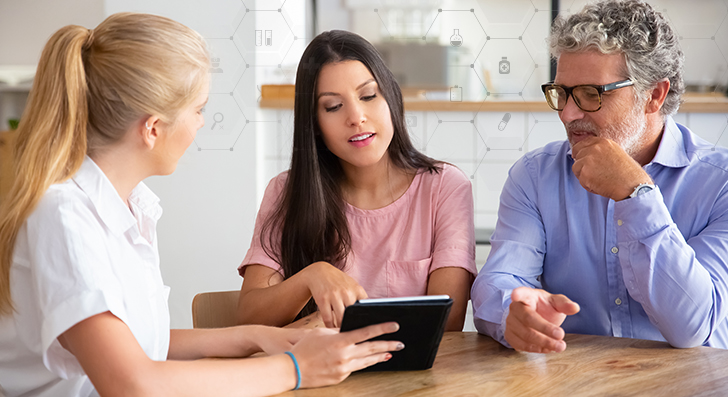 In this blog, we'll explore how hyperautomation can help P&C insurers blaze an intelligent path to higher efficiency, profitable operations, and solid decision-making.
Notable Insurance Digital Transformation Trends in 2023 and Beyond
First, let's begin by understanding the current market conditions that establish a conducive environment for insurance industry digital transformation: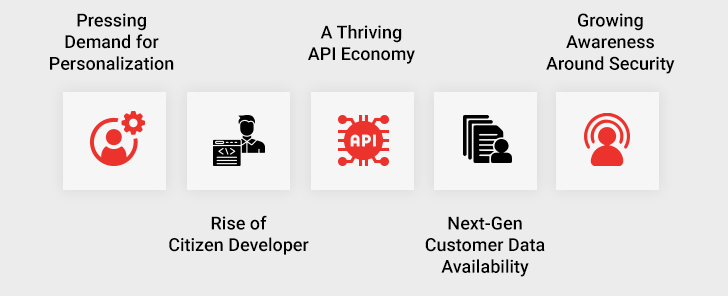 1. Pressing Demand for Personalization
There is no contesting the fact that customers want personalization – be it in marketing or product. With digital transformation in the insurance industry, it is possible to implement end-to-end service and product personalization. Tools like Customer Relationship Management (CRM) platforms allow insurers to gain a 360-degree view of a prospect and tailor campaigns, strategies, and even policies based on their profile. By making allowances for customer preferences, businesses would be laying the foundation for meaningful customer relationships.
2. Rise of the Citizen Developer
Insurers have been hesitant to embrace digitalization due to the hassles of selecting and retaining an in-house development team to build customized solutions. Not to mention that the timeline for the delivery of such products is stretched out to the point where it may border obsolescence. Low-code and no-code platforms have made it easier for laypersons to expeditiously develop niche digital solutions. As such, your existing team members can be an asset to developing practical and usable solutions that can replace legacy systems.
3. A Thriving API Economy
The insurance sector is highly segmented with various stakeholders using digital tools that fit their tech stack. As such, gaining familiarity with disparate ecosystems can be a challenge presented by insurance digital transformation. With Application Programming Interface (API), it is possible to integrate different products and services and patch together a digital universe that operates seamlessly. By connecting disparate systems together, API acts as the glue that holds the entire digitalized vertical of the insurance industry together.
4. Next-Gen Customer Data Availability
Data is the fuel that drives the insurance industry. Everything – from customer name to policy number is data, which comes in handy while processing customer requests. With digitalization, insurers can work intelligently with data to make optimum use of the resources and assets available. At the same time, the influx of first-party customer data, be it through their social media or smart wearable devices, makes it easier to enhance products and services. The customer data if consolidated across multiple lines of business can be an excellent answer to improve cross-sell and up-sell opportunities to accelerate revenue growth.
5. Growing Awareness Around Security
Insurance is a highly regulated industry. As such, failure to comply with the extant laws or guidelines could hamper the insurance business to a great extent. At the same time, any lapses will attract hefty fines and public distrust. Digital transformation for insurance companies could play a crucial role in safeguarding the interests of insurance companies and policyholders by setting up a comprehensive system of checks and balances. From identity verification to traceable auditing, digitalization can ensure compliance on all fronts.
Benefits of Digital Transformation in Insurance
Here's a quick dive into the benefits of digital transformation in insurance:
Accurate risk assessment and management
Faster decision-making
Higher efficiency and productivity across functions
Product/service personalization to meet customer demand
Business scalability and agility to become future-ready
Intelligent automation to improve efficiencies across functions
Robust data security, governance and privacy management
Increased revenue potential
Lower operational costs
Intelligent analytics and reporting for more accurate insight-based decision making
Long-term customer retention through enhanced customer experience
When one considers the above advantages as a whole, it is evident that digital transformation for insurance companies attracts the ultimate triple prize – loyal and satisfied customers, higher profit margins, and accelerated yet sustainable growth.
Embark on your Digital Transformation Journey
Steps for Digital Transformation in Insurance Industry
Irrespective of lines of businesses you're in within the P&C insurance segment, the digital transformation journey is broadly the same and involves the following key steps:
I. Conduct a pan-organization review of the existing processes, deficiencies, and tech stacks.
II. Identify gaps that are in urgent need of fixing and prioritize them based on their impact. While doing so, also identify areas/tasks that can be automated.
III. Create a digital transformation roadmap with milestones that details the end goal, the stakeholders, anticipated outcomes, etc. Circulate it across the organization to sensitize everyone and bring them on board.
IV. Make data hygiene a priority and implement a solid data management system that focuses on data centralization for consistency.
V. Prepare for migration to a cloud-first infrastructure and gradually replace legacy systems with digital alternatives.
VI. Train and sensitize employees, agents, brokers, etc., and motivate them to adopt digital solutions.
VII. Analyze, assess, and monitor to further streamline processes, workflows, products, and services.
Thus, you have covered People, Process, and Technology – the three primary pillars of digital technology. Do note that these steps are merely indicative and the overall digital transformation in insurance strategy would vary from business to business.
Closing Thoughts
Insurance industry digital transformation is no longer just a nice-to-have feature or a competitive differentiator, it is the medium to make your business future-ready. With the insurance digital transformation trends pointing in the favorable direction and the ever-increasing InsureTech options available, now is an excellent time to take the plunge and get started with your digital transformation journey.
Schedule a consultation with an expert from Damco and you will have a reliable tech partner, mentor, and enabler to accompany you along the way!
Case in Focus
A multi-line insurer based out of the US was on a mission to modernize its core systems. They faced issues with the management of in-house legacy systems, unstructured and decentralized data from disparate sources, and multiple modeling systems for core processes, to name a few. The company decided to seek assistance from Damco for the digital transformation journey. After understanding the client's expectations, Damco was successful in modernizing the core systems and weaving everything together on a centralized platform. You can read all about this success story on our website.