Insurance customers don't want to deal with a long process to get a new insurance quote from an insurer or having to interact with one service agent after another relaying the same details over again for their claims. Insurance companies who want to outperform in the market must make better use of technology to simplify and improve the customer journey from quote production to policy administration to claims management.
Let's take a look at how insurance companies can leverage digital solutions like CRM to make customer experience (CX) a competitive differentiator.
Role of CRM in Curating the Policyholder's Experience
From the insurer's point of view, the effort to produce a 360-degree view of a policyholder is often hindered by disparate, siloed data and disconnected systems. This limits their ability to provide a seamless and efficient policyholder experience.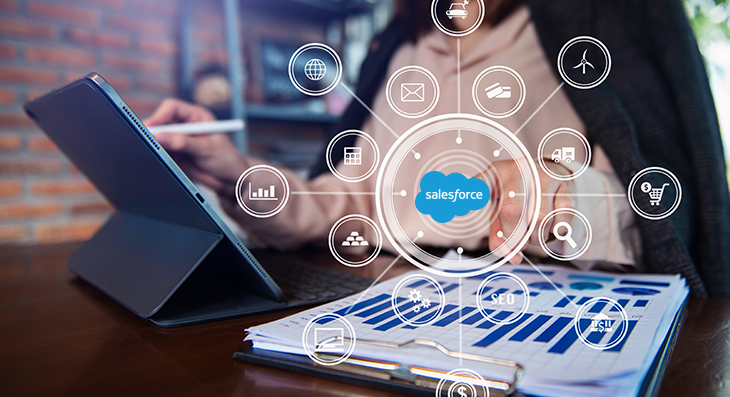 The insurance industry is one of the highly competitive industries, and therefore, insurers should spend more time improving the customer experience to get a competitive advantage and profit. This is where Customer Relationship Management (CRM) software comes in. CRM has the ability to store, share, and make use of the centralized customer data consistently and across all channels, teams, and departments. And that data flows from the initial collection of information, through underwriting, to policy administration, to claims — which reduces cost, complexity, and opportunity for errors. With the help of CRM an insurer can continually meet industry needs, supercharge productivity, and boost bottom lines.
In the world of CRM, Salesforce is a juggernaut that needs no introduction. After all, the company occupies 19.5% of the CRM market share – which is more than the share of the top three trailers combined!
As Salesforce turns its focus on the insurance industry with dedicated CRM solutions, the cloud computing and SaaS giant takes on the process of revolutionizing the sector. What does it mean for the insurance industry? Can Salesforce help insurers keep up with changing trends? Most importantly, how can companies harness the Salesforce platform to add value to their organization, products, and services? Here's taking a look at all these questions.
How Can Salesforce Help Insurance?
The true power of any tool or technology resides in its applicability. When it comes to insurance, the benefits and opportunities granted by Salesforce can be summarized below: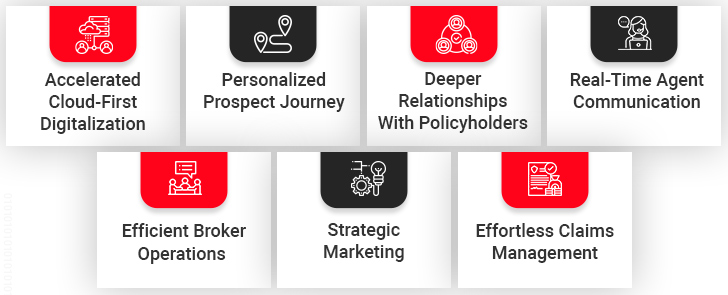 Accelerated Cloud-First Digitalization
About a third of Millennials use digital channels at least once a month for insurance. A whopping 96% of millennials have used digital channels when looking for insurance services. Some may even be put off by the lack of digital engagement. Given this turn of events, insurance businesses are scrambling to establish their presence in the virtual realm. While full-fledged digital transformation can be long-drawn and extensive, Salesforce CRM is a low-hanging fruit that can immediately and efficiently cater on this front. The cloud-based Salesforce products add an extra layer to digital transformation. They enable businesses to leverage digital technologies to rebuild processes, tools, and experiences and achieve the new digital normal.
Personalized Prospect Journey
It's vital for insurers to be able to engage with customers in an intelligent, integrated, and personalized manner. This is where Salesforce has the ability to enable agencies and brokers to capture and manage leads effectively. Such efforts bear results as the data collected through such exercises puts insurers two steps ahead of the prospects which help them initiate key communications with them as per their life events. For instance, they can push automobile insurance to a prospect who has recently purchased a vehicle. A heavily detailed customer persona allows them to curate delightful and personalized buyer's journeys that are front-loaded with value. As a result, businesses will register higher win rates through accelerated conversions.
Deeper Relationships With Policyholders
Salesforce works with customer data to generate a single source of truth which acts as better insights allowing insurers to connect with existing customers at critical moments. For example, you can issue alerts regarding policy renewal to prevent late fees or policy lapse – which will be greatly appreciated by policyholders. Such a proactive approach to engagement will drive retention and improve customer experience. More importantly, Salesforce offers an opportunity to add value and meaning to every interaction by personalizing it based on the policyholder's preferences.
Real-Time Agent Communication
Regardless of the insurance agent's job function, quick and accurate communication is a key part of the process. To ensure that insurance agents are able to communicate effectively with their clients and colleagues, Salesforce offers several features that can help them ensure quick resolutions and lower handling time. Agents can sync their data to Salesforce and make it easily accessible to sales representatives. Agents also have the option of creating custom dashboards for their clients, so they can stay up-to-date on all of the information they need. It's all about being able to provide better service, faster!
Efficient Broker Operations
Salesforce is a powerful tool that helps insurance brokers improve their communication with their clients and other stakeholders. A broker can use Salesforce to:
Track leads, contacts and cross-sell and up-sell across all of their client's accounts in one place
Manage their client relationships and keep track of each contact's history
Automate processes like account setup and renewal, claims management, underwriting and more
Involve all stakeholders and update them in real-time on any developments
By making communication effortless, Salesforce encourages brokers to actively keep all parties involved in the loop.
Strategic Marketing
At a noteworthy 78%, Millennials have the largest coverage gaps – effectively making them a large section of the uninsured demographic. As such, marketing to this segment has become a lucrative opportunity – provided businesses are equipped to meet their requirements. As seen already, the younger generation has an appetite for all things digital – and insurance is no exception to this rule.
Salesforce can prove to be mission-critical to an insurance business' marketing stack as it can fuel and streamline omnichannel digital marketing. Solutions like the Salesforce Marketing Cloud can handle all end-to-end marketing-related tasks and activities. Built on connections, it enables seamless interactions from different channels, and devices to enable real-time communication. It also helps with email and social media marketing, online advertising, segmentation, and campaign automation. The resulting ROI becomes rather astounding.
Effortless Claims Management
Claims management is one of the most pressing pain points for insurance agencies. On one hand there is a heavy amount of data involved, especially that from varied sources. On the other hand, one is working against the clock as most policyholders believe that the speed of claims settlement is of great importance. The magnitude of the task, along with the associated expectations, becomes more complicated considering that it also involves accuracy!
However, Salesforce keeps a track of everyone involved and helps in efficient claim management as the communication is easier and better. The data collection and sorting of the Salesforce CRM is one of the major reasons to use it as an insurance company. Apart from retrieving and supplying necessary data and documents, it can help in managing roles and assigning tasks to expedite claims settlement. All the while, it also keeps a tab on the customer's past claims to detect fraud. It can also be used to predict future risks and help insurance companies in deciding the future terms of policies.
Ready to Harness Salesforce in the Insurance Industry?
As a Salesforce Gold partner, Damco is a leading and trusted agency propping up the insurance sector. We help insurers, MGAs, agents, brokers in their digital transformation journey to extract more value from their investments in personalized solutions that ensure business growth. Further, we help customize Salesforce products to better align with their specific business . Combined with our two decades of experience in IT consulting, we offer end-to-end services in Salesforce across consulting, implementation, development, integration, migration and support areas. Here is an overview of our popular Salesforce solutions:
Sales Cloud
The Salesforce Sales Cloud empowers the sales team to make smarter decisions while handling leads, converting them, and closing deals. It contains the following features:
Lead management
Opportunity management
Pipeline and forecast management
Quote bidding
Account and contact management
Process automation
Service Cloud
The Salesforce Service Cloud is aimed at enabling service agents and service managers to improve business processes. It comes equipped with the following features:
Lightning service console
Case management
Customer support
Self-servicing
Workflows and approvals
Asset and order management
Marketing Cloud
Formerly known as ExactTarget, the Salesforce Marketing Cloud helps marketers stay in control of all the marketing efforts. It offers the following facilities:
Journey builder
Email studio
Social studio
Advertising studio
Web studio
Mobile studio
Conclusion
Salesforce offers the insurance industry a world of possibilities – from marketing to selling to business process automation to payments and beyond. However, agencies can only derive results when they are capable of extracting the same rather than solely depending on out-of-the-box solutions. In other words, one needs a reliable Salesforce partner to customize the application as per the business requirements. Pick one wisely and their expertise will take the agency to the moon!
Click here to learn more about Damco's Salesforce expertise for insurance.