In the last blog, we explored how, in the event of a catastrophe, claims adjusters can use technology to enhance their credibility and improve accuracy. In this blog, we will cover how InsurTech is playing a crucial role in transforming post-hurricane property loss estimation. Hurricanes are one of the most potent natural disasters in the world. These tropical storms with wind speeds exceeding 74 miles per hour are responsible for significant damage to life and property. In fact, the National Oceanic and Atmospheric Administration (NOAA) estimates that hurricanes result in damage costs to the tune of $1.1 trillion between 1980 and 2021 – that's a loss of nearly $20.5 billion per disaster!
With such big money at stake, there is immense pressure on insurers, carriers, and claims adjusters to accurately assess the level and cost of damage. While accuracy is the utmost priority, it should also not come at the cost of time. As such, there is a pressing need for technological intervention to balance accuracy and processing times.
This blog takes a look at how technology can streamline property post-hurricane loss estimation for adjusters and carriers.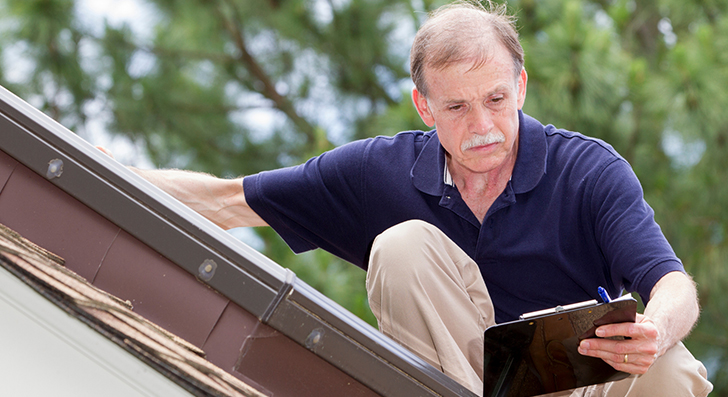 What is Post-Hurricane Property Loss Estimation?
As the name indicates, post-hurricane property loss estimation is the process of evaluating the damage caused to a property – residential or commercial – after a hurricane. It assesses the extent of damage to the building while also accounting for the condition of the personal effects housed therein. While the former is fairly straightforward, the latter presents layered complexities. At the same time, the inclement conditions after a hurricane make it difficult to carry out a thorough inspection. In other words, insurers and claims adjusters will require a high degree of expertise, knowledge, and experience to assess and determine the source, implications, and extent of the damage caused to the property to compute a fair settlement.
Challenges in Post-Hurricane Property Loss Estimation
Property loss estimation after hurricane events present unique challenges that can make it difficult for adjusters and carriers to perform their roles in a fair and just manner. Such challenges include:
Accessibility
Hurricanes can damage infrastructural elements like roads, bridges, etc., which makes it difficult for adjusters and carriers to reach the affected area. Since it makes the property inaccessible, adjusters will find it tougher to carry out assessments in a timely and detailed manner.
Safety
Since hurricanes affect property and surroundings, the damage caused by them can amount to hazardous working conditions that pose a threat to the health, well-being, and safety of the adjusters and carriers. For instance, post-hurricane flooding, fallen power lines, and unstable debris are just some of the safety concerns that can prove to be dangerous.
Documentation
Property loss estimation heavily relies on documentation containing the inventory of the insured items. However, post-hurricane conditions may result in the loss of such documentation, which can make it tough to assess the total cost of damage.
Communication
Since hurricanes can also cause downtime in the communication systems, insurers and adjusters may find it difficult to communicate, either with the policyholder, amongst each other, or even with the in-office staff.
How Technology Can Help Insurance Adjusters and Carriers For Post-Hurricane Property Loss Estimation
Given the conditions and challenges, technology can play a pivotal role in aiding adjusters and carriers with the estimation of post-hurricane property loss. Here are some practical examples answering the "how" of it:

1. Drones
Drones are one of the best tools to perform property loss estimation. They carry out touchless property assessments and can even reach inaccessible and hard-to-reach locations. Equipped with high-resolution cameras, drones can capture extremely detailed images and videos that can capture the level of damage to the property. As such, they are excellent for documentation purposes while you exercise granular control over their movements. Moreover, since the claims adjuster can capture and scrutinize such data remotely, it also does not pose any risk to them.
2. Mobile Apps
Mobile apps can be instrumental in capturing and documenting property damage after a hurricane. For starters, policyholders can use the insurer's app to submit their images, which makes it easier for adjusters to use these inputs as a starting point while analyzing the specific sections that bear damage. At the same time, mobile apps may also contain policy details, which can take care of documentation. For adjusters, mobile apps can be a secure and lossless channel to upload assessment reports and related documents.
3. Artificial Intelligence (AI)
Whether you use a drone or photos, conduct a site inspection, or obtain details from satellite imagery, AI can be useful in analyzing large volumes of data and drawing useful insights from it. AI engines can also process weather data to identify regions/portions of the property that would be severely affected by the hurricane. Such smart AI-led analysis would save several hours of manual pruning of data, as well as its handling and processing. Thus, you get the perfect blend of accuracy and time savings.
Accurately Estimate Property Damage Using our Innovative Solution
4. Sensors and IoT Devices
Sensors and IoT devices can be useful before, during, and after a hurricane event. They can continuously capture property-related data in all three states and transmit it to the insurer – or at least save it in local memory. You can enter this information into AI-powered 3D modeling tools to visualize how the hurricane has affected the property and discover damages that are not visible to the naked eye. For example, sensors may register changes to the water table that could potentially cause harm to a building's foundation – a risk that might go unnoticed.
In Conclusion
Technology is making post-hurricane property assessment safer and more accurate for carriers and claims adjusters. It injects a layer of transparency and immutability that protects the interests of the insurer and the policyholder. With climate change increasing the strength, intensity, and frequency of hurricanes, it would only make sense to embrace such technologies to simplify business processes.
Case in Focus:
An independent multi-line insurer based in the US was looking for a way to simplify property assessment. Damco understood this requirement and developed a future-ready solution that leveraged AI, ML, OCR, and similar technologies to make property assessment fast, intuitive, and error-free. Such a tool helped perform real-estate analysis before and after incidents, thereby making claims processing easier. To learn more about how our AI and ML-powered solution helped the US-based multi-line insurer simplify property assessment, check out our case study.