With the fast changing business environment in a post pandemic world, it's imperative for small and medium-sized insurance companies to accelerate their digital-first transformation journey in order to outperform competition and gain market share. Customers today need immediate responses; they demand digital experiences anywhere anytime. When an insurer fails to meet expected experience, the unsatisfied customers knock on the competitor's door with better customer-facing applications.
While building new innovative, user and business-friendly applications has been the priority in recent years, the companies are now realizing the need to cut short the development time to reduce the time-to-market for their new products and services and have an edge over the Insurtech curve. But, with many IT enterprises swamped with work and the global tech talent shortage, how can insurers achieve shorter development time for their applications? This is where the low-code application development platforms come to the rescue.
With an easy-to-use interface and a large library of ready-made, reusable components readily available, low-code platforms can make it possible for small and medium-sized insurers to build apps faster than ever before. The modularity of low-code development expedites development timelines and alleviates the pressure of monitoring the development cycle, which allows businesses to focus on their core competencies.
In this blog, we'll look at the advantages of using low-code platforms and why they're an attractive investment option for small and medium-sized insurance businesses in 2023 and beyond.
Why Digitize Your Insurance Business?
Digital Transformation is not a new concept in the insurance industry, but a lot of insurers are still banking on legacy systems to manage their core processes and have been slow in embracing the much needed transformation wave compared to other industries. But, Digitizing the laggard insurance business has become the need of the hour to get an edge over the Insurtech threat. It allows you to:
Increase process efficiency through automation across claims, policy administration, underwriting functions, etc.
Reduce manual errors by replacing manual processes with advanced analytics (AI)/machine learning (ML) algorithms
Reduce time to market by allowing for faster launch cycles and faster ramp-up times for new products or services
Decrease operational costs through reduced man hours spent on mundane activities such as data entry, reporting, and analytics tasks
Enhance customer experience with lower cost to-serve
Now that it is clear that insurance businesses are pushed to undertake digitization, let's take a look at how low-code platforms feature against this requirement.
Low-Code Platforms: The Catalyst for Digital Transformation
The extraordinarily disruptive "Low-code" is a software development approach that enables the delivery of applications faster and with minimal hand-coding. The low-code platforms are a great way to speed up your digital transformation process. They enable developers to skip hand-coding, speeding up the process of getting an application to production. In conclusion, they allow you to create user experience-based applications faster that are seamless and intuitive, while also providing security, interoperability, and flexibility.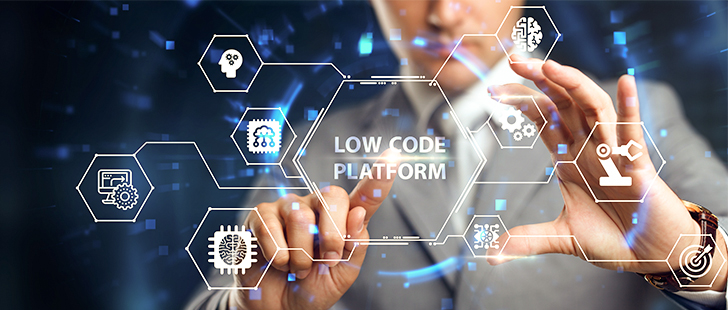 How can they benefit your customers? The Low-code platforms can help insurers build a new distribution channel in no time. They can now build a mobile app or website faster with limited resources which can enable your customers to interact with your insurance business effortlessly instead of having them call in or visit the office. This allows for achieving greater customer experience in lesser time at lower costs associated with building these types of applications over time compared with traditional software development methods (SDLC).
Such platforms are also a great way for insurance companies to keep up with the changing digital landscape and outcompete with innovation. With new technologies coming out almost every day, it can be difficult for traditional software development teams to stay on top of everything that is happening in the world of tech.
In the next section, we will take a more in-depth look at the role of low-code digital platforms in the insurance sector, especially for small and medium-sized insurance companies.
Why Are Low-code Digital Platforms So Popular Among Small and Medium-sized Insurers Today?
Gartner forecasts that "75% of large enterprises will be using at least four low-code development tools for both IT application development and citizen development initiatives" by 2024. What's the reason? The Low-code application development platforms empower you to build applications 10 times faster. They allow for changes to applications in a matter of a few hours instead of months. That's a remarkable improvement and a significant solution for small and medium-sized insurance companies who want an edge in the highly competitive market. They do not require massive upfront capital investment in setup, deployment and training and are not very resource intensive to the extent of engaging full-fledged development teams as would have been the case for custom software development.
The platforms are highly scalable and configurable to be tailored as per insurer's requirements. Since it has a drag and drop interface instead of a programming language,you can choose what features you want to use as per your business requirement. At the same time, they possess limited functionality, which eliminates choice paralysis that may hamstring the software development process. Additionally, they are easy to use, which enhances their adoption.
Now that you understand the value proposition and relevance of low-code development in insurance. It is time to review how it can be practically implemented.
Business Cases for Leveraging Low-Code Platforms in the Insurance Industry
Low-code digital platforms are a great solution for insurance companies that have an opportunity to accelerate their business growth. In particular, low code platforms can be used to help manage claims, underwriting, and custom-built agent portals more efficiently.
The following business cases illustrate how low code platforms can be used in the insurance industry:

Underwriting

Low-code platforms are used to automate and make insurance underwriting processes such as rating, quoting, and policy issuance more efficient. This helps insurers reduce the manual effort required of underwriters, while providing real-time visibility into customer data so that they can adjust policies according to customer profiles and requirements. Such a personalized approach to underwriting will result in more satisfied and loyal customers.

Claims management

Low code solutions simplify and streamline the claims process by automating certain processes such as quotation generation, quoting approval, and payment submission – amongst other things. Such insurance claims management systems reduce the number of employees involved in the process. As there are fewer people that have access to sensitive information about customers' histories or claims history, fraud prevention becomes easier than ever before. It can help you increase profitability margins and loss ratio over the long term as well as grow revenues over time.

Reporting

Low-code platforms are also used to automate insurance reporting purposes based on processes like claim management, loss adjustment, fraud detection, and audit compliance. Reporting automation enables businesses to visualize opportunities, cut down operating costs, and address bottlenecks.

Customer Experience

Low-code platforms enable insurers to build and deliver the omnichannel digital experience customers that they demand in a faster way. They also help in responding quickly to meet customer expectations for flexibility, speed, and ease of use. Their feature of building and testing in real time allows insurers to rapidly reduce the customer dissatisfaction which causes the churn. The insurers can also quickly build chatbots, mobile apps to cross-sell and up-sell the products to the customers as per their requirement, channel of choice and grow their revenue faster.

Compliance

In the ever changing regulatory environment of the insurance industry, the insurers are usually slow in adopting the changes and transforming their processes accordingly. Low-code platforms can really help small and medium-sized insurers customize their workflows, business logic and rules, user interface in hours, instead of weeks and months to adhere to the regulatory demands faster. This enables the insurers to focus more on user needs, and become truly customer-centric.
Looking for the Right Low-Code Insurance Platforms? Here's What You Need to Know First!
As emphasized earlier in the post, low-code platforms offer immense business benefits. However, not all low-code platforms are built the same. Before you start the search, identify what you need from a low-code platform. List down your business requirements, organizational goals, and budget. These parameters will help you define which platform is ideal for your company.
You should ideally look for a low-code platform that allows your users to fully customize the interface and seamlessly integrate with other existing systems to streamline operations. After all, these are seen as the primary limitations of low-code development. Once you have addressed these, consider ease of use and the ability to expand as such traits promise long-term usability of the tool.
Conclusion
The low-code insurance platforms are a powerful tool to accelerate digital transformation in the insurance sector. They allow companies to take advantage of new-gen technologies without compromising on the user experience or taking on unnecessary risks. Low-code platforms are also perfect for small and medium-sized businesses in the near future that might not have enough resources to get their own custom software built from scratch. This is the reason Forrester predicts that 65% of all app development functions will be performed on low-code platforms by 2024. Therefore, it's a matter of time for insurers to adopt this change in technology landscape.
Learn how Damco can help modernize your insurance processes with minimum investment. Click here.