Consistent support and ongoing innovation are keys to a profitable Salesforce CRM. But keeping ongoing support for Salesforce requires a substantial portion of your investment and if you are on a constrained budget, you will likely find in-house administration a costly route.
Lack of scalability is another reason why companies feel stuck with their full-time contract obligations. So, when there is a need to scale up or down services, they find it difficult to onboard professionals with specific skill sets. Different time zones and the inability to offer instant solutions too create roadblocks to effective Salesforce administration.
Managed services offer you a flexible and cost-effective route to administer Salesforce deployments. Unlike in-house administration, where you have limited resources with specific skill sets, managed services offer wholesome support with easy onboarding. Additionally, it focuses on proactive resolution rather than the break-fix method that many in-house teams rely on.
Salesforce managed services are now perceived as an alternative to in-house administration and reports prove exactly that. As per Yahoo Finance, the global managed services market, which was only USD 152 billion in 2020 is expected to hit the USD 275 billion mark by 2026, showing an 11 percent CAGR increase.
Managed Services for Salesforce can take care of every little aspect of your platform needs. Let's discuss these aspects one by one: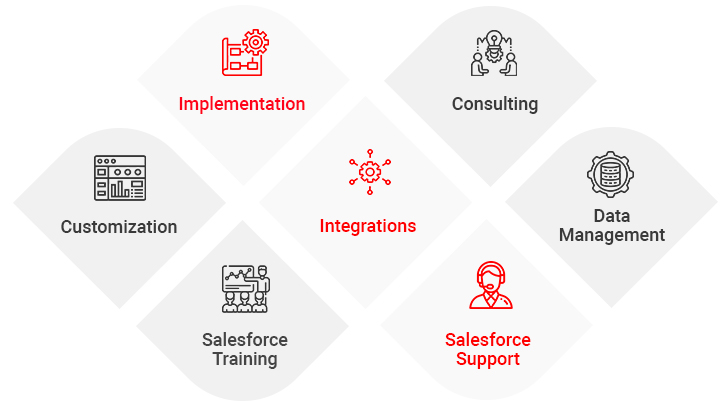 a) Implementation: Implementation experts in managed services take care of the design, development, and deployment of Salesforce clouds as per your organizational needs and preferences.
b) Consulting: Salesforce consultants offer consulting/advisory services to Salesforce users so that they can adopt a powerful implementation strategy.
c) Customization: Managed service partners also take care of the business's customization requirements by leveraging built-in and app cloud tools to customize dashboards, workflows, reports, campaigns, etc.
d) Integrations: Integration support allows you to combine the data and functionality of Salesforce with a third-party platform or service to optimize license usage.
e) Data Management: Data management services look after the import, management, and export of data collected by Salesforce users by leveraging built-in ETL tools.
f) Salesforce Training: These services revolve around providing technical and managerial training to Salesforce users and helping them effectively use the CRM.
g) Salesforce Support: Managed service partners offer personalized assistance in bug fixing, auditing, system checks, and other day-to-day activities.
Why Choose Managed Services for Salesforce Deployments?
Managed services is a highly reliable and cost-efficient mode of IT administration. Here is why you should use it to manage your Salesforce deployments:
1. Cut Down on Operational Cost
Due to high demand and low supply of talent, companies find it hard to hire Salesforce professionals. Once firms hire salaried professionals, they realize that their Salesforce needs are quite vast compared to the skillset of hired talent. Managed services for Salesforce can help firms overcome high operational costs with its pay-as-you-go model. So, instead of going for full-time support, you only pay for the services you receive, cutting down on operational costs significantly.
2. On-Demand Access to Skilled Talent
Companies that hire in-house talent go through an extensive interviewing/filtering process. This is followed by a waiting period before onboarding causing delays in project execution. To manage your Salesforce deployments well, you need ongoing support and maintenance. Salesforce managed services allow you to overcome hiring and onboarding hassles by offering on-demand access to skilled tech architects, product consultants, administrators, and developers who can take care of your mission-critical processes with minimum downtime.
3. More Opportunities for Innovation
In-house professionals get caught up in day-to-day responsibilities which leaves less scope for innovation. Professionals under Salesforce managed services are constantly learning and evolving, aware of the latest releases, and can identify opportunities much faster as they are not restricted to specific activities. Their vast skill set and forward-looking suggestions can certainly help you bridge gaps in your Salesforce practice.
4. Easy to Upscale/Downscale Contracts
Contract flexibility sets managed services apart from in-house administration. When you administer Salesforce in-house, you have a limited resource base that works fixed hours to manage your processes. Managed services for Salesforce allows you to overcome resource limitation with its easy-to-scale contacts. You can upscale or downscale service support while staying in an existing contract. This flexibility allows businesses to focus on core issues without worrying about the much-needed maintenance or customization.
Bottomline
Choosing Salesforce Managed Services is a cost-efficient and flexible way to administer your Salesforce deployments. Managed service providers offer you proactive assistance that keeps your CRM updated, optimized, and error-free. With round-the-clock support and a dependable workforce, you can focus on pressing issues requiring more time and attention.
Explore the Benefits of Salesforce Managed Services
At Damco, we have assisted numerous firms transition from Salesforce Classic and third-party CRMs to Lightning and would be glad to help you have a glitch-free migration experience. Read how we helped a manufacturing company customize Salesforce to enhance partner operations efficiency by 40%. Click here.