Propelled by the relentless pursuit of achieving operational excellence, CTOs, CIOs, and other key decision-makers have the responsibility of choosing the right CRM and project management tools. Among the leading players, monday.com and HubSpot stand out in the market for their ability to streamline sales and marketing processes, eliminate manual and time-intensive tasks, provide deeper insights into customer data, and build lasting relationships. Though both platforms may have some similar features and functionalities, each of them has its specialization in distinct business domains, and the convergence of these industry titans brings a paradigm shift in the way modern enterprises approach project management and customer relations. In other words, monday.com HubSpot integration stands as a beacon of workflow transformation, where project management synergies harmoniously with client relations in a way that defies previous conventions.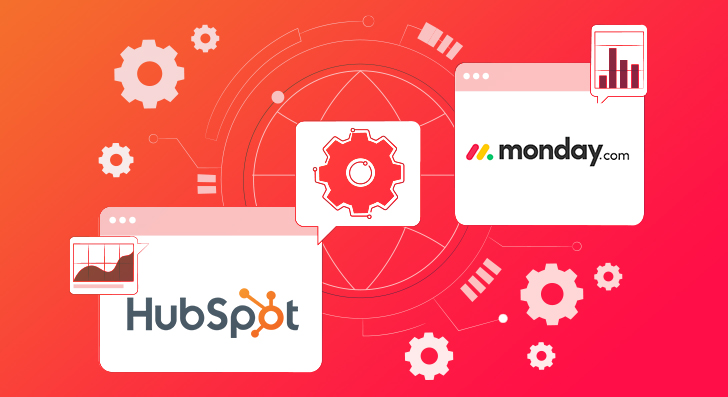 The Dynamic Duo: How monday.com and HubSpot Integration Unlocks Unmatched Potential
As a standalone platform, monday.com and HubSpot are strong contenders in their respective domains. However, integrating monday.com with a marketing automation tool like HubSpot brings a multitude of business benefits. Listed below are the key benefits of HubSpot and monday.com integration.
1. Improved Communication and Collaboration
The integration bridges communication gaps and promotes effective collaboration among team members by centralizing communication channels and project data. For instance, everyone involved in a marketing project from graphic designers and copywriters to digital marketers and public relations specialists can come together on monday.com to access, review, and share campaign-related documents, information, and updates within the integrated environment, promoting smooth collaboration. Besides bringing everyone on the same page, the integration also eliminates long waits for status updates or approvals from project managers.
2. Streamlined Workflow Management
The integration facilitates the seamless transfer of tasks, information, and project updates between both platforms. In other words, integrating monday.com Work OS with HubSpot CRM allows users to design automated workflows that extract, transform, and load data between the applications and services. This fosters a cohesive workflow management system, which not only eliminates data silos but also ensures that teams have real-time access to critical project details and customer data.
How to Optimize Productivity With monday.com
3. Automated Data Synchronization
Another key benefit of integrating monday.com Work OS with HubSpot is that it allows users to automate the process of data synchronization between both platforms. This simply means that any changes made in monday.com Work OS whether it's the project update, assigning a new task, or a customer interaction will be instantly reflected in the HubSpot platform, and vice-versa. This eliminates the risk of errors and minimizes manual data entry which consumes the most productive time of the day.
4. Better Resource Allocation and Task Prioritization
Integrating monday.com Work OS with HubSpot CRM offers a holistic view of all projects, tasks, and client-related activities. This exhaustive overview facilitates better resource allocation, efficient task prioritization, and optimized workforce productivity. Furthermore, the holistic view offered by this integration helps decision-makers in ensuring that the project aligns with organizational objectives and goals.
5. Significant Time and Cost Savings
The integration facilitates streamlined processes and automation of existing workflows, which in turn, helps in reducing operational costs. By automating workflows, users can focus on strategic tasks that require strong human intellect rather than performing redundant and time-consuming administrative tasks, ultimately leading to more efficient use of time, cost, and resources.
How monday.com Integrations Can Thrive Your Business
6. Efficient Client Relationship Management
Integrating a marketing automation platform like HubSpot with monday.com helps in improving client relationship management by ensuring that every support request, deal, or client interaction is properly documented and tracked. This unified approach not only improves customer satisfaction but also forges lasting relationships, leading to better customer retention and loyalty.
Case in Focus
A leading tech solutions provider based out of Mexico was struggling with marketing initiatives, client communication, and project management due to data silos and recurring processes. To overcome the challenge, the client decided to partner with Damco Solutions for monday.com and HubSpot CRM integration to automate workflows, centralize data, and improve collaboration.
The integration enabled seamless synchronization of client communication, project-related tasks, and marketing activities between both platforms whilst ensuring everyone across departments was equipped with the most accurate and updated information. As a result, the client witnessed a 47% increase in lead conversion rates due to automated lead management, a 64% increase in CSAT score owing to centralized communication, and a 40% reduction in the time taken to manage and track project progress due to improved visibility into tasks, resource allocation, and project timelines. In other words, the client optimized marketing campaigns, improved client relations, and experienced streamlined project management by integrating HubSpot CRM with monday.com.
Summing Up
The integration of these two dynamic duos isn't just about synchronizing data, instead, it's about unlocking a new world of possibilities for businesses striving to streamline workflows, improve communication and collaboration, automate marketing campaigns, optimize task management, reduce operational costs, and elevate operations. If you also are planning to integrate these two powerful platforms, you may consider seeking end-to-end consultation from a reliable expert who empowers organizations to nurture client relationships, drive unparalleled growth, execute projects with unparalleled precision, and transform the way they work, collaborate, and innovate.