In a hybrid work environment, traditional Work OS won't suffice since it doesn't provide the flexibility to build custom workflow apps that enable teams to prioritize tasks, streamline operations, and keep everyone on the same page. This calls for an integrated Work OS wherein allocating tasks and roles, keeping teams updated with the necessary information, and tracking projects' progress and teams' performance can be done with ease.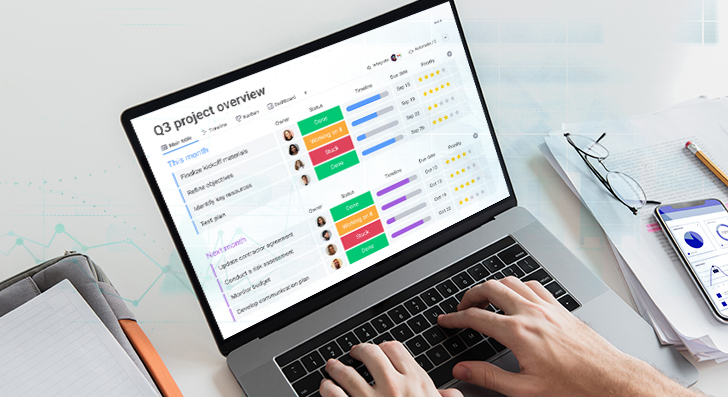 Transforming Work Culture With Unified Work OS
A work operating system (Work OS) helps to sustain effective remote work and management of the entire business operations, processes, and employees in the current scenarios. Bringing the whole information, data, and processes on a single platform, the work OS allows organizations to eliminate the bottlenecks in communicating and collaborating on projects without having to switch between multiple applications.
monday.com is an intelligent work OS that empowers enterprises with across-the-board control on tasks, teams, and projects. This digital work ecosystem aids companies to create and accommodate any project, process, or workflow by assembling diverse applications in a single place. Companies can enhance their operational efficiencies with the real-time distribution of workload, visualization of project progress, and automation of mundane tasks by adopting a work OS like monday.com.
Here's how integrating monday.com with your current tools can augment the performance of your business functions.
Grow Your Business With monday.com Integrations

1. Make the Most of Collaboration Tools
Integrating collaboration tools into monday.com helps in real-time project administration, exchange of information, faster access to data, and expedited execution of operations. While keeping all stakeholders in sync through tools like Slack, Zoom, Google Calendar, Excel, Jira, and others, monday.com helps project managers to strategize optimized processes and workflows for augmented performance. By harnessing the collective potential of these workplace collaboration tools, monday.com becomes a central hub offering a comprehensive solution for enhanced project performance.
How to Optimize Productivity With monday.com
2. Fuel Your Business With Communication Tools
monday.com integrations promote a smooth internal and external exchange of information while eradicating repetitive messaging and minimizing errors across channels. By hosting a plethora of communication tools like Gmail, Outlook, MailChimp, Microsoft Teams, Hubspot, and LinkedIn, monday.com helps to improve organizational practices keeping managers, employees, and customers informed. By embracing these integrations, monday.com not only facilitates seamless communication but also enables managers, employees, and customers to stay engaged and connected in the business ecosystem.
3. Reap the Benefits of Cloud Storage
monday.com enables a cloud-based work OS allowing the storage of documents, images, and team chats in a central repository with simplified integration through pre-built connectors. Upholding the import, organization, and administration of documents on apps like Google Drive, Dropbox, and OneDrive in an organized manner makes documentation available to all stakeholders working on a project. Unifying external applications and data sources on a digital workspace, monday.com facilitates ease of access, control, management, and recovery of business data from anywhere. Harness the full spectrum of benefits offered by cloud storage through monday.com integrations and ensure that business data is not just stored but utilized efficiently for optimal performance.
How monday.com Workflow Management Meets Operational Excellence
4. Fortify Your Business Systems by Third-party Integrations
Organizations can efficiently monitor business processes, marketing campaigns, sales pipelines, product roadmaps, customer experiences, budget, finances, and much more in real-time by assimilating CRM, accounting systems, and other applications. Integrating third-party tools and subsystems into monday.com powers-up teams with streamlined business functions and do everything in a single place.
5. Bring in the Transparency with Clear Vision
Putting an intuitive work culture and centralized project management in place clearly communicates the roadmap, priorities, and expectations to the staff and allows them to focus on the organizational goals collaboratively. monday.com allows tracking and measuring the staff performance against defined metrics and KPIs across functions through an interactive dashboard. This transparency keeps the teams motivated and promotes collaboration for timely accomplishments of projects with quality deliverables.
Summing Up
In a nutshell, no business can achieve success with isolated systems. Companies of all sizes are embracing monday.com integrations to maximize their technology spend. Enabling multiple integrations through customized boards, monday.com helps businesses drive flawless communication, collaboration, and transparency within and outside the organization. Accelerating overall capabilities of businesses, monday.com integrations warrant in-time accomplishment and improved management of projects with exceeded business outcomes.