An intuitive and modern user interface (UI), Salesforce Lightning Experience is designed to offer a visually appealing and streamlined experience to users, boosting their user adoption and productivity. It is the next generation of Salesforce and makes it easy to build responsive applications for all devices. As all new Salesforce innovation is in Lightning Experience only, Salesforce Lightning migration from Classic is the best choice for users. Adopting the right migration can help overcome the challenges of Classic to Lightning migration.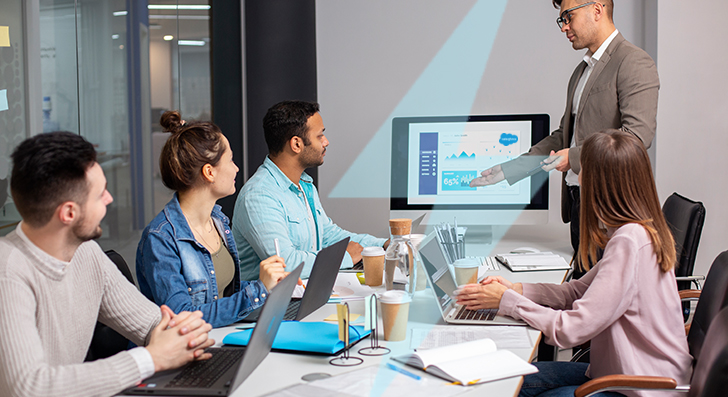 To get the best out of your Lightning Experience, it is important to customize it. Customizing Lightning Experience can be a bit of a complex process as it involves much more than merely changing page layouts. However, customization makes the platform more powerful and offers better functionality to users.
Here are some important steps you can follow to customize your Lightning Experience:
1. Go to Setup
On the upper-right corner of the Salesforce window, click on the gear icon and choose 'Setup' from the dropdown menu.
2. App Customization
Under the 'Platform tools' section in the Setup menu, choose 'App Manager'. Customize your Lightning app here or build a new one. To create a new app, click on 'New Lightning App' or edit an existing app by clicking on it.
3. Select App Properties
Provide your app a name and a label in the App Properties section. You can even choose an app template to be utilized as a starting point. You can get access to pre-configured options for multiple use cases and industries in app templates.
4. Define Navigation
Choose and arrange the items and tabs that appear in the navigation bar of your app in the Navigation Items section. You can select from custom objects, standard Salesforce objects, and various other items such as Visualforce pages, Lightning pages, and external websites.
5. Configure Utility Items
The items that appear in the utility bar of Lightning Experience are known as Utility Items. These provide quick access to regularly used information or tools. In the section under Utility Items, you can add, reorder, or remove utility items for your app.
6. Change Default App Preferences
Set multiple preferences for your app in the App Preferences section. You can configure default record types, enable or disable standard actions, and define the behavior of related lists.
7. Branding Customization
Customize the branding of your app in the Branding section. Choose a color theme and upload a custom logo that matches the branding of your organization.
8. Save and Apply
After you have made the preferred customizations, click on Save to save your changes. In case you are building a new app, you can select to activate it immediately or save it as a draft to activate it later.
9. Provide App Access to Users
Once you have saved and activated your app, it's time for you to assign it to your users. Under 'App Manager' in Setup, click on the dropdown arrow next to the name of the app and choose 'Manage Profiles'. Choose the profiles under the 'Profiles' section that need to have access to the app and click on Save.
By following the steps mentioned above, you can adapt your Salesforce Lightning Experience to your organization's requirements and provide your users a customized user experience.
You can use Salesforce Lightning services to keep your Salesforce instance up to date with the recent releases and patches. This will ensure that you receive access to the most recent security updates and features with ease. By staying connected with the community, documentation, and support channels of Salesforce, you can use the available resources and get the best out of Lightning Experience. This will also help you address any concerns or issues as and when they arise.
Advantages of Customizing Lightning Experience
Customization of Salesforce Lightning Experience provides numerous benefits to users. Here are some important benefits you need to consider:
1. Better User Adoption
You can align the branding, terminology, and processes of your organization with Salesforce Lightning Experience customization. This helps you build a user interface that is intuitive and familiar for your users. This in turn increases user adoption and lowers change-resistance.
2. More Productivity
By customizing the Lightning Experience, you can make it correspond to the preferences and workflow of your users. By removing non-essential fields, rearranging layouts, and developing unique Lightning pages that compile pertinent data in one location, you can streamline user experience. Users are able to get the information and features they require more quickly as a result, which boosts productivity.
3. Customized Business Processes
Customization of Salesforce Lightning Experience makes it easy to align with your individual business processes. You can create custom fields, objects, and validation rules to capture particular data, create custom dashboards and reports to receive insights into business metrics, and build automation with workflows and process builder. With this customisation, your company can use Salesforce as a tailor-made solution to meet your unique business requirements.
4. Better User Experience
Compared to the Classic Experience, the Lightning Experience offers a more contemporary and visually appealing interface. This is also what encourages users to consider Salesforce Lightning Migration from Classic. By integrating branding elements, making navigation simple, and utilizing Lightning components and capabilities to deliver a more engaging and interactive interface, you may further improve the user experience by customizing your Lightning Experience.
Scalability
As your business develops and grows, you can scale your Salesforce implementation by customizing the Salesforce Lightning Experience. You can use newly released Salesforce features and updates, add or modify functionality, and build your own Lightning components. The flexibility of the platform ensures that your Salesforce instance is up-to-date at all times and is able to keep up with your changing business needs.
External System Integration
You can integrate Salesforce with outside systems and technologies utilized within your company by customizing the Lightning Experience. In order to link Salesforce with other platforms, you can use Lightning Web Components, AppExchange apps, and APIs, speeding data interchange and increasing overall effectiveness.
Overall, customizing Lightning Experience gives businesses the ability to optimize their Salesforce platform, integrate it with certain business processes, and give employees a more effective and tailored user experience, which boosts productivity and user adoption.
Case in Focus
Leading Health Care Service Provider Realized a 70% Improvement in Sales Team Productivity Through Strategic Migration to Salesforce Lightning
The client is one of the largest providers of supply chain and logistics solutions to pharmaceutical companies. They were facing issues of low sales team productivity and poor user experience with their existing Salesforce Classic interface. Damco collaborated with the client to assess their Salesforce system and proposed a roadmap for seamless migration to Salesforce Lightning. Read More