Businesses across the world are using Salesforce CRM as a strategic tool for their growth. The operations of the CRM are maintained by an IT team including Salesforce administrators. But, as a business grows, the capabilities and bandwidth needed to effectively maintain and support the custom Salesforce solution also grow. In addition to this, the team also starts facing more complex and critical scenarios during a Salesforce maintenance. Thus, a single administrator or small team is unable to manage the Salesforce system which is the backbone of the business growth. This is where Salesforce Managed Services come into play. The services are a flexible alternative to maintaining and supporting Salesforce instances efficiently and getting the maximum out of your investment without having to hire any additional staff.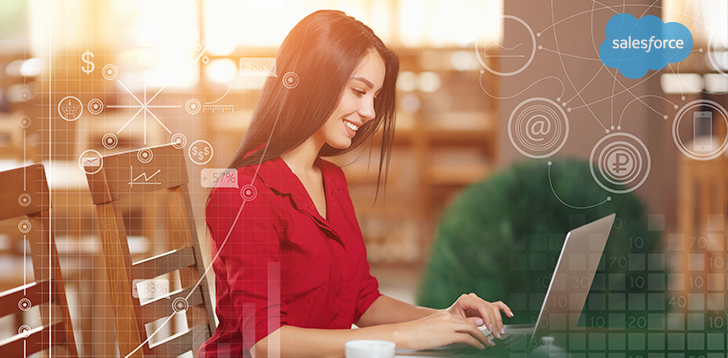 Introduction to Managed Services
Managed Services stands for outsourcing a range of functionalities and processes of a company to optimize operations and decrease expenditure. It basically involves outsourcing for the administration of a particular department or area. The idea of managed services is based on the break/fix repair model wherein a thing is attended to or repaired only when it is broken. Break/fix model helps companies to solve problems as they arise and allow the company operations to continue afterward. This does not prevent future errors or inconveniences.
Failures in systems result in a loss of productivity and time which ultimately results in revenue losses. Hence, the break/fix model becomes obsolete and ineffective in the modern business world. This is where Managed Services are employed. This new model introduces a proactive approach to solving system problems, especially the complex and critical ones where the existing technology team has limited knowledge and bandwidth to solve. By focusing on the prevention of possible issues, Managed Services help ensure that the normal course of business life is maintained. Risks and problems get identified before they arise and solutions are created to prevent them.
What are Salesforce Managed Services?
Salesforce Managed Services is a set of maintenance support activities and procedures ranging from the implementation of new features and updates of Salesforce solutions in a company to their customization and enhancements and service support. The idea is to detect early issues that can negatively impact the operations and customers supported by the Salesforce CRM.
The services include a team of Salesforce specialists called Salesforce Managed Service providers dedicated to managing and offering a personalized set of solutions based on the special business needs of an organization. This helps businesses in focusing on the core products and services that they offer while leaving work like everyday updates, security checks, and other administrative tasks to the Managed Service providers.
What is included in Salesforce Managed Services?
A business can get access to multiple services, advantages, and resources when it invests in Salesforce Managed Services. These include the following:

Consulting
Consulting aims to meet the requirements of the customer and equip them with personalized solutions. It also suggests accurate strategies while considering the distinct objectives of customer service, marketing, sales, and many more. Salesforce consulting services includes the following activities:
Defining business objectives Salesforce CRM is to support
Mapping the objectives into features of Salesforce
Recommending the most suitable Salesforce instance edition or version
Designing sales, customer service and marketing processes in Salesforce Sales, Service and Marketing Clouds instances
Building a seamless user adoption strategy
Application Development and Customization
The solutions offered by Salesforce are customized to support reports, email templates, custom workflows, and a lot more. This makes the solution work in accordance with the needs of your live business processes. In addition to that, custom applications are developed to meet internal business needs.
Implementation
A unique Salesforce solution is created by implementing all the contracted services. This guarantees the complete coverage of the particular needs of a customer's business.
Integration
Customers get access to integration services for their Salesforce solution with third-party systems. This provides a comprehensive and seamless user experience on multiple contracted systems.
Optimization
Optimization ensures the best use of your Salesforce solution. To attain this, the continuous optimization of the functionalities of your solution needs to be maintained in accordance with the evolution of your company. This helps in simplifying workflows and improving staff productivity which ultimately results in creating a better user experience.
Maintenance Support
You get access to regular support for your Salesforce solution. Salesforce Managed Services help you in saving time on the administration routine by optimizing workflows. The service providers also make active improvements to the Salesforce solution so that it does not become obsolete as the business evolves. Users are provided training on custom and default functionalities to ensure that the company can derive the maximum benefits from Salesforce.
Advantages of Salesforce Managed Services

Effortless Management
Salesforce Managed Services help you tackle simple, complex and critical challenges related to sales management, data management, etc. The services highlight distinct problems related to the business and help you work on fixing the issues without spending too much time. The issues get resolved timely and business losses are avoided.
More Efficiency
The services are cost-efficient and generate foolproof results. When you sign up for these services, you can ensure that you invest wisely and save your money. Maintaining a full-time Salesforce staff does not cost much and the results obtained are as per your business requirements.
Less Burden for IT Team
Salesforce is adept at identifying IT risks and taking care of matters in an efficient manner. You don't have to appoint a designated IT professional for resolving IT issues. As Salesforce is a centralized platform, it monitors your company's IT network with ease. This way the IT team of your company gets to work on better processes and focus on the expansion of other important business areas.
Increase in Sales
Salesforce services play a key role in boosting sales and generating better revenue. You can reliably depend on Salesforce instead of investing in an in-house team to deal with issues. Salesforce Managed Services carry out important operations in a seamless manner and give you sufficient scope for your company's betterment in other areas. Managing data effectively helps you in taking note of the loopholes in your company. Managed services help you in saving a lot of time making way for result-oriented operations to be carried out in a successful manner.
Availability
Salesforce ensures that your business has 24/7 access to a professional. In the event of a crisis, a professional is just a call away. Having an in-house team for matters like these might not always be beneficial. Since the functionality is taken care of remotely, availability issues are hardly a concern. This assists the company in working with clear requirements and goals. As quick help is provided, the issue gets resolved timely. Any modifications needed for further assignments can also be carried out smoothly.
Accessibility
The managed services make sure that you receive easy accessibility to all documents and develop the right authorization when required. You receive help in identifying the aspects of your company that are productive and that are not so productive. Employees get to receive access to information collected by analysts and work on factors that improve the performance of the company. Salesforce Managed Services makes monitoring the status of job positions, conversations, emails, etc. convenient. The risk of blackouts is also prevented. When such issues are taken care of, your company gets to devote more time to other important facets of the company and ensure better growth and productivity.
Up-to-date Functionality
When your company devotes more time to handling issues that can easily be addressed by an external agent, it ends up wasting its precious time and resources. Salesforce managed service providers ensure that you get to use the saved energy and time on other sales and marketing strategies. Opting for managed services guarantees you a great market presence and helps you stay ahead of your competitors.
Case in Focus
One Of the Largest US-based Promotional Products Supplier Reduced Its Large Volume of Customer Inquiries Through Salesforce CRM
The client is one of the largest suppliers of promotional products in the world based out of the United States. They were facing problems of inefficient customer query management leading to huge case volume overload and escalations. Damco worked with the client to analyze the problem and proposed a multi-cloud Salesforce solution. Read More
In conclusion
Salesforce Managed Services offer a seamless and improved Salesforce experience to companies whether they are new in the industry or have been in the business for many years. This helps companies provide insights into a range of aspects needed for the company's success and become future-ready. The services are a cost-efficient solution as you don't have to spend your company's money hiring and paying a full-time employee and can outsource the management activities as and when it's needed.