Delivering consistent shopping experiences during all customer touchpoints, be it social media, online chat, mobile apps, or customer service centers, is vital in this omnichannel world. However, the omnichannel client experience tends to overwhelm customer care representatives due to the large amounts of data involved. And while having this data access is crucial for delivering great customer experiences, it is quite time-consuming and tough for support teams to go through multiple lines of legacy data stored in databases, spreadsheets, or even siloed systems. This is where Salesforce Service Cloud comes to the rescue.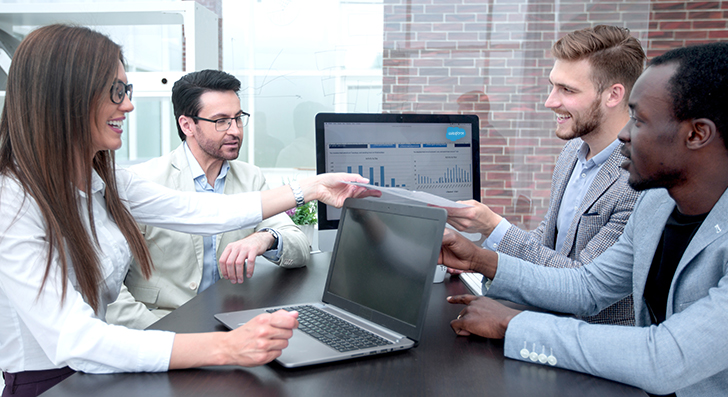 The features of Salesforce Service Cloud help brands in providing engaging solutions for customer service. This helps a business scale its operations with ease and provides omnichannel experiences across various touchpoints. With the implementation of Service Cloud, you can improve your customer service with in-app support and live agent, social media, self-service communities, and knowledge centers.
Salesforce Service Cloud is one of the most connected and popular solutions for customer services. Its solutions are built on the Salesforce Customer Success platform that provides a 360-degree view of your customers and helps you deliver smarter and more personalized experiences. Service Cloud allows you to enable live agent chat, manage case interactions, and create a connected knowledge base from a single platform. Depending on the prior activity data of your customers, you can have customized customer interactions and also upsell your products/services.
Reasons for Investing in Salesforce Service Cloud
Before investing in a software solution or service, businesses like to consider the ROI of their investments. The same goes for the services of Salesforce Service Cloud.
Salesforce Service Cloud provides apps for a contact center, employee center, self-service, customer service, and field center. These apps help businesses in providing a connected and complete experience. The extensive features of the Service Cloud help you offer proactive and customized solutions to your customers, ensure guaranteed customer success, and turn your agents into your trusted advisors. When you provide your customers with positive service experiences, it motivates them to consider your products/services again. With the help of Salesforce Service Cloud, you can do the following:
Streamline workflows and automate processes to route cases directly to agents. Service Console helps agents in viewing complete information about their customers, their behavior, history, recent purchases, preferences, etc. from a single dashboard. This helps increase customer satisfaction and case resolution numbers.
Authorize your agents to provide customer service across any device and channel, SMS, phone, email, social media, self-service websites, etc.
Enable customers to self-service their queries, making it easy for them to get answers to their questions with solutions of the Salesforce Service Cloud portal and self-service site. Create branded self-service sites with the help of Experience Builder templates and provide solutions that leverage the AI capabilities of Salesforce Einstein.
Connect your on-site and off-site workforce to see user journeys with the help of the Salesforce Field Service mobile app to provide connected solutions from mobile phone to field.
Create macros in the Salesforce Service Console for grouping together a few manual and repetitive steps, and automating them to be triggered with the help of a single click.
Turn your agents into trusted advisors for your customers. Since the Salesforce Service Cloud platform connects marketing, sales, and customer service departments under one roof, it enables sales representatives to view all important information about users and provide them with special offers, incentives, and personalized solutions depending on their purchase behavior.
Find out How the Implementation of Salesforce Service Cloud Can Help for Your Business?
Challenges of Customers and Service Teams Resolved by Salesforce Service Cloud

Challenge- 1
Difficulty in meeting customer expectations
The modern customer is equipped with a range of information, choices, and data about the products/services they want to buy. In the present competitive world crowded with thousands of eCommerce businesses, meeting the expectations of customers is quite a challenging task.
Solution
Salesforce Service Cloud helps you tap into customer insights with the help of built-in analysis tools that help improve customer experiences and boost their satisfaction levels.
Challenge- 2
Siloed Customer Service
Customer Service agents generally don't have a complete view of their users. They have to depend on various tools to get unified case history information. This makes it tough for them to provide a desired solution, resulting in longer wait times and reduced scores of customer satisfaction.
Solution
The case management tool of Salesforce Service Cloud allows representatives to track user information on a single dashboard and communicate through their desired channel.
When customers post comments on the social page of a company, agents can route the posts to the support team and also automate customer feedback.
Challenge- 3
Inefficient Ticketing System
It is tough to track inquiries or manage case numbers on a spreadsheet. A lot of incoming requests in the inbox make the whole task difficult to track and organize.
Solution
The Help Desk features of Salesforce Service Cloud help to automatically assign incoming cases to the right agent from the right team. The features also enable customer success managers in tracking their team's progress. You can streamline notifications and automate processes to automatically route cases to sales representatives without letting your inboxes overflow.
Vital Factors to Consider To Successfully Implement Salesforce Service Cloud
Challenge- 4
Missing Context About The Ticket Raised
When there's no holistic view of the case, sales reps have to depend on voice transcripts and old notes, which generally require a lot of effort and time.
Solution
The Interactive Voice Response (IVR) feature of the Salesforce Service Cloud automatically routes inbound calls to the queue. The Search Console of IVR offers a unified view of customer data that includes case history, contact information, and account information to fasten case resolution and boost customer satisfaction.
Challenge- 5
Shortage of Talent
Customer Service Teams often have to deal with repetitive and mundane tasks. This also results in many professionals not wanting to pursue customer service as a career.
Solution
Salesforce Service Cloud features of automated routing, case management, service cloud console, and telephony integration make it easy for the sales reps to contribute to the efficiency of customer success. This also decreases the cost of customer service and increases employee retention.
Challenge- 6
Evolving Market Trends and User Behavior
Generally, service teams measure customer success with Customer Effort Score (CES) and Customer Satisfaction Score (CSAT). Nevertheless, with evolving trends, dynamic user behavior, and changing methodologies, it becomes difficult for sales reps to boost customer retention rates and improve customer experiences.
Solution
The Salesforce Service Cloud Customer Success Management (CSM) tool helps measure and analyze user sentiments and preferences across different channels. This aids in the prediction of customer expectations set both in the present and future. The information, in turn, helps sales reps improve their CSAT scores and alleviate the risk of lower customer churn rates.
Summing Up
Salesforce Service Cloud implementation helps you strengthen customer service and improve the efficiency of customer service teams. The robust feature set of the software allows customers at higher-priced tiers to add multiple users, making it ideal for big organizations. Customer service management teams can easily anticipate service demand with the help of detailed reports on predictive analysis.
Case in Focus
A Leading P&C Insurer Improves its Agent Productivity by 40% By Implementing Salesforce Financial Service Cloud
The client is one of the largest property and casualty insurance companies operating in the United States since the 1920s. They needed a full-fledged platform for keeping track of agents, agencies and their customer-facing operations. Damco provided the client with a full-fledged self-service and 360° platform to better track agents-driven operations. The client's pre-existing IT team also experienced increased productivity with enhanced support from Damco through a flexible, robust, and responsive managed service solution. Read more