Did you know 86% of customers are ready to pay more for a better customer experience?
When it comes to providing exceptional customer service and increasing customer satisfaction, there is no better technology solution than Salesforce Service Cloud. It allows you to automate service operations, improve workflows, and access important resources like themes, articles, and subject matter experts.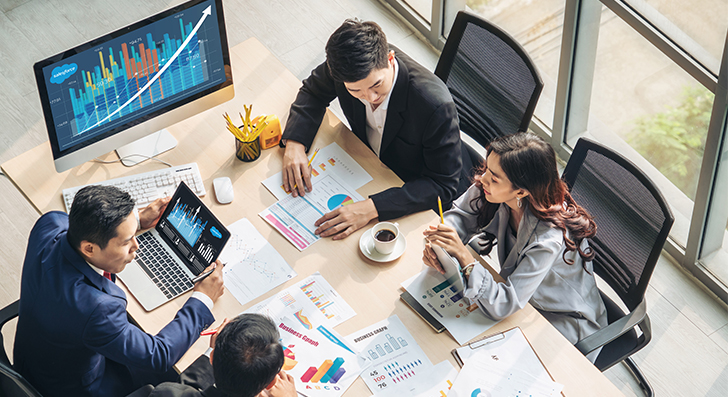 What makes Salesforce Service Cloud so special? Features like Knowledge Centers, In-App Support, Self-Service Communities, and Live Agent Support, help boost the overall customer service levels at an organization. Service Cloud integration for Slack aims to redefine the future of customer service operations. Slack-First Customer 360 helps businesses get closer to their customers by making way for seamless collaboration, automated workflows, and faster query resolutions.
Features of Service Cloud You Need to Understand for Effective Implementation
Salesforce Service Cloud is equipped with features like Knowledgebase, Live Agent, Email-to-Case, Macros, etc. which help the agent to efficiently and quickly respond to customers on any channel. The activities are streamlined via Salesforce Lightning Console designed to boost agent productivity.
Here are some top features of Service Cloud you need to understand for its proper implementation: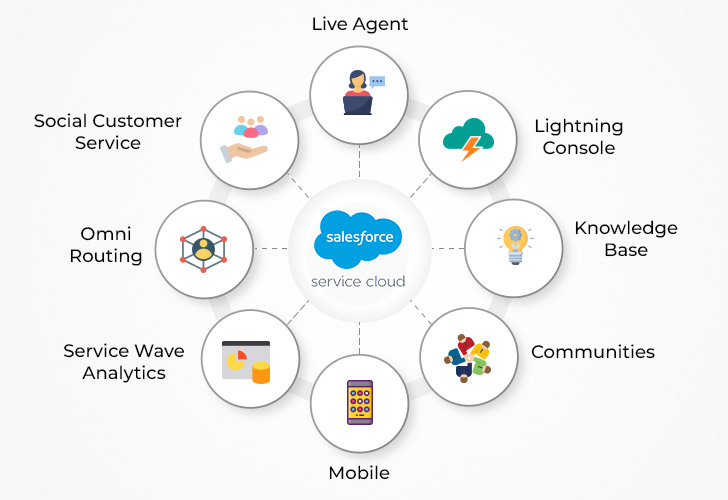 Live Agent
Live Agent allows a customer to connect to a Service Agent through the web in real-time and get access to multilingual support. You get the benefit to chat 1:1 in real-time from any device and chats can be easily routed to subject matter experts.
Lightning Console
The Lightning Console consolidates agent experiences and offers all the important information from dashboards, and customer profiles, to case histories. This helps boost agent productivity.
Knowledge Base
Knowledge Base is embedded into the agent console and helps agents get access to and deliver the right answers to the customers. It also helps agents in sharing knowledge with any other device or channel and allows them to contribute to the knowledge base.
Communities
Communities offer employees a place where they can find answers quickly and easily at any time. Customers and agents get tools for faster problem-solving and better engagement.
Benefits of Salesforce Service Cloud for a Business
Mobile
Salesforce Service Cloud mobile app allows cases to be managed from anywhere. The app allows field-service agents to solve their cases while on the go and executives and managers are able to monitor real-time metrics.
Service Wave Analytics
It is the first app that helps introduce the efficacy of wave analytics to the Service Cloud of salesforce. The app allows service managers to easily and efficiently check on agent efficiency, channel optimization, and case management from anywhere.
Omni Routing
Omni channel helps with the automatic routing of work items such as leads and cases to the most relevant agent. This helps administrators in configuring Salesforce Service Cloud to distribute workload depending on the skillset, availability, and capacity of the employee to handle the assigned work. This in turn ensures that high-priority work gets the most attention.
Social Customer Service
This feature helps the customer service team with the right tools for creating and handling cases on social media channels like Facebook, Instagram, Twitter, YouTube, etc.
Important Factors in the Implementation of Salesforce Service Cloud
Let's understand the important points you need to know for a successful Salesforce Service Cloud implementation: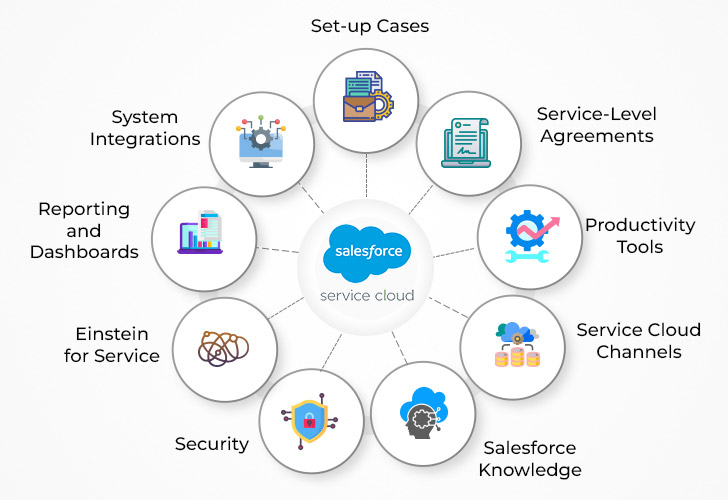 Set-up Cases
Cases are tools used by service agents for interacting with their customers. It is important to ensure that cases have been properly configured to offer a strong foundation on which you need to build your implementation. Cases and case management practices have a direct impact on customer satisfaction. The important tools available in your case management box include Case Teams, Queues, Assignment Rules, Auto-Response Rules, and Escalation Rules.
Service-Level Agreements
To serve your clients in the best possible manner, a standard of service is used to make sure that appropriate attention is given to all the cases that are created. Service-level agreements help you define a commitment to the service that you've made to your customer. With the help of service contracts, milestones, assets, and entitlements, you receive an in-depth approach to managing service-level agreements.
Productivity Tools
After you define the case layout and service process, you become aware of repetitive opportunities or tasks for automation that your service agents can implement while interacting with cases. Service Cloud contains a range of user-friendly tools that help address the issues of redundant tasks. The common tools include Email Templates, Quick Text, Split View, Mass Quick Actions, and Macros.
Service Cloud Channels
Service Cloud helps capture interactions with your customers across a range of channels like phone, email, social networks, community portals, webchat, and more. Automation tools for case creation such as email-to-case and phone calls make it easy to interact, update, and manage service requests, allowing agents to devote more time to solving issues effectively.
Salesforce Knowledge
Salesforce Knowledge equips you with a repository for storing and sharing knowledge articles with your website visitors, partners, service agents, and customers. Knowledge articles include documents that contain a range of important information you would like to share such as a step-by-step walkthrough or an FAQ. Also, knowledge articles permit your service agents to utilize the Knowledge Base for answering customer inquiries and insert articles in the chat session. By using Data Categories, you can organize and group articles by defined criteria and make way for controlled access, ensuring only the right people can see certain documents.
Security
It is important to guarantee that confidential or sensitive information stays secure. The security features of Salesforce provide custom access for all users. With features like Roles, Sharing Settings, Permission Sets, Field Level Security, and Profiles, you can control access from the top level to the bottom level of the data structure of your organization.
Einstein for Service
One of the most attractive features of the Service Cloud is Einstein for Service. It includes a collection of tools that uses AI and intuitive recommendations for helping service agents and customers. The common AI tools include the following:
Einstein Classification Apps: The classification apps include Einstein Case Classification and Einstein Case Wrap-Up. The apps assist agents at both ends of the lifecycle– when a case is created and when a customer chat ends. Predictive intelligence is used for suggesting or classifying case field values depending on values from the closed cases.
Einstein Bots: Bots help in decreasing the number of low-complexity requests to your agents. They are configured for handling routine inquiries from your customers and when needed, pass on complex issues to service agents.
Einstein Article Recommendations: Based on their chat communications, agents can be provided with article recommendations to effectively answer cases.
Einstein Reply Recommendations: Agents can easily create replies to customer chat messages allowing for message standardization and freeing up the resolution time of agents.
Reporting and Dashboards
To provide superiors with a broad picture of the output of their service team and depict opportunities for process improvement, Salesforce Service Cloud provides reports and dashboards. Reports help in tracking statistics like the number of cases created, emails, case comments, case owners, response time, contact roles, and other important case data. Dashboards help you in visualizing report data and providing an overview of the service health check.
System Integrations
Salesforce might not be the only system that is a part of the service process of a business. If you need integration with an existing service platform or ERP, there are a range of solutions you can utilize to connect to your Service Cloud. This gives you the freedom to share records between systems and carry out useful automation that can help streamline your resolution process and boost customer experience.
Summing Up
Considering the myriad offerings of Salesforce Service Cloud, it is easy to build a custom service application with its help. A tailored Service Cloud solution with an in-depth understanding of your business and service processes can offer great value to you and your customers for building relationships and increasing business value.