In today's corporate landscape, Salesforce has become synonymous with efficient customer relationship management. This powerful platform is adept at enabling organizations to streamline operations, enhance customer interactions, and drive growth. However, ensuring the continuous functionality and optimization of Salesforce can be a resource-intensive and complex task. That's where Salesforce outsourcing service providers come into the picture, provide cost-effective solutions for maintenance and support.
Salesforce outsourcing includes entrusting a specialized third-party service provider with continuous management, maintenance, and support of your Salesforce instance. These companies offer a whole range of services to make sure your Salesforce environment runs easily and effectively.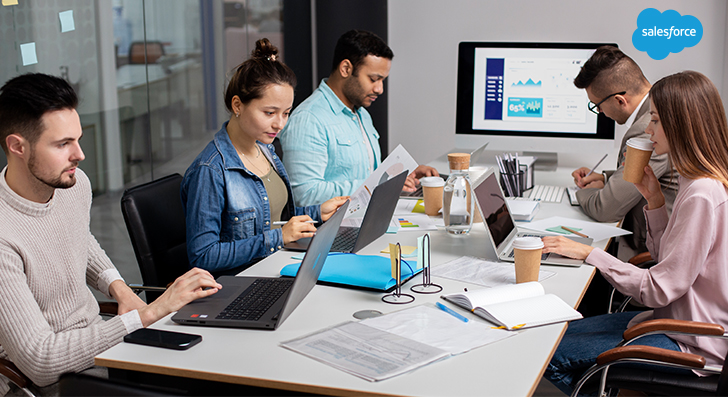 Benefits of Outsourcing Salesforce Maintenance and Support
Let's explore the most common advantages of outsourcing Salesforce maintenance and support:
1. Savings on Operational Cost Including Licenses
The potential for cost savings is one of the most persuasive benefits of outsourcing Salesforce maintenance and support. You can avoid the overhead costs of hiring and training internal Salesforce expertise by choosing to outsource. Additionally, it is a cost-effective option for organizations of all sizes because you only pay for the services you actually use, whether on an hourly, project-based, or retainer basis.
2. A Chance to Work With Salesforce Technology Experts
Salesforce outsourcing service providers are experts in their field. They have an in-depth understanding of the Salesforce platform and stay updated with the latest features and updates. Partnering with these experts provides your organization access to a wealth of knowledge and experience, ensuring that your Salesforce instance is configured and maintained in line with best practices.
3. Prioritization of Your Core Competencies
When you outsource Salesforce maintenance and support, you allow your internal team to focus on what they do best — expanding your company and providing excellent customer service. Your staff members can focus on their core strengths, driving innovation and revenue growth, rather than being bogged down in Salesforce administrative activities.
4. Round the Clock Salesforce Maintenance and Support
A lot of Salesforce outsourcing service providers provide round-the-clock help, ensuring that urgent problems are handled right away even after regular business hours. This continuous support can be invaluable in maintaining a seamless user experience for your customers and employees.
5. Flexibility To Scale Operations
The requirements for Salesforce evolve and grow along with your company. To accommodate your changing needs, outsourcing companies can scale up or down their services. Whether you require additional support during a peak season or want to implement new Salesforce features, outsourcing provides the flexibility to adapt to the needs of your organization.
6. Regular Maintenance
When it comes to Salesforce maintenance, outsourcing partners often take a proactive approach. They regularly monitor your instance for potential issues, implement updates and patches, and suggest enhancements to optimize your Salesforce environment. This preventive approach helps avoid expensive downtime and data loss.
Stay Ahead of Issues: Invest in Salesforce Support and Maintenance for Smooth Operations.
Selecting the Right Salesforce Service Provider
Selecting the right Salesforce service provider is essential to realizing the full benefits of outsourcing. Here are some key factors to consider when evaluating potential partners:
1. Experience and Expertise
Look for providers that have a proven track record of successfully managing and supporting Salesforce instances. Verify their certifications and pursue client testimonials to assess their expertise.
2. Service Offerings
Make that the provider offers a comprehensive range of services aligned with your business needs, from basic administration to advanced development and integration.
3. Flexibility
Select a provider that can customize their services to meet the particular requirements of your organization. Their ability to adapt and scale with your business is crucial.
4. Data Security and Compliance
Make sure that the provider adheres to best practices for data security and complies with relevant regulations. Protecting your sensitive customer data is of utmost importance.
5. Communication and Transparency
A successful outsourcing collaboration depends on effective communication. Choose service providers who keep open lines of communication and often update you on the status of your Salesforce instance.
6. Pricing Model
Understand the pricing model of the provider and make sure it aligns with your budget. Be careful about any hidden fees or unexpected charges.
Unlock Salesforce Success with a Trusted Service Provider
Common Salesforce Support Services Outsourced
Salesforce outsourcing service providers offer a wide range of services to meet the needs of your organization. These services can be tailored to address specific challenges or to optimize your Salesforce instance.
Here are some common Salesforce support services that can be outsourced:
1. System Administration
Routine Salesforce administration tasks such as user management, security settings, and data maintenance can be outsourced to ensure your Salesforce instance is always up to date and secure.
2. Data Migration
When migrating to Salesforce or between Salesforce orgs, outsourcing data migration can streamline the process, reducing the risk of data loss or corruption.
3. Custom Development
Whether it's building custom apps, integrating Salesforce with other systems, or automating processes, outsourcing custom development projects can expedite your Salesforce implementation.
4. User Training and Support
Providing ongoing training and support to your Salesforce users ensures they make the most of the platform. Outsourcing this can result in more effective user adoption.
5. Reporting and Analytics
Outsourced experts can help you design and implement custom reports and dashboards, providing valuable insights into your business's performance.
6. Integration Services
Integrating Salesforce with other applications and systems can be intricate. Outsourcing integration projects can ensure a seamless flow of data across your organization.
7. Upgrades and Maintenance
Keeping up with Salesforce updates and maintaining customizations is imperative for system stability. Outsourcing these tasks ensures that your instance remains up to date and functional.
Conclusion
Salesforce is an effective solution that can transform your company's operations and customer interactions. However, constant upkeep and care are necessary to realize its full potential. Outsourcing Salesforce maintenance and support to a reputable service provider offers cost savings, expertise, scalability, and numerous other benefits that can enhance your Salesforce experience.
By partnering with the right Salesforce outsourcing service provider, you can focus on your core competencies, free up your internal resources, and make sure that your Salesforce platform operates at its peak performance, ultimately driving your business forward in a cost-effective manner. Thus, if you're looking to maximize the value of Salesforce while minimizing operational headaches, outsourcing your Salesforce maintenance and support could be the strategic move your organization needs to succeed in today's cutthroat business environment.
Case in Focus
A Leading Health Insurance Provider Improved its Policy Sales Revenue Through a Custom Salesforce Implementation
The client is a leading health insurance provider in the United States and needed a single system to remove process bottlenecks and improve sales team's efficiency.
Damco worked with the client to design a customized Salesforce solution that enabled the client to visualize the entire sales process under one system and enabled approvals in one place. Read more.