For business owners, selecting the right field service management software is a crucial decision. Businesses spend a lot of time looking for ways to decrease downtime, keep costs low, and build an enjoyable experience for customers and internal teams. The right FSM software solution plays a key role in helping businesses stay organized. It helps maintain lean field service processes, provide better customer services, and keep customers informed proactively. Field workers carry out a range of tasks like servicing, repairing equipment and systems, and managing installations. Implementation of a reliable field service solution will help the workers carry out their tasks efficiently and meet customer demands in real-time. However, selecting the right software calls for considering a range of factors such as implementation, customization, cost, etc.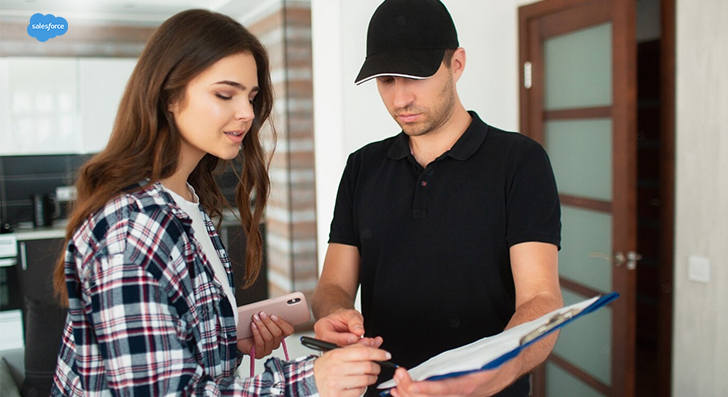 Essential Factors to Consider While Choosing a Field Service Management Software
Careful consideration of your specific priorities and needs is needed when it comes to selecting the right field service software for your business. Here are some crucial factors to consider while choosing your FSM software:
1. Understand Your Business Requirements
Begin by comprehending the unique needs and challenges facing your organization. Consider things like your workforce size, the complexity of your service operations, the requirement for system integration (e.g. inventory management, CRM), and any compliance or regulatory requirements that are particular to your given industry. You can then decide what fundamental capabilities and features your FSM solution should have.
2. Mobile Accessibility
Mobile accessibility is essential for field service operations in the mobile-first world of today. Check that the FSM software has a field service management app and a user-friendly web interface that enables technicians to access and update job information, collect data, and communicate with the back office while on the job site. To guarantee continuous access in locations with weak or nonexistent network coverage, check for compatibility with various mobile platforms (iOS, Android), as well as offline functionality.
3. Scalability and Flexibility
Examine the FSM software's scalability in light of the expansion of your company. Think about how many users and technicians it can support, how it handles growing workloads, and whether it can adjust to changing business requirements. Look for a flexible solution that can be adjusted to fit your particular workflows and processes.
4. Capabilities of Integration
Take into account how well the software integrates with other platforms and equipment that are essential to your company's operations. Data exchange can be streamlined, duplicate data entry can be avoided, and an overall picture of your operations can be provided by seamless integration with your current Customer Relationship Management (CRM) system, inventory management software, accounting software, or other pertinent applications.
5. User-friendly Interface
Adoption and ease of use depend heavily on an intuitive and user-friendly interface. Look for software that has a clean, well-organized interface, is simple to use, and requires little training for both office staff and technicians. To evaluate the software's usability and make sure it meets your team's needs, ask for a demo or trial period.
6. Data Protection and Security
It's common for field service operations to involve private customer and business information. Make sure the FSM software places a high priority on security measures like access controls, data encryption, and adherence to data protection laws like the GDPR. Ask the software vendor about their disaster recovery plans, security protocols, and data backup processes.
7. Training and Customer Support
Take into account how well the software vendor supports its customers. Examine their availability of technical support, responsiveness, and the quality of the documentation and training provided. The efficient implementation and application of the FSM software can be greatly improved by receiving adequate support and training.
8. ROI and Pricing
The final step is to assess the FSM software's ROI and total cost of ownership (TCO). Take into account both one-time expenses like licensing fees and implementation costs as well as ongoing costs like subscription fees and any additional fees for customization or integrations. To determine the long-term value of the software, consider the advantages it might have for your company, including higher productivity, cost savings, and better client satisfaction.
Crucial Considerations Before Investing in a Field Service Management Solution
Prior to buying field service software for your business, you need to consider a few important things. Here are some of those things:
1. Evaluate Your Business Needs
Business executives may be tempted to purchase business software without first taking the time to evaluate their needs. To find the software that best meets your needs, it's crucial to take into account all of your company's unique requirements and pain points.
Instead of going for the same software that your competitor uses, develop a solid understanding of your services and how the software you select can improve your business. Even though your company may already be very successful, keep in mind that as it expands, you'll need more solutions. To keep up with the changing needs of your organization, the software you select should be scalable.
2. Ensure the Compatibility of the Software with Your Team
This software is intended to be implemented and used throughout your entire company, not just by one or two team members. You'll want to make sure that the features and benefits of your field service management are widely used, allowing each of your teams to gain from it directly.
Make sure to consult your team when creating your list of software features to look for in your next piece of software. To help you choose the best platform for your business, look into any specific requirements and make use of feedback.
3. Explore the Features of the Software
Each piece of software has unique capabilities and requirements. You might require help with detailed asset management, for instance, or work order functionality. To choose the best field service management software, be sure to list the precise needs that the software should address.
Businesses frequently require help with tracking work orders, scheduling, listing inventory, job history details, and other issues. To make sure your needs are met, compare these requirements to the software's key features.
Conclusion
Selecting the right field service software for your business is a crucial decision. You need to thoroughly assess your business requirements and consider all the above-mentioned factors to make an informed decision. This will help you choose a top-quality product that will equip your business with the most important advantages. Considering feedback and guidance from companies who are already using FSM software can also help you get access to the right knowledge for choosing a product for yourself. Quality software will not only make your field job easier but also boost the overall digital experience of customers and contribute to business growth.