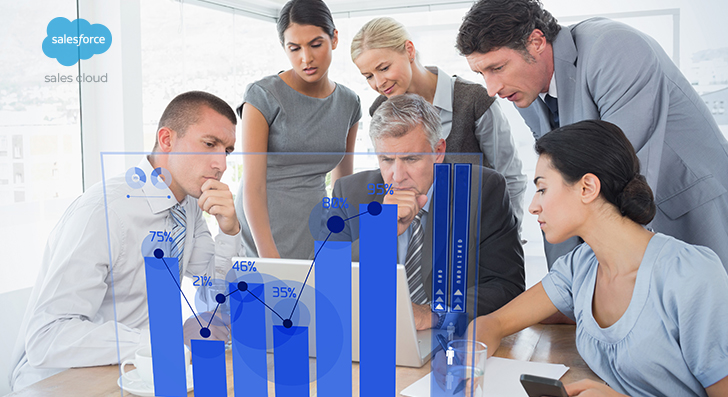 Salesforce Sales Cloud is an enterprise product that provides a top-notch platform for managing the end-to-end functioning of the sales operations of an organization. It is one of the most efficient tools for enhancing the framework of an organization and increasing sales and ROI while providing unprecedented visibility to sales. It can be accessed from anywhere at any time via a mobile application or a browser. You can also leverage AppExchange, a platform that provides access to a range of applications that can be easily embedded into your Sales Cloud.
To ensure the ideal implementation of Sales Cloud, you need to follow certain practices. Let's understand the best practices that can help you reap the maximum benefits from your Sales Cloud:
Use Customization Features Effectively
One of the most important benefits of Salesforce is that it offers multiple customization functionalities, allowing your organization to establish its setups as per its needs. You can scale up your operations to your required level and increase response time and efficiency to meet the different requirements of your customers. Sales Cloud equips teams with multiple profiles, dashboard layouts, engaging applications, and lots more that can be customized easily to meet the needs of business operations. You can set up specific procedures and depict particular data from different teams in diverse fields.
You can create customized applications and tools to help you track deals in the pipelines. A business can also design an app for sales support to offer sales professionals access to important information when they are in the field. These are just some of the ways in which you can customize Sales Cloud. You can come up with as many customizations as you want to meet your dynamic business needs.
Automate Sales Processes
Automation ensures that sales teams do not end up devoting their precious time to things that are not directly related to closing deals. Most tasks and related business processes like approvals, reports, price modifications, etc. can be easily automated with the help of Sales Cloud, ensuring better productivity of your sales teams.
Based on the data processed by the Sales Cloud and the automatic approvals provided, teams are able to form their decisions effectively and quickly. You can customize business processes with the help of features like drag-and-drop menus and Chatter feed approvals. Ultimately, automation helps you derive maximum benefits from your Sales Cloud investment.
Manage the Functions and Operations of Your Sales Department
The best method to ensure the effective implementation of Salesforce after signing up is to make it central to the operations of the sales departments. The best way sales representatives can guarantee that they receive all the credit for creating pipelines and closing sales is to make it important that details are routed through the Sales Cloud. You can also guarantee accountability by using well setup Salesforce dashboards. Sales Cloud becomes the absolute source of information for your team by helping you route all potential ideas and meetings through it. Make the most of Salesforce by using it properly and exploring its features. Promote app usage by enabling Salesforce Mobile App on all the devices your sales reps use.
5 Things To Know Before Implementing Salesforce Sales Cloud
Utilize Success Plans
Setting up Sales Cloud is the first step towards achieving your success objectives. But if you wish to take things a step ahead, the Cloud offers multiple services, tools, and support systems to carry out tasks quickly. Making use of one of the available Success Plans is one of the best ways to get started. The direction, training, and support protocols needed to help you attain your objectives are included in the Success Plans.
When you sign up, the Standard Success Plan is already available to you. If you want to speed up deployment, increase productivity, and encourage adoption, you can use the Premier or Premier+ Success Plans of the Sales Cloud. For an advanced level of customized support, you can consider the Signature Success Plan. It includes all the features of Premier and also introduces a team of experts who work hard towards ensuring the excellent performance of your Salesforce instance.
Streamline Sales Operations
To obtain a wide range of information on an everyday basis, an average salesperson has to deal with multiple apps. Organizations often use a separate app for tracking prospective leads, checking commission status, tracking travel, obtaining product information, and getting access to relevant updates. To help salespeople operate in a more effective manner, Sales Cloud links the different apps that professionals use. The connections can be built with the help of Application Programming Interfaces (APIs) provided by Salesforce.
You can easily incorporate these APIs with multiple business programs for streamlining work. AppExchange provides different apps for this purpose. Various aspects of the sales process such as pay scales, e-signatures, and commission estimators can be easily managed with the help of apps and APIs.
Use Data Science to Accommodate Sales Representatives
Sales representatives are constantly bombarded with huge amounts of data concerned with sales and customers. This can be overwhelming for them as they need to analyze and manage the data from their personal devices. Sales Cloud aims to simplify this process for reps with the help of Einstein AI. This AI software by Salesforce helps understand the accurate data from different departments so that reps can use them for making accurate decisions efficiently and easily and creating a pipeline of leads.
Einstein AI helps in identifying leads that need to be prioritized for a positive conversion. If a sales rep needs data for a particular sales advice, then Einstein Lead Scoring can help them with the advice by providing data on the complete sales cycle. This will help them quickly close the deal with the help of relevant data. Opportunity Insights of Einstein can help you track those deals in progress, the ones that can cause potential risk, and other important data that can assist with the sales process.
Evolve Your Salesforce With Sandboxes
The chief purpose of Salesforce Sales Cloud implementation is to streamline workflows and ensure smooth functionality. But, before any new tool is introduced into operations, it needs to be tested to see if it will be a success or not. With the help of sandboxes, you can create an ideal environment for testing new functions in a setup that doesn't interfere with your present operating system. Sales Cloud offers a wide range of sandboxes for every department of an organization allowing them to run tests and evolve their processes depending on the success rate.
In Conclusion
Sales Cloud by Salesforce helps sales teams in automating their vital sales processes and attain their goals quickly. By helping teams employ well-structured sales processes, get in-depth information on deals, and receive guidelines on procedures that they should follow, Sales Cloud sets a foundation for the effective functioning of an organization. By following the above-mentioned best practices, you can increase not only your sales productivity but also sales revenue and conversion.
Case in Focus
Japanese Manufacturer Achieved Shorter Sales Cycle and Maximized Deal Size Through Implementation of Salesforce Sales Cloud and CPQ