In today's competitive landscape, businesses of all sizes across verticals are increasingly turning to emerging technologies to drive innovation, reduce costs, and achieve operational excellence. At the forefront of this digital revolution is RPA, a disruptive technology that empowers CIOs, IT Directors, and IT Managers to spearhead technological advancements and automate repetitive and rule-based tasks to unlock unparalleled productivity, efficiency, and accuracy. In other words, RPA allows decision-makers to streamline complex processes, optimize resource allocation, drive digital transformation, unlock new avenues for growth and success, and propel their business toward an agile future. This clearly indicates the rise of the cobots and the market for collaborative robotics is estimated to reach 12 billion USD by 2025.
The adoption rate of Robotic Process Automation (RPA) is on an upward trajectory for quite some time and is predicted to increase significantly in the next 2–3 years across industry verticals. By 2025, RPA is predicted to achieve a universal adoption rate of nearly 95%. Furthermore, the global RPA market size is estimated to reach 30,850.0 million USD by 2030 at a CAGR of 39.9% during the forecasted period. What's more interesting is that RPA implementation can help businesses save potentially between $5 and $7 trillion by 2025. Now, let's dive deep into the complex processes that businesses can automate with the help of Robotic Process Automation (RPA) to gain strategic advantages.
4 Complex Business Processes to Automate With Robotic Process Automation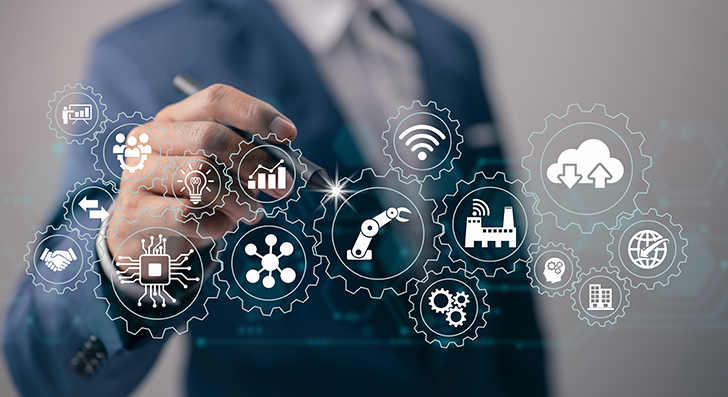 1. Invoice Processing
Organizations of all sizes across industry verticals deal with invoice processing, a tedious, time-consuming task since it comes with several challenges including the disparate formats in which third-party vendors submit the invoices (hard copy, PDF, Word Doc, Email, Fax, etc). This requires a lot of work for the finance department since they need to manually transfer the data obtained from disparate sources into the company's unified database system.
With RPA implementation, digital workers (intelligent bots) can automatically process invoices received either electronically or in paper formats (using OCR). Besides automating data input, RPA bots can validate it, reconcile errors, feed it into the database system, and even make appropriate decisions. This eliminates the need for manual human intervention and expedites the entire invoice processing with exception handling. In fact, a recent report indicates that one RPA bot can displace up to 30x the work of a human full-time employee resulting in increased ROI. This may be one of the reasons why around 80% of decision-makers in the finance domain have either implemented or are planning to implement Robotic Process Automation.
RPA in Finance is Not Just Limited to Cost Savings
2. Enterprise Resource Planning (ERP) Data Entry
ERP data entry is one of the most common tasks that eat up the productive hours of the back-office staff. The reason behind this is that analysts need to collect data from various sources and update the workflow. In fact, many business analysts end up spending their entire day key-in data into the ERP systems, such as Oracle, SAP, NetSuite, MS Dynamics 365, etc. Manually entering data into the ERP system is not only tedious and time-consuming but also error-prone. Furthermore, when the data is entered incorrectly, it will disrupt the entire ERP workflow, which in turn, creates a ripple effect.
With RPA implementation, organizations can automate the complete ERP data entry process right from data collection and logging to data processing, updating, or validating the records. In other words, RPA bots can drive productivity by reducing the time spent on tedious and recurring tasks from several hours to a few minutes and freeing up analysts to focus on more rewarding and strategic work. Besides automating ERP data entry, RPA bots can maintain an organized and clean database for improved Business Intelligence and better compliance results.
3. Payroll Management
The HR department is inundated with a slew of repetitive and time-consuming tasks that are reliant on manual-driven processes, and payroll management is one such process that is manual, rule-based, and recurring in nature. Not to mention, it requires a significant amount of data entry efforts, which often leads to inaccuracies and delays in payment, resulting in disgruntlement in employees.
RPA implementation allows HR professionals to automate the payroll process without any inaccuracies. Digital workers (intelligent bots) can validate employee time records by checking timesheets, calculating load earnings and tax deductions, running batch extracts, and ensuring data consistency across multiple systems. By automating the entire payroll process, RPA bots free-up HR professionals to invest their time in other high-value tasks that improve employee satisfaction and drive business growth. What's more interesting to note is that on average, a company that leverages the potential of RPA bots for time and attendance processes can save 20000 USD a year.
Confirm Project Feasibility for Your Business
4. User Termination
Similar to employee onboarding, user termination requires HR professionals to undertake several tedious and time-consuming activities to ensure that the access of an employee leaving the organization is properly removed and the KT session is organized on time. Besides this, HR and IT teams need to collaborate to deactivate credentials and enter exit information into multiple systems. With the help of RPA bots, HR teams can implement an automated user termination and de-provisioning process. In other words, the entire exit management process from sending out updates to relevant stakeholders to performing exit surveys, consolidating leaving employees' feedback, producing exit records, and processing final payments can be automated with RPA.
Discover the Right Processes to Automate
Summing Up
RPA is the future of business process automation since it has an innate potential to revolutionize complex business processes across verticals and drive enterprises toward unmatched levels of productivity, efficiency, scalability, and success. If you are also struggling with tedious and time-consuming tasks, RPA can be a game-changer for your business. By automating rule-based processes, you can not only drive productivity and efficiency but also unlock a world of endless possibilities. Embark on this transformative journey of RPA to propel your business to new heights.
Case in Focus
A leading accounting firm based out of London, England, used to invest several hours in preparing management reports. The client was looking for a solution to reduce the time spent on reporting. With the help of RPA bots, the client was able to cut down on the management report preparation time from a week to an hour, which in turn, freed up data analysts for more rewarding work.