In today's business realm, companies that don't stay updated with the latest technologies end up being digital laggards. In fact, the key to stay ahead of the competition is embracing emerging technologies that help in improving employee engagement, driving workforce productivity, streamlining the workflows, and enhancing customer satisfaction. RPA (Robotic Process Automation) is one such emerging technology that offers unmatched business value to any department, however, its benefits extend even beyond in the HR vertical owing to the high volume of manual, time-intensive, and administrative tasks that are repetitive in nature.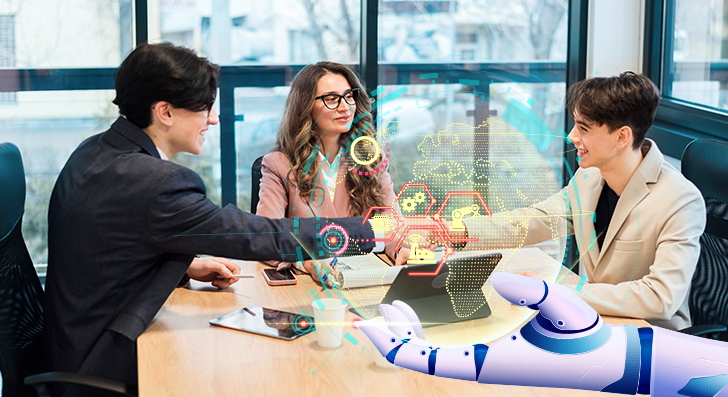 According to a report by Deloitte, over 50% of standard HR operations could be automated with RPA. In fact, implementing Robotic Process Automation in HR processes can reduce the employee onboarding time by 90%. This may be the reason why organizations consider HR as the first department when embarking on their RPA journey. Besides cutting down on employee onboarding time, RPA in HR can reduce error rates to almost zero by automating a slew of tasks that require manual and repetitive labor. These tasks include CV screening and shortlisting candidates, employee induction and training, payroll processing, employee data management, expense management, performance management, employee exit management, and many more. Unlike traditional HR tools that only help in data management, RPA integrates well with most of the HR functions and meets desired objectives efficiently. Now, let's find out how RPA can help Human Resources professionals.
Benefits of RPA in Human Resources
Implementing RPA in HR processes can significantly improve the efficiency of HR staff by automating most of the repetitive tasks. This non-invasive technology can be easily integrated with an existing enterprise IT landscape and perform manual drudgery in the background with little to no human intervention.
1. Lower Attrition Rate
RPA in HR can contribute to lowering attrition rates since the implementation of bots can automate repetitive and rule-based tasks, allowing HR professionals to focus on more strategic and value-added activities such as addressing employees' concerns. For instance, RPA in HR operations can streamline the onboarding process by automating repetitive tasks whilst offering an efficient and smooth onboarding experience, which in turn, reduces the likelihood of dissatisfaction and frustration that contribute to early attrition. Similarly, Robotic Process Automation in HR can automate various aspects of the performance management process including tracking progress against objectives, setting reminders for performance reviews, etc. This ensures timely feedback which can positively impact job satisfaction and lower retention among employees.
2. Improved Productivity
Since RPA-powered bots will be performing manual and repetitive tasks in the background, HR professionals can focus on more high-value tasks resulting in improved productivity. For instance, RPA bots can streamline onboarding processes, automate time and attendance tracking, and ensure compliance with HR policies and regulations, allowing HR staff to focus on more strategic aspects of workforce management rather than investing time and effort in routine administrative tasks.
3. Greater Efficiency
Robotic Process Automation (RPA) in HR can significantly improve efficiency by streamlining workflows, automating routine tasks, and reducing manual errors. For instance, RPA bots can be leveraged to automate data entry tasks, such as verifying information, updating employee records, and maintaining databases. This not only eliminates the risk of errors but also improves accuracy and overall efficiency in HR operations. Similarly, RPA can assist HR staff in reducing the time and effort required for routine administrative tasks, resulting in more efficient onboarding and offboarding.
Use Cases of RPA in Human Resources
HR professionals are replete with a multitude of administrative tasks that are repetitive and time-consuming in nature and require intense manual labor. This makes sense to consider HR as the first department when giving a kick-starting to an RPA journey. So, let's dive deep into the popular use cases of RPA in HR.
I. Candidate CV Screening and Shortlisting
When it comes to filling open positions in a company, Human Resources professionals have to go through the huge piles of candidates' resumes and applications received through multiple channels such as Linkedin, job portals, emails (direct references), etc. Screening candidates manually can be a tedious and time-intensive task. With RPA implementation, Human Resources specialists can expedite the process of CV screening and candidate shortlisting.
By deploying RPA in HR, digital workers (intelligent bots) will meticulously perform background checks and shortlist the candidates by analyzing and comparing their qualifications, work experience, and other indispensable information against the job requirements. Based on this, the shortlisted candidates will receive interview notification calls in a matter of seconds. Besides this, RPA helps Human Resources professionals do away with the mountains of paperwork involved in the hiring process. Simply put, RPA in HR can not only streamline the complicated recruitment process but also help in attracting top talent.
II. Creating and Issuing Offer Letter
Robotic Process Automation in HR is also helpful in creating and issuing offer letters to new joiners. The contents present in an offer letter are highly personalized to the candidate and are 100% accurate whilst conforming to local and company regulations.
Explore Automation Expedition With RPA Use Cases
III. Streamline Onboarding
Each new employee brings a new skillset, however, the process of onboarding is almost similar for every employee. If a company is hiring in mass numbers, the joining formalities and other paperwork can consume a lot of time for HR professionals. With Robotic Process Automation in HR, the entire onboarding process can be streamlined with 100% accuracy and 10X less processing time. Upon the creation of a new employee account, digital workers (RPA bots) will automatically trigger a template for the onboarding workflow. Besides this, intelligent bots can also be leveraged for the creation of employees' IDs. This in turn helps new joinees to quickly get into their job role and responsibilities in a hassle-free manner.
IV. Payroll Processing
Amidst all tasks performed by Human Resources specialists, payroll is the most tedious and repetitive since it requires massive manual labor such as data entry on a regular basis. In fact, managing payroll manually can increase the risk of errors in operations. Furthermore, ever-changing tax slabs make payroll processing more laborious and time-intensive for HR professionals. By deploying RPA-driven bots, HR specialists can significantly improve payroll process-related accuracy, consistency, and service quality. Simply put, automating the payroll process will not only reduce the inaccuracy rate but also help HR specialists ensure that employees are paid on time, which in turn, keeps employees happy.
Wrapping Up
The global RPA market size is predicted to surpass 13 billion U.S. dollars by 2030. Today, businesses are investing heavily in this emerging technology since it has the potential to liberate HR professionals from monotonous, time-intensive, and repetitive tasks. The scope of RPA in HR is not just limited to shortlisting candidates, employee onboarding, and payroll processing. In fact, RPA in HR can also be proven helpful in employee induction and training, data management, expense management, performance management, tracking attendance, employee exit management, and to name a few. If you also are planning to embrace Robotic Process Automation in HR, you may consider seeking end-to-end consultation from a reliable RPA expert.