Businesses that are on their digital transformation spree have more opportunities than ever to automate repetitive, tedious, manual, high-frequency, and rules-based processes. Robotic Process Automation is one such technological breakthrough for industries across verticals including Banking, Financial Services and Insurance (BFSI), Customer Service, HR, Healthcare, Logistics, Manufacturing, Retail, Telecom, and to name a few. In fact, 53% of enterprises have already embarked on their automation journey with RPA and an additional 19% of them are planning to adopt Robotic Process Automation in their operations in the next two years. Furthermore, the spending on RPA software globally is estimated to reach 23.9 billion USD by 2030.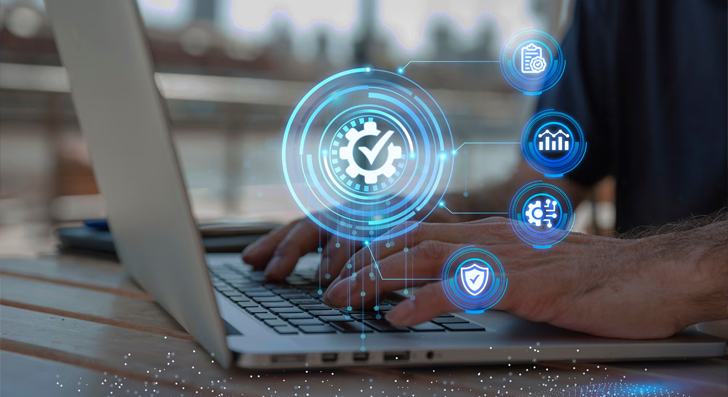 RPA is an emerging technology that not only allows enterprises to automate their workflows and operations but also helps them outperform their competitors by reducing costs, driving workforce productivity, eliminating human errors, improving accuracy and efficiency, enhancing customer service, improving compliances, and unlocking scalability opportunities.
The best part of RPA is that it is non-disruptive and can easily interact with existing systems. This simply means that enterprises don't need to incur the high cost of replacing legacy systems to automate rules-based processes or deal with the complexity of modernizing the existing IT infrastructure that comes with business downtime. Though there are innumerable ways to use RPA for automation, this informative yet detailed piece will walk you through the popular use cases of RPA across industries. Let's dive deep into it.
7 Real-world Use Cases of RPA

1. Banking & Finance
Another industry that can be benefitted from Robotic Process Automation is Banking & Finance. According to a study conducted by McKinsey, RPA can fully automate 42% of finance activities and 43% of banking processes. With RPA implementation, businesses operating in Banking & Finance space can automate a wide range of time-intensive and repetitive tasks such as customer onboarding, loan processing, KYC, account closure, invoice processing, accounts payable and receivable, tax reporting, P&L reporting, payroll, and to name a few. Apart from this, RPA helps banking and financial service providers in cost savings, improving customer experience, meeting compliance standards, reducing the risk of human errors, and achieving better scalability. Lastly, BFSI is one such industry that comes at the top when it comes to RPA adoption since it holds the largest revenue share, accounting for 28.8% of the overall market.
2. Manufacturing
Intelligent automation is realized in the manufacturing industry in the form of physical robots that are designated to perform assembly, test, and packaging tasks. However, RPA adoption can help manufacturing companies in automating time-consuming tasks such as invoice processing, bill of materials (BOM) management, supply chain and freight management, inventory management, regulatory compliance, back-office operations, proactive risk management, and more. By automating highly repetitive and rules-based processes, manufacturing companies can achieve significant cost savings, mitigate labor shortages, reduce wastage and errors, improve efficiency, and harness many other benefits. This may be the reason why 43% of manufacturers are already using Robotic Process Automation in their operations, while an additional 43% are planning to deploy RPA initiatives.
Data analytics can also help in identifying instances of internal and external fraud during claims processing. It could take the form of unusual billing or multiple claims. The ability to identify such patterns and related trends can empower insurance companies in shielding themselves from fraud. The resulting elimination of fraud allows data analytics to incorporate more value into claims processing.
3. Retail
Robots are gaining strong momentum across all industries, and retail is no different. With RPA, retailers can take automation to another level. In fact, 80% of retailers expect RPA implementation can help them create a personalized customer experience, streamline business processes, improve efficiency, and reduce costs. Furthermore, RPA bots can help retail companies automate a slew of rules-based processes such as inventory management, product categorization, in-store planning, invoice processing, customer support, supply chain management, consumer behavior analysis, business and sales analytics, ERP management, and more.
4. Real Estate
Real estate is one such industry that is ridden with voluminous, data-intensive, documented, and rules-based processes that lower the productivity of employees. The good news is that Robotic Process Automation (RPA) can help real estate companies automate 70-80% of rules-based processes, resulting in improved productivity, informed decision-making, reduced operational costs, and enhanced customer experience. RPA deployment in real estate can automate manual, laborious, and repetitive tasks such as tenant onboarding, lease contract processing, tax billing and reporting, asset value management, accounts payable and receivable, NAV calculations, compliance and regulations, and more.
5. Customer Service
Gone are the days when customers used to wait for several minutes to connect with customer service or the support desk. Today, they expect instantaneous responses and effective solutions pertaining to their queries. With RPA implementation, enterprises can automate and streamline the customer service process and offer quick initial responses to customers' requests.
RPA bots when coupled with Artificial Intelligence can sort customer queries into different categories based on the parameters defined and automatically forward the requests to the most appropriate department or technical staff for speedy resolution. This eliminates the need for transferring the customer's call from one department to another. Lastly, customer service is replete with several rules-based processes and recent reports indicate that nearly 70% to 80% of rules-based processes can be streamlined and automated with RPA implementation. Therefore, it makes sense to begin the automation journey with customer service.
Begin Your Automation Journey With RPA
6. Healthcare
The healthcare industry is under immense pressure to reduce costs whilst improving care quality. The good news is that RPA holds a multitude of opportunities for the healthcare industry to provide better patient care by automating several time-intensive administrative tasks such as patient registration, appointment scheduling, insurance eligibility verification, claims management and processing, post-discharge management, and more.
Besides improving patient care, RPA implementation empowers healthcare service providers by streamlining workflow management, creating an intelligent ecosystem for better data interoperability, eliminating the need for humans to manage paper-intensive processes leading to reduced operational costs, and adhering to stringent regulatory compliance. Furthermore, a detailed analysis by a market research firm indicates that the global healthcare automation market by the end of 2028. Businesses operating in the healthcare segment can grab a share of their pie by automating mundane and repetitive administrative tasks with the help of digital workers (RPA intelligent bots).
7. Human Resources
RPA comes with an innate potential to automate over 50% of standard HR processes. With RPA implementation in the HR department, businesses can automate a slew of time-intensive and administrative tasks such as recruiting and hiring, onboarding and training, tracking attendance, employee data management, payroll processing, expense management, employee exit management, performance management, and more. In other words, RPA implementation can transform the entire HR industry at scale by bringing in increased productivity, improved efficiency, reduced errors, better scalability, and a faster return on investment (ROI). What's more interesting to note is that RPA in HR can reduce the onboarding time of an employee by nearly 90% and this may be one of the reasons why 78% of organizations are focused on automating the employee onboarding process.
Summing Up
Robotic Process Automation comes with an unmatched potential to transform businesses at scale. Today, this emerging technology has proven use cases across industry verticals. If you are also planning to embrace RPA, you need to partner with an expert that can help you in unlocking the potential of this disruptive technology. When implementing RPA in your business, you can automate one process at a time rather than considering enterprise-wide automation. This will help you determine whether RPA implementation is bringing in desired results.
Case in Focus
A leading carbonated soft drink manufacturer wanted to improve operational efficiency, therefore, decided to set up a technical team for the implementation of Robotic Process Automation. Building a technical team (BYT) by choosing an SLA/Milestone-based model from a reliable partner enabled the soft drink manufacturer to drive productivity from an 8-hour workday to a 24-hour workday and save nearly 70% on talent acquisition for RPA implementation.