Salesforce has emerged as an industry leader when it comes to managing customer relationships, data, and sales processes. The firms with growth aspirations also need to upgrade their IT systems including Salesforce CRM to match the changing business requirements. With Salesforce using firms placing an increasing emphasis on a data-driven approach to decision-making, integrating different systems has become a vital component of any Salesforce implementation. A successful Systems Integration plays a key role in connecting your org to myriad sources to support security, data consistency, and scalability. It is essential to fully utilize the potential of Salesforce and create an ecosystem that supports marketing, sales, and more.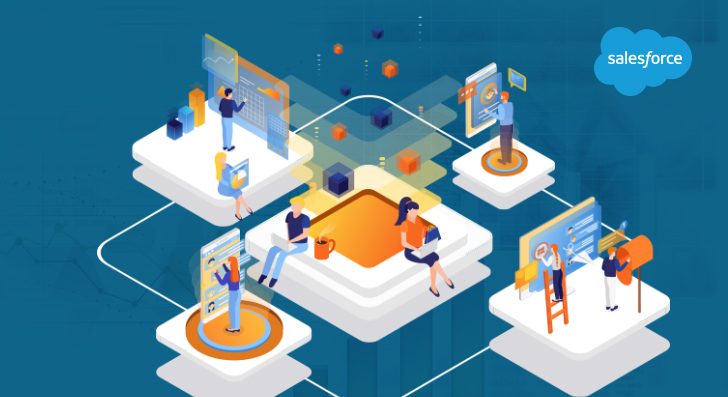 Choosing the right Salesforce integration partner is the first step in the integration process. These partners are Salesforce certified and have expertise to guarantee seamless integrations. They assist you in planning, executing, and maintaining your integration projects in an efficient manner, allowing you to concentrate on your key business.
Effective Salesforce integration minimizes errors and reduces human data entry by centralizing data and automating processes. This increases the productivity of your sales, marketing, and customer support teams by enabling them to access real-time data from several platforms in one location. Salesforce integration can aggregate customer data from multiple sources, offering a 360-degree view of your customers. This crucial information enables your sales and marketing teams to customize their strategies to individual customer preferences and needs, ultimately improving customer relationships and boosting sales.
In this blog post, we'll understand the best practices of Salesforce integration and discuss the significance of partnering with Salesforce integration services and consulting experts to boost your ROI.
Best Practices for Salesforce Integration
You must adhere to certain best practices in order to get the most out of your Salesforce integration. Now let's explore a few important ideas:
1. Define Your Salesforce Integration Goals Clearly
It's critical to establish your goals precisely before starting any Salesforce integration project. You need to know what you're hoping the integration will accomplish. Are you trying to increase customer service, boost marketing initiatives, or expedite sales processes? The first step to making sure an integration is effective is understanding your objectives.
2. Select the Right Method of Integration
Salesforce provides numerous methods of integration, including point-to-point integration, API-based integration, and middleware. Choosing the appropriate integration method depends on the needs of your business and the systems you want to integrate. Salesforce integration services providers can help you make this decision based on their expertise and experience.
3. Ensure Data Quality During and Post Integration
Maintaining high-quality data is essential to a seamless Salesforce integration. To keep your data clean and consistent, you need to set up data governance guidelines and data quality standards. Determining data ownership, validation guidelines, and access controls are necessary for this.
4. Consider Scalability
Your integration needs will change over time as your business grows. As you design your integration, keep future scalability in mind. Your integration should be adaptable enough to change as your company's needs do.
5. Ensure Security and Compliance
Data protection cannot be overlooked. Make sure that access controls, authentication, and encryption are all adhered to by your Salesforce integration as best practices. Adherence to industry regulations, such as HIPAA and GDPR, ought to be a top concern. A reliable Salesforce integration services provider will provide expertise in security and compliance, guaranteeing that your integration is both secure and compliant with all necessary regulations.
6. Test Thoroughly
Make sure you thoroughly test your integration before going live in order to find and fix any problems. Performance testing, error management, and data validation should all be a part of testing. By resolving difficulties in the testing stage, you can avoid problems when your integration is in production.
Role Played by Salesforce Integration Services
Salesforce integration can be a time-consuming and complex process, especially for organizations that have limited in-house IT resources. This is where Salesforce integration services and consulting experts come into the picture. They equip you with the following:
1. Expertise
Salesforce integration services providers are equipped with extensive experience in integrating Salesforce with multiple systems and applications. They are aware of the common challenges and issues, and they can provide solutions based on best practices.
2. Customized Solutions
The integration needs of businesses vary from one another. Experts of Salesforce integration consulting can assess your particular requirements and design custom solutions that align with the goals of your business. They can also suggest added functionalities and improvements that you may not have considered earlier.
3. Implementation and Support
Providers of Salesforce integration services can handle the whole integration process, from planning and design to implementation and continuing support. This allows your internal teams to concentrate on their core competencies while the experts focus on the technical aspects.
4. Cost Savings
Partnering with Salesforce integration experts can save you money in the long run. These professionals can help you avoid costly mistakes, decrease downtime, and guarantee a smooth and effective process of integration.
Conclusion
To get the most out of Salesforce for your company, Salesforce integration is essential. By adhering to recommended practices and collaborating with Salesforce integration services and consulting experts, you can fully utilize Salesforce, resulting in more productivity, better customer insights, and a competitive advantage in the current business environment. This allows you to create a seamless ecosystem that helps your business succeed in the long run.