Automation is streamlining business operations across various industrial sectors. Could this technology also act as the silver bullet for claims processing in insurance? Let's take a look.
John purchased a Toyota Car, 2 years ago
He got his insurance from the company "A"
Company "A" was following traditional operational methods
However, last year, his car was stolen
He quickly filed a police report and subsequently reached out to the insurance firm over a call to report the theft
Despite waiting in line for hours, agents couldn't attend to his call as they were busy with pending cases
John's claim was settled late, after a time-taking and arduous, manual process
Eventually John got frustrated and decided to change his insurance service provider
The company "A" ended up losing its one loyal customer
Automated Claims Processing
Bob purchased a house in 2019
He got his Insurance from the company "B"
The company's intimated Bob about its Automated Claims Processing via notification
Last year, his house was damaged due to a fire-outbreak
He immediately logs into the mobile portal of his insurance service provider and sends the first notice of loss (FNOL)
Company "B" uses AI algorithm to analyze the claims and checks fraud in real-time
The insurer estimates the claim and John receives the final report along with the list of builders to get the repair work done
Post the repair work, the insurer digitally receives the repair invoice, which is automatically checked and paid
Bob was happy with the service
Who do you think would be more pleased with their Insurance company? John or Bob?
Like the Insurance company "B", many companies today have realized that a slow claim process is the fastest way to strain the relationship with the consumers. Thus, they have been making a transition from the traditional system of transactions to the digital system of engagement.
Does that mean every Insurer would now have to invest in new technologies to retain the existing customers or meet the rising demands?
In simple words, the answer is "Yes". But it's important to understand the theory behind this digital phenomenon.
Today's customers, like you & I, are embracing digital channels and have all the information available at their fingertips. From booking an airline ticket to ordering a product from Amazon to requesting the services of professionals, technology is making life easy for most.
Automation in Claims Processing
In the Insurance Industry, people have begun to prefer automated insurance claims processing facilities before buying an insurance plan. In case of any unforeseen event, they would like to have the option to file a claim online. Therefore, Insurance companies must arm their customers with automated platforms to make them feel safe continuing with the plan, even after the latter experiences a loss.
The need to transform the claims operations landscape is not just because of the rising consumer demands but also due to the existing bottlenecks. Data crunch, mismanaged resources, manual input errors, and other operational roadblocks continue to pose a challenge to the efficiency and accuracy of processing claims.
In this event, digital transformation can help companies achieve an enhanced service delivery, reduction in expenditure, and improved customer satisfaction.
Benefits of Moving Towards an Automated Claims Process
A Digital Roadmap to Successful Insurance Claims Processing
After the initial investment in automating the Claims Journey, there is a significant reduction in process cost.
Automated Claims Processing helps in delivering efficient and enhanced customer experiences.
Technology takes care of mundane tasks like wading through paperwork or attending to claims' calls. Thus, allowing you to focus on business targets.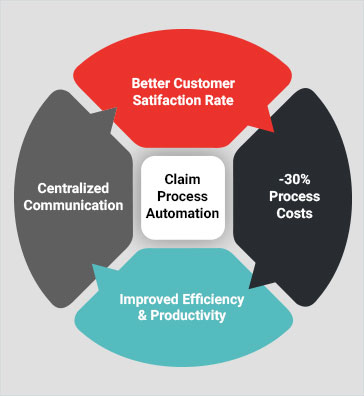 We understand that transforming your business digitally can seem overwhelming at the beginning. And you might have a lot of questions concerning the digital automation of claims processing. Luckily, the process isn't nearly as difficult as it may seem.
In our experience, successful digital transformations seamlessly integrate into existing claims systems, automate processes, and reduce cost.
There are several companies across the globe that can help you with the entire Claims Transformation journey. But to stay ahead of the curve, one should opt for a unified approach that offers end-to-end digitization. Thus, the digital redesign of a claims journey needs to go much deeper than superficial process improvements. Features such as multichannel FNOL, automated claims segmentation, and digital claims status tracking powered by RPA, AI & Machine learning should be the core of the entire automation landscape.
Automate Claims Process and Witness Reduction in Claims Cost Significantly
Role of RPA, Artificial Intelligence, and Machine Learning in Claims Processing
Creating a hassle-free and innovative claims journey for customers require a blend of AI and integration of other digital technologies. A clear understanding of these elements and the digital operating model can help the claims personnel in taking the right decisions. However, there are various steps involved in settling a claim and each one of them accounts for preventing fraud, taking data-driven decisions, optimizing cost, reducing the settlement time and much more. Here is a brief description of the steps involved in processing insurance claims:

FNOL

Harnessing AI-powered RPA in insurance claims processing enables insurers to automate the FNOL process and significantly improve the claims experience for customers. While a claim is filed, intelligent software bots can easily extract appropriate details from uncategorized documents flowing in through different sources and feed the data into appropriate systems.

Assessment

Insurers these days are relying heavily on AI algorithms to predict exact outcomes. With the help of ML or AI-driven models, organizations are empowering the claims personnel to improve their efficiency by facilitating damage assessment, identifying billing abnormalities, enhancing fraud detection, and recognizing lapsed policies.

Investigation

In this stage, ML applies AI, offering systems the capability to learn and improve from experience, without any extra programming. Automated matching of key loss or incident information with the trained conditions which pertain to cause of loss, state law, damage type, etc., is done. The execution of this phase involves the analysis of large, labeled data sets. A few of the benefits of leveraging Machine Learning in claims processing for investigating insurance frauds are:

All claims suspected of fraud will be more accurately detected.
Data is processed in very short periods of time.
The system can demonstrate where connections can exist between various factors that may be imperceptible to human eyes.
The continuous revision of such schemes and the application of variations in data analysis will allow anticipating the discovery of new fraud schemes.

Evaluation

With all the relevant information available through the above stages, AI-driven evaluation helps in establishing an end-to-end digital customer journey. The claims estimation journey includes the calculation and consideration of all the processes like cost estimations, calculation of legal expenses, vendor selection, medical management, and adjuster costs, etc. Thus, providing the handlers with the next best step for making smart decisions that are free of errors.

Settlement

Lastly, AI in insurance claims processing is used to perform claims triaging based on the result and sends the claim request to the task inbox for processing. Thereafter, the claims request is circulated around for underwriting work based on its complexity. Finally, the decision is communicated to the customer.
Conclusion
Next time when a customer files a claim, they would get a fast & intuitive process. Your business, in turn, will get a satisfied consumer & improved productivity. Isn't it amazing?
Conclusively, whether you invest in an AI-based solution or Robotic Process Automation, claims processing becomes more streamlined. The real-life applications of technology can't be overlooked anymore, for it carries the capacity to deliver to the customers of today & tomorrow. Begin your Insurance Process Automation Journey today and empower your claims personnel, get real-time insights, and ensure customer satisfaction.