At a time when McKinsey has raised an alarm that only 50% of insurance companies are profitable, small and medium-sized insurance companies may find themselves on the receiving end of threats. After all, the top 10% of insurance companies account for 80% of economic profits!
However, all's not lost just as yet. As a matter of fact, small and medium-sized insurance companies are conveniently placed to pivot according to the changing post covid market conditions and make a resounding comeback to outperform. Here are six practical growth strategies for small and medium-sized insurance businesses to make their mark in 2023 (and beyond!).
Effective Ways to Propel Small and Medium-Sized Insurance Business Growth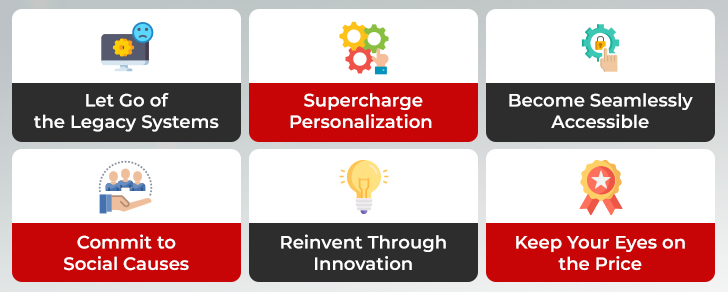 Let Go of the Legacy Systems
The seeds of digital transformation in insurance were sown way before the COVID-19 pandemic. The global event merely served as a catalyst to expedite its effect. In fact, 85% of insurance CEOs attest to this truth.
As tech-savvy insurers start gaining a clear digital-led competitive edge above their non-technically inclined counterparts, companies are figuring out that legacy insurance systems are holding them back. Small and medium-sized insurance companies have the unique opportunity to kick start their journey as digitally-native organizations. Insurers are focusing on accelerated underwriting and faster processing of claims to make their product distinction. So, those who have missed this chance to outperform competition can still acquire inject digital transformation to their core insurance processes across claims, policy administration, customer experience, underwriting functions with the right insuretech solutions. Modern-day insuretech tools, digital insurance technology platforms and their delivery models including Products-as-a-service (PaaS) and Software-as-a-service (SaaS) are highly flexible and can integrate and upgrade infrastructure with minimal invasiveness. All you need to do is sever the shackles of legacy systems.
Supercharge Personalization
At a time when personalization has become ubiquitous, small and medium-sized insurance companies have to offer that 'something special' to make their offerings stand out. Here's where differentiation through hyper-personalization enters the picture.
Hyper-personalization leverages a blend of cutting-edge technologies like artificial intelligence (AI), advanced data analytics, hyperautomation and predictive modeling to enable insurers to comprehend precisely what their customers' need. This means that rather than pushing a cookie-cutter product like large insurers to customer cohorts, your agile business would be curating a one-of-a-kind policy for every customer based on their unique requirements, preferences, lifestyles, life events and other related factors. Such an approach paves the way for customer-centric growth, which would be far more differentiated and sustainable than product-led growth as customer demands begin to carry more weightage.
Become Seamlessly Accessible
Accessibility is a major pain point for insurance businesses of all shapes and sizes. Establishing a two-way communication channel is simply far too difficult for some insurance businesses – especially considering that different customer touchpoints will involve different stakeholders across departments or functions. It also hampers the customer experience, which is another bane in itself.
While a multi-channel presence may make insurance businesses more accessible, it would still fail to create a sense of seamlessness. The insurer must keep record of all interactions with their customers across multiple channels which can help the customers not to repeat their problem every time they interact with the insurer. Against this backdrop, omnichannel communication is a fail proof solution to breakdown channel silos and maintain accessibility. Centralizing data and communications through platforms like Salesforce CRM can enable insurance companies to operate as a unit to develop a 360 degree view of their customers, even if they may be demarcated into departments and teams on the inside. Plus, it implements channel-agnostic consistency and contextualization whether the customer contacts you for a new policy, renewal, claim, or anything in between.
Commit to Social Causes
An astounding 79% of customers are motivated to purchase from companies based on their corporate social responsibility (CSR), inclusiveness, and environmental impact. Such a trend has also bled into the insurance sector, with companies being more mindful about their Environmental, Social, and Governance (ESG) stance.
Insurance companies have to do more than just lip service on this front and find ways to align business decisions and actions with core organizational values. The best strategy to achieve this goal would be to emphasize investments in green energy and sustainability to promote the green economy. For instance, auto insurers can implement policies to reward carbon offsets and promote electric vehicles. An easier alternative would be to associate with or contribute to dedicated agencies that are working to make the world a better place.
Reinvent Through Innovation
According to Harvard Business School, 95% of all new insurance products fail. But the successful products are the ones where development strategies put customer experience at the forefront and focused on leveraging data. As the insurance landscape changes, so do the need for transforming insurance products and services. Some customers may require a basic, vanilla policy, while others may demand something more comprehensive.
As such, businesses may consider treating insurance as a service rather than a product with a fixed term and premium. With such an outlook, policies would become more flexible and dynamic as they respond to risks and changing conditions. Plus, it would be easier to augment adjacent and closely-related services to increase the value proposition of the coverage.
Take, for example, you have a simple home insurance policy to safeguard property. At the next stage, it can be personalized depending on the location, specification, build, life, etc. In the final tier, you can also offer risk mitigation services for intrusion and theft prevention using smart devices. Of course, small and medium insurance businesses may have to partner with others to layer their core products. However, it will be well worth it.
Keep Your Eyes on the Price
A 2022 research paper demonstrated how even a small rate change amounts to massive customer churn – a testament to the fact that price sensitivity still rules the insurance sector. Such a trend makes more sense as premia decrease due to the elimination of intermediaries with direct-to-customer (D2C) insurance distribution model.
In such a scenario, AI-based dynamic pricing can help small and medium insurance businesses navigate the choppy waters of increasing rates without affecting customer satisfaction. It leverages an array of tools to conveniently price policies based on a range of customer-dependent factors. In this manner, it also imparts personalization to the policy. The result – an impressive profit growth
In Conclusion
Even if small and medium-sized insurance companies may find themselves in the eye of the storm, it still means that they are not out of action yet. All that's needed at this juncture is careful planning, smart strategies, and seamless implementation to realize growth. We have discussed a few strategies that have propelled fledgling insurance businesses to the enterprise stage. To recapitulate, insurance companies can stay at the helm of all affairs by:
Switching to modern, digital solutions
Adopting hyper-personalization
Establishing an omni-channel presence
Enacting corporate social responsibility
Reimagining insurance products and services
Enforcing dynamic pricing
The six strategies discussed above will help you weather the storm while also staying customer-focused, growth-oriented, and profitable.
Read how Legacy System Modernization helped a multi-line insurer reduce the operational cost of its business unit by 20%