As the insurance industry begins to pick up steam on the digital front, several technologies are at the forefront of this change. These advancements have brought to light the inefficiencies of manual process handling and countered them with corresponding tangible benefits. The resultant optimization of time, money, resources, and efforts, along with adaptable strategies and innovation have helped carriers cater to ever-changing customer expectations. All the while, it can deliver to these dynamic variables without any massive disruption and without marring the customer experience. In other words, it has been a win-win situation for all.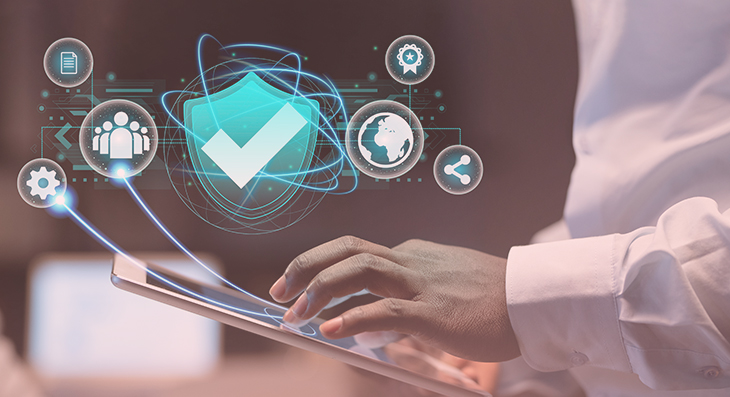 As automation becomes all-pervasive, it is time to take insurance business process automation up a notch – it is time for hyper-automation. In this post, we take a look at some of the practical use cases of hyper-automation in the insurance industry.
What is Hyper-Automation in Insurance?
Hyper-automation in insurance is a disciplined approach to rapidly identifying, vetting, and automating as many processes as possible. What sets it apart from regular automation is the fact that it involves the orchestration of diverse technologies, tools, and platforms such as, inter alia, Artificial Intelligence (AI), Machine Learning (ML), and Robotic Process Automation (RPA), etc.
Benefits of Hyper-Automation in the Insurance Industry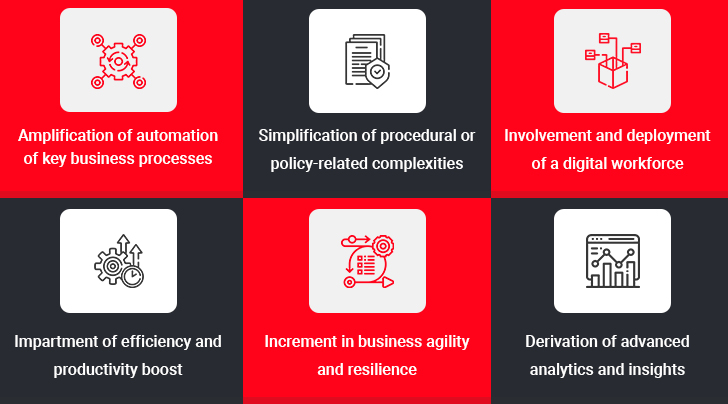 Insurance Hyper-Automation Use Cases
Any technology is only as useful as its applicability. On that note, the following are some use cases of hyper-automation in insurance:
1. Claims Processing
Claims processing is singularly the heavyweight champion of all insurance processes. It involves the review of claims-related details from disparate sources, standardization of data formats, sorting through piles of information, verifying the same, and working with it. Such a series of activities typically takes about a week – provided that everything is in order. This timeline could stretch up to 30 days depending on data availability, associated tasks, and claims complexity. However, hyper-automation can completely transform claims processing by reducing manual effort through bots. These intelligent bots can accept, review, and verify data to approve claims automatically. As for the one-off typical case that may show up along the way, the bot can escalate it for manual processing. As such, insurance agencies would be saving a bulk of their time and resources.
2. Policy Management
A lot of documentation is involved prior to the issuance of a policy. At this stage, the insurance agent or broker will accept all the documents, compare them, and communicate any discrepancies with the customer. At the same time, they will also save, upload, and organize the said documents on the internal databases, systems, and platforms. While managing such hoards of data manually is complicated by itself, the problem worsens if the customer is to make a minor change in the policy details. This change would have to reflect across all channels, giving rise to possible errors.
With the involvement of hyper-automation in insurance, machines can leverage Intelligent Document Processing (IDP) to seamlessly collect data from various touchpoints – such as emails, call transcripts, etc. – while the bots implement the requisite changes uniformly.
3. Fraud Detection
Insurance fraud costs American consumers to the tune of USD 80 billion per annum. Despite being such a pressing issue worldwide and not just in America, insurance fraud has been a tough nut to crack. False claims, internal fraud, etc. have been on the rise, especially since the pandemic and the sheer volume of claims has made it nearly impossible to handle them all manually.
Against this backdrop, hyper-automation could offer considerable relief through smart data processing. For a start, it can automatically screen all claims and verify them against their respective insurance policies. At the same time, it can profile the claimant and check their history and activities to note any anomalies. This proactive assessment allows insurance agencies to carry out a major crackdown on potential insurance fraud. Additionally, the automation of internal processes shields it from internal manipulation and puts an end to fraudulent practices. As such, hyper-automation serves as a breath of fresh air for carriers drowning in claims.
4. Policy Underwriting
Policy underwriting is as much a laborious process as claims processing or fraud detection. It involves the collection of large amounts of data from various sources as well as the exhaustive review and analysis of the same to make an informed decision on the risk associated with an insurance policy.
Hyper-automation streamlines this process by deploying bots to collect key details across multiple channels and systems. The resulting information can help in charting the coverage data and creating reports on the claim volumes. The resulting data acts as fodder in generating an accurate risk factor for a given customer.
5. Document Ingestion and Data Management
There is no contesting the fact that insurance is a data-intensive industry. Every touchpoint or interaction involves heavy data transfers, regardless of the platform, data format, or other variations. Hence, reading, comprehending, and analyzing this data manually and deriving insights from it is as good as impossible. Hyper-automation automates this process through IDP, which can not only understand data and its meaning but also extract future outcomes from it. Resultantly, it becomes easier to extract, sort, interpret and work with data without worrying about compatibilities. Moreover, hyper-automation carries out the entire process in little to no time as it converts all the information into its simplest form and segregates it for easier data consumption. In simpler words, hyper-automation can help insurance agencies make the best of data.
Closing Thoughts
If automation brought about a revolution in the insurance industry, then hyper-automation is ready to take it to the next level of efficiency. It also prepares the insurers for the new era of connected experiences, which is anticipated to be a prominent theme of the future. The resulting improvement in products and services will reduce operational costs, mitigate risks, and enhance the customer experience in meaningful ways. As such, the insurance industry would be on the meteoric rise to sustainable success.