The default feature of Salesforce makes it challenging to handle the large amounts of data that businesses have. In such a case, it becomes important to boost the features of Salesforce to attain the desired business results. Salesforce development services help with the customization of your CRM platform to make it align with your particular business processes, workflows, and objectives. Businesses need to go for customization of their Salesforce CRM when they encounter the following issues:
The default Salesforce capability is unable to handle the vast volume of data
The implemented Salesforce instance is not getting fully leveraged to its capabilities to achieve business goals
Configured reports or dashboards do not show all the pertinent information regarding the operations of your company
Your company needs to integrate with other systems, such as ERP and other platforms.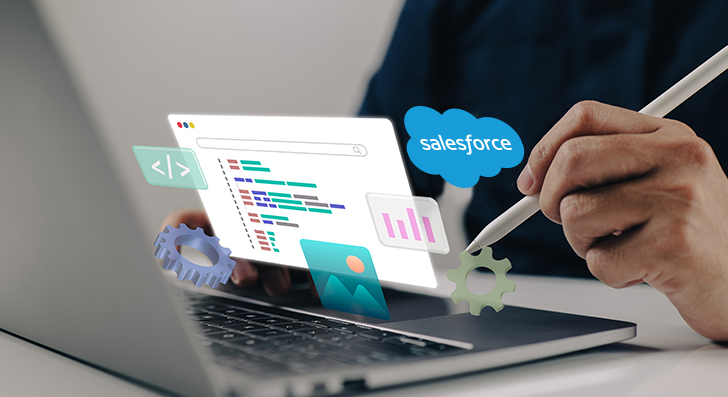 Step-by-Step Guide to Tailor Salesforce CRM to Your Business Needs
Here's how you can tailor Salesforce CRM to meet your business needs:
1. Outline Your Requirements
Begin by understanding your business goals and particular CRM requirements. Determine the problems you want to solve and the results you hope to achieve by customizing Salesforce.
2. Configure Standard Objects and Fields
Standard objects and fields (such as Leads, Contacts, Accounts, and Opportunities) are included with Salesforce. Review these objects and fields, and make any necessary modifications or additions to capture the information that is pertinent to your company.
3. Create Custom Objects
Make your own custom objects to hold additional data relevant to your business processes if the default objects aren't sufficient to fulfill your needs. You could, for instance, develop a custom object to handle project information or customer support tickets.
4. Create Custom Workflows
Create custom workflows that enforce business processes and automate repetitive operations using Salesforce's Process Builder or Workflow Rules. Automate tasks such as work assignments, email notifications, and field updates based on established parameters.
5. Create Custom Reports and Dashboards
Utilize the dashboard and reporting features of Salesforce to build specialized reports and visualizations based on your company's data. You can use these insights to monitor key performance metrics and make data-driven decisions.
6. Set up Validation Rules
Implement validation rules to make sure that data entered into your Salesforce CRM adheres to your business standards and rules. Validation rules play a key role in maintaining data consistency and integrity.
7. Use Custom Page Layouts
Configure the page layouts to show the appropriate data and fields for the various user profiles. This makes sure that each user sees the information and features relevant to their role.
8. Integrate with External Systems
Integrate Salesforce with other systems and applications that your business utilizes, such as accounting software, project management tools or marketing automation platforms. Seamless integration boosts process efficiency and data flow.
9. Create Custom Applications
Consider creating custom applications utilizing Salesforce Lightning (Salesforce's low-code development platform) for more complex requirements. Custom apps can extend the capabilities of Salesforce to fit your particular business needs.
10. Use AppExchange
Find solutions that satisfy your business needs by browsing the pre-built apps and integrations available on the Salesforce AppExchange. This can help you save development resources and time.
11. Train Your Users
Make sure your users receive thorough training so they can use the custom features to their advantage. The CRM's potential can be maximized by skilled users.
12. Review and Customize
Review your customized Salesforce CRM's performance on a regular basis and collect user feedback. Make iterative upgrades to keep the CRM in line with your changing business needs
The wide range of customization options from Salesforce ensure that firms can adapt the CRM to suit their own needs and business operations. You can build a highly efficient Salesforce CRM that maximizes your sales, marketing, and customer service efforts with careful strategy and implementation. To leverage your CRM effectively, consider seeking advice and assistance from Salesforce development partners or specialists while customization.
Customize CRM Perfection: Let Our Salesforce Development Partnership Lead the Way.
Key Advantages of Customizing Salesforce
Customizing Salesforce provides various benefits to businesses, allowing them to optimize their CRM experience and boost overall efficiency and productivity.
Here are some important benefits of customizing Salesforce:
Business Process Alignment

Salesforce customization allows you to tailor the CRM as per the particular processes and workflows of your business. This alignment makes sure that Salesforce smoothly integrates into your existing operations, decreasing the requirement for streamlining tasks and manual workarounds.

Better User Adoption

With customization, you can design a user-friendly interface that fits the roles and responsibilities of your team. Users are more likely to embrace a CRM when they find it intuitive and tailored to their specific needs. This results in better user adoption rates and improved productivity.

More Data Visibility

Key performance indicators (KPIs) and business metrics are clearly outlined in customized reports and dashboards. Users can make informed judgements and spot areas for improvement more effectively when they have access to relevant data.

Automation and Efficiency

Automation rules and custom workflows remove manual labor and uphold standardized processes. As Salesforce conducts routine tasks automatically, efficiency is boosted and human error is decreased.

Individualized Customer Experience

You can track and collect customer-specific data using custom fields and objects, which enables your staff to provide personalized service and relevant interactions. As a result, consumer happiness increases and stronger customer ties are fostered.

Competitive Edge

A customized Salesforce CRM gives you a competitive edge by equipping your team with features and capabilities that are specifically created to meet your company's objectives. This makes it possible for you to provide a more effective and customized consumer experience, differentiating you from your competitors.

Scalability and Flexibility

Salesforce customization enables you to adapt the CRM as your business grows and needs evolve. To adapt to your changing needs, Salesforce CRM allows you to easily add custom objects, new features and integrations.

Third-Party App Integration

Salesforce customization offers easy integration with other third-party apps and systems, improving overall data flow and removing data silos.

Data Compliance and Integrity

Data integrity checks and custom validation rules aid in maintaining correct and clean data. For decision-making and complying with regulatory standards, it is essential to ensure data conformity and consistency.

More ROI

Salesforce customization makes sure that your CRM aligns perfectly with your business requirements, resulting in improved user productivity, better customer relationships, and improved marketing and sales results. As a result, your CRM deployment leads to a higher return on investment (ROI).

Savings in the Long Run

By minimizing the need for additional software, avoiding inefficiencies, and boosting user productivity, an early investment in customization can result in long-term cost benefits.

Quick Decision-Making

Real-time insights from customized dashboards and reports enable data-driven and quicker decision-making at all levels of your organization.
Overall, Salesforce customization enables companies to fully use the CRM platform, fostering growth and continuous improvement. This transforms Salesforce from a generic tool into a customized solution that improves numerous facets of your company, finally resulting in better performance.
Conclusion
For your development needs, engaging a well-experienced Salesforce development firm holds the potential to fine-tune and tailor your Salesforce setup in alignment with your distinct business requirements. This yields improved sales and marketing efficiency while elevating the overall customer loyalty. Conversely, partnering with an inexperienced or inefficient Salesforce development entity might squander time, financial resources, and efforts, culminating in missed prospects, leads leakages, inconsistent communications and disgruntled clientele. Hence, a meticulous assessment and selection process of a credible, adept Salesforce development company becomes imperative to ensure the realization of your envisioned outcomes.
Case in Focus
A Leading Health Insurance Provider Improved Its Sales Revenue Through A Custom Salesforce Implementation and Development
The client is a leading health insurance provider in the United States and needed a single system to remove process bottlenecks and improve sales team's efficiency. Damco worked with the client to design a customized Salesforce solution that enabled the client to visualize the entire sales process under one system and enabled approvals in one place. Read more