The business world is increasingly driven by intelligent technology-driven solutions. With every possible advancement in the technology sphere, AI and Machine Learning are taking center stage since these disruptive technologies play a critical role in the design and development of smart solutions.
Product recommendations, smart assistants, autonomous vehicles, facial recognition, and conversational chatbots are some real-world examples of intelligent solutions powered by AI and Machine Learning. ChatGPT is one such AI superstar that has taken the corporate boardrooms by storm. In fact, there is a lot of buzz around this versatile natural language processing tool developed by OpenAI. This AI-powered chatbot has demonstrated its potential across departments by enabling users to create a laser-targeted ad and marketing copy, analyze market trends and competitors, optimize internal communications, generate innovative ideas, and write code to expedite software or application development.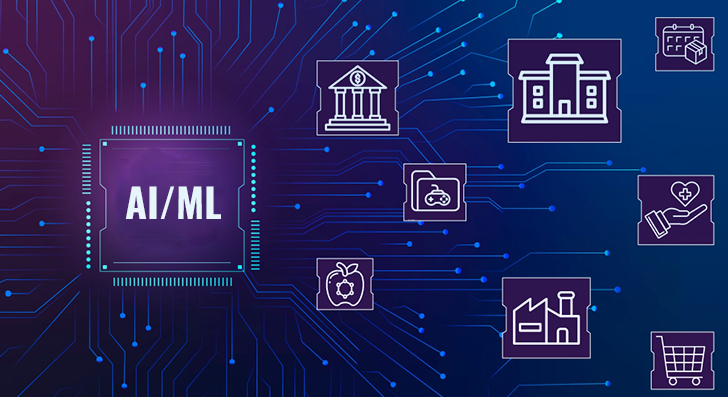 From this, it is clear that AI and ML tools are not going away anytime soon. Needless to say, the global AI market size is estimated to reach around 1,591.03 billion USD by 2030, while the global Machine Learning (ML) market size is expected to grow at a CAGR Of 38.8% from 2023 to 2030 and will touch 209.91 billion USD by 2030. This may be one of the reasons why brands both large and small alike are embracing AI and ML solutions to solve complex business problems, enhance customer experience, improve decision-making, eliminate human errors, automate repetitive tasks, drive workforce productivity, and more. Now, let's dive deeper into the use cases of AI and Machine Learning.
Practical Use Cases of AI and ML Across Major Industries
1. AI & ML in Healthcare
AI and Machine Learning are a boon to the healthcare sector since these disruptive technologies simplify the lives of the hospital administration staff, physicians, and patients by doing things way faster than their human counterparts and at a reduced cost. For instance, the process of analyzing medical images is labor-intensive, time-consuming, and highly prone to human errors since it requires great attention to detail. However, with the help of AI and Machine Learning algorithms, healthcare practitioners can not only analyze a large number of medical images such as MRIs, X-Rays, CT scan findings, cardiograms, ultrasound results, etc. at high speed but also improve diagnostic accuracy by up to 90%.
Besides medical image analysis, AI and ML algorithms can be used to develop modern healthcare solutions that proactively monitor patients' health and provide alerts to physicians in real-time when any change is detected in the condition of a patient. This type of advanced data collection using AI and Machine Learning models can help patients ensure they receive the right care at the right time. Furthermore, the predictive capability of AI and Machine Learning algorithms can be harnessed to forecast health issues before they occur. Lastly, healthcare institutions are a hub for Big Data, and AI can be used to automate administrative tasks enabling hospitals to save $50 billion in costs. This indicates that the healthcare industry is going to benefit from AI, as the recent report reveals that AI in the healthcare market could grow from 22.4 billion USD in 2023 to 208.2 billion USD by 2030.
2. AI & ML in Marketing
In this dynamic and fast-paced business landscape, it becomes challenging for organizations to attract the target audience. Using AI and Machine Learning in marketing, businesses can transform the way they attract, nurture, and convert prospects. For instance, using AI and ML models brands can anticipate their customers' next move and build marketing strategies around them to improve their buying journey, which in turn, drives sales. In other words, AI and ML algorithms can help businesses better understand customers' preferences, their behavioral patterns and identify the right time to engage with them.
Besides understanding customers' behavior, AI and Machine Learning algorithms can help businesses personalize their marketing collaterals based on the customer data such as buying history, demographics, location, etc. This enables companies to send highly relevant offers to prospective customers and convert the leads into sales. That kind of personalization in marketing using AI and ML models is just the tip of the iceberg, as the recent report indicates that the market size of AI in marketing is estimated to grow from 27.37 billion USD in 2023 to 107.5 billion USD by 2028.
3. AI & ML in Retail and eCommerce
In a highly competitive space like retail and eCommerce, companies are looking for modern techniques to outsmart their competitors. Using AI and ML algorithms, enterprises can quickly process large volumes of data and identify patterns in consumer behavior to align their strategy to meet ever-evolving customer needs. In other words, AI/ML can be a game changer since it has the potential to revolutionize each part of the retail and eCommerce business starting from inventory management to product discovery, price optimization (dynamic pricing), product recommendations, customer segmentation, logistics support (supply chain management), predictive analytics, churn rate prediction, improved customer experience, and more.
Today, AI/ML is widely used in retail and eCommerce in several ways, and its adoption is likely to grow manifold in the coming years. In fact, a recent report reveals that the global market size of Artificial Intelligence in retail is predicted to reach 25.83 billion USD by 2028 at a CAGR of 30.6% during the forecasted period.
Summing Up
Businesses across verticals are realizing the potential of AI/ML algorithms. If you are also poised to adopt these disruptive technologies to make your business future-ready, it's considered wise to seek end-to-end consultation from an expert on how to make the most of AI and Machine Learning in your operations. By seeking consultation from a professional AI/ML development company, you can better understand your customers' preferences and cater to their needs more effectively.