Artificial Intelligence (AI) continues to grab the attention of business leaders and decision-makers. It has grown to become an increasingly crucial tool for businesses to provide an intelligent, informed, and hyper-personalized customer experience (CX). This may be the reason why more and more enterprises are investing in this disruptive technology to reconnect with customers, improve their engagement and experience, and convert them into long-term loyalists and brand advocates.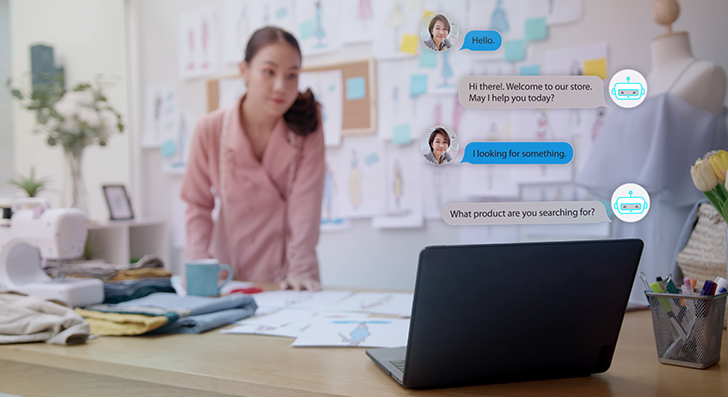 According to several recent reports, worldwide spending on Artificial Intelligence is estimated to double in the next four years. In fact, the global enterprise adoption of Artificial Intelligence is predicted to rake in 1591.03 billion USD by 2030. From this, it is clear that the use of AI to improve customer experience isn't something futuristic, instead, it's the leading technology trend right here now, and enterprises both large and small alike are actively putting this disruptive technology at the heart of their CX strategies to deliver immersive customer experiences and stay ahead of the curve.
3 Ways to Use AI to Improve Customer Experience (CX)
Businesses recognize that having a sound understanding of their customers is the first step towards delivering satisfying customer experiences and leveraging AI can not only help improve this understanding but also increase their chances of success. Let's dig deeper to find out how AI adoption can help businesses improve CX.
Create Hyper-Personalized Digital Ads
Provide 24×7 Customer Support
Drive Sales Conversions
1. Create Hyper-Personalized Digital Ads
According to the former content head officer of Hearst Magazines, Joanna Coles, "People hate advertising". The reason behind this is that most of the time digital advertisements are often irrelevant and sometimes they are simply ridiculous, silly, or stupid. This may be one of the reasons why 42.7% of internet users across the globe are using ad blockers and 91% of users admitted that ads have become more intrusive today than they used to be a couple of years ago.
The thing important to note here is that digital ads are not going anywhere, however, the experience is going to change for sure. The good news is that brands can address the challenges associated with digital advertisements and make them less obnoxious or intrusive for their customers.
By leveraging the potential of AI, brands can create hyper-relevant ads based on customer profiling, browsing behavior, and audience segmentation. For instance, predictive targeting, which is based on AI and Machine-Learning, allows brands to tailor digital ads as per the customer interests and recommend hyper-relevant products in the advertisements by analyzing tens of thousands of customer signals. Not to mention, AI and ML algorithms improve over time since they automatically learn from past data, enabling brands to create hyper-personalized digital ads.
How Conversational AI Can Drive Better Customer Experience
2. Provide 24×7 Customer Support
Did you know? One of the key reasons behind the high customer churn is not getting instant responses. Nearly 75% of businesses lose customers due to delayed responses or long waiting times. Using AI, businesses can provide lightning-fast support to customers across all channels including chat, email, voice, SMS, etc. The human-only customer support staff is not only expensive but also hard to manage multiple channels where customers expect immediate, personalized, and round-the-clock support. On the other hand, deploying AI-powered virtual assistants (chatbots) enables businesses to provide a truly omnichannel experience to customers that they are expecting. AI-powered chatbots not only reduce high labor costs but also allow businesses to resolve customers' queries or issues faster, resulting in improved customer experience (CX).
Let's understand with the help of an example. Amtrak's Julie is a voice-based virtual assistant that quickly responds to customer queries related to travel information from the extensive knowledge base of the Amtrak system. In a year, Julie answered nearly 5 lakh support queries, which in turn, helped Amtrak witness an increase of 25% in bookings and 30% more revenue.
Key Takeaways How AI Can Help Brands Provide a Better CX
Reduce customer churn – AI-powered chatbots can be used as the primary point of contact to handle customer queries and reduce the churn rate.
Automate common queries – With AI-powered chatbot implementation, brands can automate common customer queries that they receive and provide quick support without making customers wait for several minutes.
Enhance Brand Value: In addition to addressing customer queries, AI-powered chatbots can strengthen brand value by improving customer experience.
Revolutionize UX & Transform Your Business with AI
3. Drive Sales Conversions
AI-powered chatbots can not only provide lightning-fast customer support but also help businesses with high-quality leads. In other words, creating an AI-powered chatbot for lead generation can help enterprises automate appointment booking by enabling customers to book directly from the business website or via a mobile application. The AI-powered chatbot can begin conversations with customers, ask qualifying questions based on their browsing behavior, and engage them by providing multiple options. This, in turn, enables customers to choose the most relevant option swiftly. VainuBot is one such powerful lead-generation chatbot that engages users by leveraging rich conversations without requiring them to fill up a long and tedious form.
Here's How Enterprises Can Use AI Chatbots to Drive Sales Conversions
Automate Sales FAQs: Enterprises can deploy AI chatbots to automate their sales funnel. The AI-powered chatbot can help businesses pre-qualify leads by asking pre-programmed questions, and based on the customer response, the AI chatbot can direct the lead to the sales team.
Improved ROI – By investing in AI chatbot development, businesses can provide hyper-personalized chat experiences to customers, which in turn drives business sales and increases the ROI.
Cross-Selling and Upselling: As stated above, AI chatbots can engage customers based on their purchasing history and browsing behavior and offer personalized recommendations for cross-selling and upselling.
Summing Up
Artificial Intelligence has the potential that enterprises need to better understand their customers and improve their experience at every stage of the buying journey. Having said that, it makes sense to invest in this disruptive technology to unlock new business opportunities for increased profitability, improved growth, and better sustainability. If you also want to invest in AI to improve CX for your business, you can seek end-to-end consultation with our experts.