With the proliferation of advanced digital tools in the insurance market, customers seek swift and rapid service from insurers. They want offerings that are smart, customized to their needs along with a channel-agnostic experience. The Middle East market is not immune to these changes. With the challenges posed by the COVID-19 pandemic, traditional operating models have metamorphosed, thereby driving insurance leaders to re-evaluate their core business. There has been a systematic shift from disconnected technology struggles to innovation and adoption of digital technologies. Figure (1) clearly shows the global increase in usage of insurance technology over the years. Thus, it is evident that insurers are harnessing the power of technology to understand their customers better and improve ROI and make their enterprise ready for a digital future.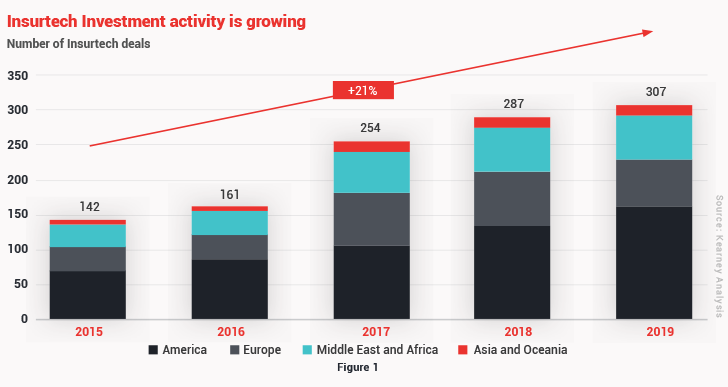 Our research shows that top players in the Middle East like Adnic, Bupa Arabia, Tawuniya, Wafa Assurance, Abu Dhabi National Insurance are innovating across the value chain. They have successfully implemented digital transformation in insurance and made a move towards amplifying their digital strategy by deploying new technologies in the insurance industry such as AI, the Internet of Things (IoT), drones, and Blockchain to generate more value in the market. These new technologies, popularized by insurance digitization, cut across the insurance business value chain, impacting customer engagements, and optimizing activities from policy sign-up to claims processing.
But before maximizing the impact of these initiatives, insurers need to work on reframing their core operations to gear them up for seamless integration and alignment with the new technologies resulting from insurance digitization. The "new normal" of core technology has already started seeing insurers leaping from traditional to modern IT Infrastructure. In response to the COVID-19 pandemic, forward-thinking insurers took 3 bold steps:
Reimagining the role of technology in collaboration with other business functions
Reinventing ways in which technology function delivers products and services to internal and end-users
Future-proofing the quality and scalability of the existing technology systems
Legacy Modernization
The disruptions in the last few years have pushed customers out of their normal, comfortable routines and led to a major shift in customer preferences and behavior. As a result, insurance agencies also had to transform their traditional systems and way of serving the customers. Thanks to insurance digitization and the rapid penetration of insurtech, the primitive, deep-rooted models in the insurance industry have changed. With tailored legacy systems deterring innovation, leading insurance players are seeking industry platforms that are often powered by entrepreneurial Insurtech providers. Digital transformation in insurance helps reduce cost, enhance flexibility, and most importantly, improve customer experience and engagement.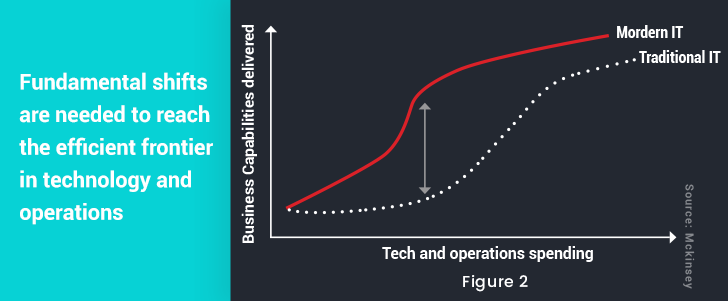 Migrating to Cloud
Whether you wish to address customer fraud or broker fraud, predictive analytics in insurance can seamlessly prevent both. The insurance industry, characterized by critical applications and complex workloads, needs a comprehensive business transformation strategy. Cloud migration is one such approach that is considered a shift that goes far beyond technology. While making a move to cloud insurance platforms, insurers need to tailor their transformation strategy, which is driven by their current architecture of mainframe technologies and the extent of its modernization.
Some of the best practices include:
Migrate non-core applications and functions to the Cloud through SaaS
Transfer high-volume scalable functions to IaaS platforms
Develop a cloud-based data infrastructure to tap into the benefits of data analytics, artificial intelligence, and machine learning
Replatform to cloud-native software solutions for deriving its associated benefits
Leverage PaaS solutions to build advanced products, manage data, and deliver AI-driven services
Decouple legacy systems to enhance agility and boost data processing
Outlining a priority-based strategy and implementing to swiftly to reduce time to market
Technology Landscape Across Insurance Value Chain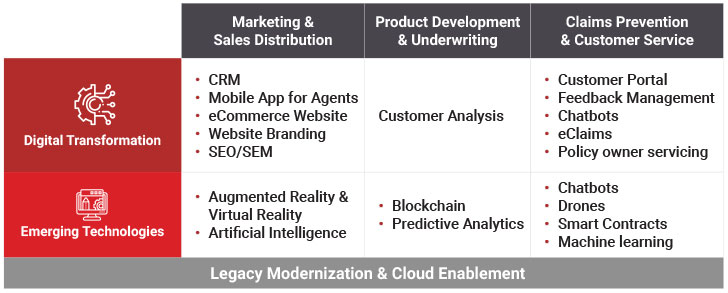 The Way Forward
The rampant shifts in the industry trends were a wake-up call for insurers to seek technology as a solution to maintain business continuity in the face of disruption. This momentum is set to continue going forward. Technology has played a vital role in helping insurers adapt to new normal working conditions. The insurance technologies and legacy modernization practices will continue to be an integral production factor in growing markets like the Middle East. The rising Insurtech wave will dominate the market by supplying cutting-edge digital technologies and generating significant improvements in their core system. Stay ahead of the curve by involving leading Insurtech experts, such as Damco, to make insurance digitization seamless and successful.