With the number of Salesforce users increasing everyday to over 150,000, the popularity of the platform across all major industries cannot be overestimated. However, with its constantly evolving updates and features, the CRM can be complex to deal with. The best method to unleash the power of Salesforce to achieve business goals is via Salesforce training for managers, admin, and users.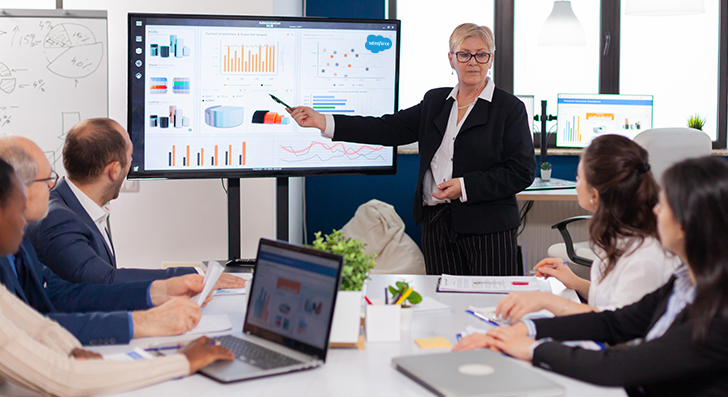 Successful Salesforce training services give your salespeople the knowledge and resources they need to develop leads and close more sales. The knowledge base of your business must be linked to the underpinning processes, and training must be designed around the current stages and workflows. Since everyone learns at a different pace, self-paced training along with strategies centered on supporting, guiding, and rewarding new users should be a part of your Salesforce training strategy.
Understanding The Need for Salesforce User Training
Salesforce user training offers multiple advantages and is intended to assist staff members in becoming more proficient with Salesforce. This helps them fully capitalize on the benefits of Salesforce and perform their jobs more successfully. Salesforce customers (also known as "end users") and Salesforce employees are the two different sorts of Salesforce users.
End user training for employees enables both new and veteran employees to become self-sufficient Salesforce users and aids in the onboarding of new users. Process optimization, data quality, automation, reporting, and analytics are some of the subjects covered in training with a focus on increasing organizational efficiency.
Ways to Develop a Successful And Customized Salesforce End User Training Program
Salesforce end user training offers multiple advantages to individual users as well the organization. Careful planning and consideration of the particular needs of your organization is needed to develop a successful end-user training program for Salesforce.
Here are some important steps you can follow to create an effective training program:
1. Perform a Training Needs Analysis
Determine the knowledge levels and skill gaps of end users before developing the training programme. Decide on their responsibilities, roles, and the precise Salesforce tasks they will be performing. You can adapt the training material to their needs with the aid of this analysis.
2. Establish Specific Learning Objectives
Establish learning goals for the Salesforce CRM training programme that are precise and measurable. These goals should be pertinent to the tasks and processes that end users will carry out in Salesforce and should be in line with the organization's objectives.
3. Create Training Tracks Based on Roles
The amount of training needed may vary depending on the user role. To provide content pertinent to each group's tasks, divide the training programme into role-based tracks (for example, sales reps, managers, and administrators).
4. Create Engaging Training Content
Create compelling, interactive, and simple-to-understand training materials. Use a range of media, including slides, videos, live demonstrations, and practical activities. To make the training material relevant to users' everyday duties, consider using real-world examples.
5. Add in Hands-On Training
Offer chances for practical training in a sandbox setting. Ensure that users can use Salesforce to browse, enter data, create reports, and carry out other typical actions. Learning is strengthened and confidence is increased through practical experience
6. Use User-Friendly Resources
Use accessible tools like step-by-step instructions, interactive tests, and guided walkthroughs. For users who prefer self-paced study, these materials are especially useful.
7. Provide Training Sessions Led by Instructors
Real-time, instructor-led training sessions can be conducted in person or online. Users can do this to ask questions and get prompt answers from trainers.
8. Offer Ongoing Support
After the initial training, provide on-going assistance and resources like knowledge bases, FAQs, and user forums. This guarantees that users can get help and information when they need it.
9. Promote User Feedback
Create a system for users to provide feedback on the training program. Utilize this input to address any issues users may have and to make improvements.
10. Measure the Success of Your Training
Determine the effectiveness of your training program by collecting feedback from users, monitoring user adoption rates, and assessing the accomplishment of learning objectives. Utilize this information to continually enhance the content and delivery of the training.
11. Train Champions and Internal Trainers
If possible, choose and train internal trainers or champions who can assist with the training initiatives and offer on-going support to end users. They can prove to be an invaluable resource for their particular teams.
12. Plan Frequent Refresher Training
Salesforce evolves over time as new features and updates are added. To ensure end users' skills are current and to keep them informed of new changes, schedule frequent refresher training sessions.
By following the above-mentioned steps and implementing the appropriate methods, you can create a Salesforce end-user training programme that empowers your users, increases their productivity, and promotes the platform's successful adoption within your organization.
Empower Your Sales Team with Tailored Salesforce Training – Ignite Success Now!
How to Measure the Effectiveness of Your Salesforce User Training Program?
A Salesforce end-user training programme must be evaluated in order to establish its performance and pinpoint areas that require improvement.
You can use the following important measures and techniques to assess the effectiveness of the training programme:
User Adoption Rate
After the training, keep track of the percentage of end users utilizing Salesforce actively. A high adoption rate shows that the user adoption of the platform was successfully influenced by the training programme.
User Feedback
Use surveys or interviews to gather participant feedback. Find out how they felt during the training, whether the material was relevant, and whether they felt more comfortable using Salesforce as a result.
Consider Assessment Scores
Track participant scores on any quizzes or evaluations that are part of your Salesforce CRM training program. This might reveal how well readers comprehended the information and whether any topics require more explanation.
Performance Improvement
After the training, evaluate any performance enhancements among end users. For instance, examine statistics on report generation, sales performance, or data entry correctness to see if there is a positive influence.
Task Performance
Determine how long it takes end users to finish particular tasks in Salesforce before and after the training. The time it takes to execute tasks gets shorter as efficiency improves.
User Competence
Keep track of how well end users are using Salesforce's various tools and services. Self-evaluations or supervisor evaluations can be used for this purpose.
User Support Requests
Prior to and following the training, keep an eye on the volume and nature of Salesforce-related support requests. Reduced requests for basic support suggest that platform users are becoming more independent.
Retention and Turnover of Users
Compare the retention rates of users who attended training to those who did not, and determine whether the former group is more likely to do so. A higher retention rate could mean that the training improves user happiness.
Surveys Following Training
After some time (say, a few months), do follow-up questionnaires to learn more about the training's long-term effects and any ongoing challenges.
Business Impact Metrics
Link training outcomes to larger company impact indicators, such as more sales revenue, higher customer happiness, or quicker response times. A program's worth can be shown by demonstrating a strong relationship between training and business outcomes.
Supervisor Feedback
Ask managers and supervisors who work closely with the trained users for their input. They can shed light on how the training is used in practice and how it impacts the team performance.
Comparative Analysis
Compare the accomplishments of groups or people who received training against those who did not. This makes it easier to evaluate how the Salesforce user training program impacted overall performance.
It is important to note that evaluating the success of a training program is a continuing process. Gather data and feedback continuously to improve the program's structure and delivery, take into account user needs, and guarantee its long-term viability.