Since its inception, Salesforce CRM has received tremendous success. It provides a range of customization and integration options to its customers and has an easy user interface to navigate through. The CRM is designed for streamlining sales and marketing operations and is one of the most popular cloud software applications used by enterprises across the world. Salesforce cloud implementation helps redefine processes through which businesses connect with their customers for building better relationships. Sales Cloud is a platform designed for supporting marketing, sales, and customer support in B2B and B2C contexts.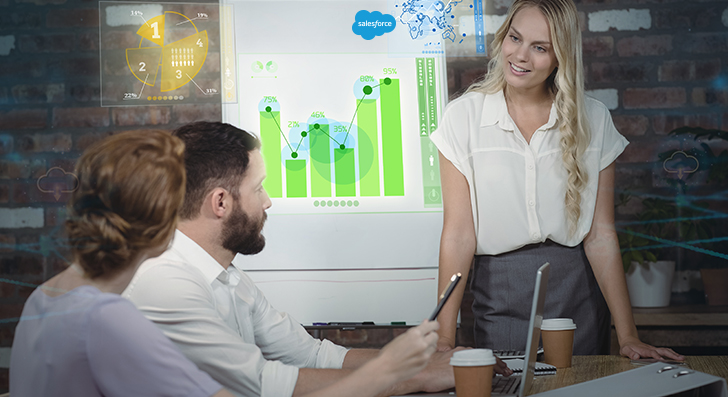 Salesforce Sales Cloud Implementation helps in clubbing all the customer information together in an integrated platform by incorporating sales, marketing, lead generation, customer service, and business analytics. The cloud offers access to multiple applications via AppExchange and has a real-time social feed for users to ask questions and share information with the user community.
How Can Salesforce Sales Cloud Help Your Business Grow?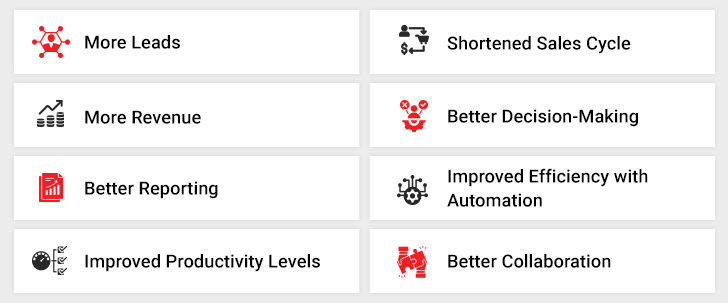 More Leads
Salesforce Sales Cloud helps increase your rates of conversion. With the help of Lead Management, you can track your leads and monitor your campaign across multiple platforms. This also allows you to make decisions about any future investments. You gain access to the right sales data at the right time with the help of data.com. This helps you communicate with decision-makers and boosts your revenue in marketing and sales.
Ultimately, Sales Cloud offers a team a robust lead generation and management machine that allows marketers and sales representatives in making smarter decisions, connect with partners, and improve customer acquisition.
More Revenue
Every company wants to close good deals. Salesforce Sales Cloud Implementation Services provide customers with Contact Management software. The software helps sales representatives in closing more deals and understanding their future prospects better. By offering a comprehensive view of your customers including key contacts, activity history, and client communications, Sales Cloud helps you in anticipating your customer needs better and react accordingly.
Better Reporting
The data a business collects from different sources like social media tools, CRM, and business software applications is a powerful business asset. But, when this data is not sorted and filtered properly, it is of no use. Sales Cloud allows you to run in-depth data analysis. It not only keeps your data clean and eliminates any possibility of error, but also helps collate, tabulate, and organize data effectively. This makes the data easy to interpret. Sales Cloud also helps businesses in keeping a track of the various interactions that have been done with the company through methods like emails, social media ad clicks, filling of contact forms, etc. Your team can also run reports to analyze interactions with customers and leads, measure customer service efforts, and check opportunities.
Improved Productivity Levels
Salesforce Sales Cloud Implementation provides businesses with the ability to increase their productivity levels. The important features of Sales Cloud that help increase business productivity include the following:
Workflow and Approval: This feature allows you to design and run business processes with flexible approvals. You can automate processes by using the drag-and-drop functionality.
Mobile CRM Software: This software allows you to handle sales opportunities from the comfort of your phone and make it your portable office. You can check dashboards and sell work opportunities while on the go.
Sync and Share Files: With the help of this feature, you can share files, publish your content and track it in real-time. You can also search files faster and securely share them with your team.
Boost Business Growth and Profitability with Sales Cloud
Shortened Sales Cycle
Companies are constantly looking for ways to shorten their sales cycles. Salesforce Sales Cloud with its feature 'Macros' can help businesses with the same. Macros help in automating manual tasks in bulk to ensure that the sales team can better concentrate on dealing with customers in real-time, improving productivity, and decreasing the sales cycle.
Sales Cloud also assists in prioritizing opportunities and leads. For example, it displays the lead score whenever you click on any of the leads. You also get to see the reason behind that score. Depending on the score, the sales team can make important decisions or take any actions. Also, the Lightning Sales console allows businesses to customize their dashboards to make them best suited to their business needs.
Better Decision-Making
Business decision-making is a complicated process that involves different aspects of a business. CRM technologies like Salesforce help simplify your decision-making process. Sales Cloud provides you with an up-to-date view of the performance and forecasts of your team. You get to see the top performers and allocate resources in an effective manner by equipping your sales representatives with the best prospects. With the help of predictive analysis, you can ensure that your business is on the right path and also adjust its course depending on the actionable data.
Salesforce Sales Cloud Implementation offers you a real-time picture of your business with the help of customizable dashboards. You get the ability to build your own reports with the help of determined parameters within a few minutes using the drag-and-drop interface and receive updated data immediately. The dashboards and reports will be available to your team on their device.
Improved Efficiency with Automation
Automation is one of the most important benefits of Salesforce Sales Cloud. It helps users reduce the time it takes to work on leads and send emails. It also helps convert more leads by prioritizing the potential ones. Automation helps handle basic customer questions like the status of an order with the help of automated messaging and chatbots effectively.
With the help of automation, marketing teams can devote more time to creating campaigns that are better aligned with the audience. Professionals can analyze data, and test different strategies depending on the analytics. On the other hand, sales teams can focus on selling the right services and products to their present and potential customers.
Automation software by Sales Cloud also allows customer service agents to spend more time working out with customers who have questions or any complex requirements. This makes the organization more efficient, which is then able to serve its customers better.
Better Collaboration
Salesforce Sales Cloud keeps a record of regular interactions, important notes, contact information, and conversations. Being cloud-based software, Sales Cloud is always up to date and allows teammates to easily review the records while making important decisions. Anyone with access to the Salesforce cloud can work efficiently with the help of shared records. For example, when a sales representative interacts with a customer to learn about them, the important details can be entered easily into the customer's record. This helps ensure that the team gets to work with the latest details of their customers. Sales, marketing, and customer service departments can collaborate together effectively and not have to worry about isolated data sets.
Conclusion
Salesforce Sales Cloud Implementation Services can help your business grow in the right direction. By helping solve complex problems like optimizing processes, accessing information, and removing redundancies, Sales Cloud helps decrease the length of the sales cycle and garner more leads. Teams can collaborate more effectively and decrease their chances of errors. The most important benefit of Sales Cloud is its effective utilization of technology and data for powering a more efficient business. By promoting better messaging and outreach, Sales Cloud helps serve customers more effectively resulting in a better business.
Case in Focus:
A Leading Health Insurance Provider Improved Its Sales Revenue Through A Custom Salesforce Implementation
The client is a leading health insurance provider in the United States and needed a single system to remove process bottlenecks and improve sales team's efficiency.
Damco worked with the client to design a customized Salesforce solution that enabled the client to visualize the entire sales process under one system and enabled approvals in one place. Read more