Salesforce Sales Cloud is a Customer Relationship Management (CRM) platform that helps enhance the efficacy of the sales team of an organization and increase sales revenue. It is a customizable product that aims to bring all customer information into an integrated platform. It provides both the account information of the customer and the information collected from social media platforms about the customers. This helps judge the potential of a sales lead and helps close the sales faster. It can accelerate deals with intelligent insights and maximize touch points across every channel to help the business book revenue even faster.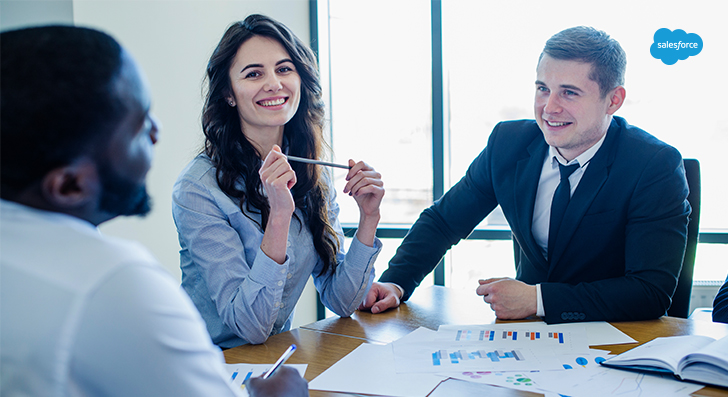 Salesforce provides five versions of Sales Cloud– Group, Professional, Enterprise, Unlimited, and Performance. Three levels of support contracts, namely Standard Success Plan, Premier Success Plan, and Premier+ Success Plan are also offered by the company. The chief business goals that Sales Cloud aims to achieve include the following:
Access to more deals

Based on the response from the market, campaigns are continuously optimized and closing interaction with channel partners is done which helps get more deals.

Closure of more deals

More leads are driven to closure with the availability of account information and product information for customer needs.

Faster closure of deals

Deals are closed faster with the help of visual design of the workflows and mobile apps for the approvals of business processes.

Faster decision making

A detailed picture of the business scenario is availed with the help of dashboards and reports. This boosts the accuracy of sales forecasting and makes way for faster business decision-making.
Important Steps for Salesforce Sales Cloud Implementation
Let's understand the important elements for the successful implementation of Salesforce Sales Cloud:

Step 1: Understand the Language of Sales Cloud
To use the Sales Cloud effectively, you need to learn the different terms that Salesforce uses to refer to the multiple stages of the sales process. The important sales elements of Salesforce are broken down into the following categories:
Leads: Leads refer to the organizations and individuals that you want to do business with. These are the smallest data sets as they don't have any further connection to your Salesforce data.
Opportunities: Opportunities are individuals/organizations that serve as potential revenue sources, after the initial pitch or interaction.
Accounts: Accounts are organizations and individuals that you have an ongoing business relationship with. To allow Sales Cloud to manage your accounts effectively, you need to import recent invoices.
Contacts: Contacts are people whose contact details you have and who are associated with each of the above. You will reach out to these people for your sales pitches, follow-up invoicing, and more.
Step 2: Import Data Into Sales Cloud
The next step is to import and load data into the software. Salesforce can import and read data from any program with the help of a '.csv' file. For smaller businesses, Data Import Wizard is a suitable option. It can handle about 50,000 records at a time and can detect duplicate records easily. All this is beneficial while implementing Sales Cloud without the help of an IT team.
For larger firms, Data Loader is used that can help import up to 5 million records at a time and also helps in exporting files. Data Loader is a useful option if you are sharing files across offices or branches.
Sales Cloud also helps pull data from external sources such as social media profiles, allowing you to follow up with leads, pitches, and contacts with more insight. You need to ensure your records are accurate or you might end up using updates from the wrong social profile. Likewise, you need to ensure that your formatting is consistent across your entire data set and data is loaded on a 1:1 ratio so that it gets assigned to the right places.
Step 3: Set Up Sales Processes
After you have loaded your data, you need to guide the Sales Cloud as to what it needs to do with the data. You'll be able to map your existing sales funnels onto the innovative features of the Sales Cloud. The Cloud has everything you require to carry out the vital tasks a sales team expects. Since Sales Cloud offers one of the most customizable tools for sales teams, you need to devote some time to refining your process to discover new sources of revenue and productivity.
Step 4: Forecasting
Feedback and success metrics are vital parts of a business strategy. Thus, it is important that you familiarize yourself with the forecasting and performance dashboards and reports of the Sales Cloud. The forecasting feature of Sales Cloud allows you to predict product inventory and staffing resources with more accuracy, decreasing your overheads and increasing your profits. When staffing levels are customized to meet the demands of busier periods, customers won't have to wait to get their queries resolved. This offers a business a better chance at repeat customers and hence more business growth.
Step 5: Automation and Innovation
It is important that sales teams are able to devote sufficient time to their customers. This is why the final step in the Salesforce Sales Cloud implementation process is to set up automated tools to ease the burden of your team and let them focus on vital tasks.
By integrating Sales Cloud with Marketing Cloud, you can transform the way you generate new leads and hence new streams of revenue. You come to know about the marketing campaigns that have worked for your clients and modify your messaging accordingly to reach more people.
When you integrate Sales Cloud with Service Cloud, you get smooth access to the purchase history of your customers, enabling you to address issues more efficiently with the help of relevant information available. The quote-to-cash (QTC) feature of the Sales cloud allows you to further improve your invoicing and forecasting by updating financial records in an automatic manner. You receive a comprehensive view of the sales process for your clients and can customize your offers for them. QTC also permits staff members to stay updated with the order queries so that different staff members are able to answer queries and can make adjustments accordingly.
Another important feature is Einstein AI which offers data-driven insights on a range of topics. For instance, Einstein AI allows advanced lead prioritization with the help of machine learning algorithms and recommends more possible pathways for revenue targeting. AI technology also helps analyze your business performance so that you can improve the accuracy of your forecasts.
Summing up
Sales Cloud can prove to be the most effective tool for businesses looking for ways to diversify their revenue streams and build a strong future for their organization. It offers exceptional insight into your sales process, allowing you to target new clients and opportunities with better precision and insights. By implementing Sales Cloud in your business, you equip your sales team with innovative tools to attract clients and avail new opportunities to boost business revenue.
Case in Focus
A Leading Health Insurance Provider Improved Its Sales Revenue Through A Custom Salesforce Implementation
The client is a leading health insurance provider in the United States and needed a single system to remove process bottlenecks and improve sales team's efficiency.
Damco worked with the client to design a customized Salesforce solution that enabled the client to visualize the entire sales process under one system and enabled approvals in one place. Read more