While Salesforce is capturing the global CRM market share of 19.8 percent, a report indicates that over 70% of the organizations struggle with critical challenges raised by Salesforce integrations.
Salesforce integrations help enterprises to maximize the potential of business applications and tools holistically by bringing them all on a single platform. Ease of data access, highly collaborative and communicative ecosystem, automated processes and workflows, are some of the advantages of integrating external applications with Salesforce. Though CRM integrations act as productivity and performance accelerators for organizations, they raise serious challenges and risks like data loss, security, and business disruptions that need to be addressed intelligently.
Here are some proven hacks for integrating Salesforce applications smoothly.
1. Get an Error-Handling Plan Handy
One of the biggest challenges in the Salesforce integrations arises when apps are connected for data transfer. There are always the chances of insecure connections, data redundancy, inconsistency, and even partial or total data loss. The most common mistake organizations make is that they forget about having a backup plan for any contingencies that may pop up during the integration process. Most of the errors can be tackled by implementing try scope and exception handling functions. Being ready with an error-handling plan to address any such scenario is the most efficient way to integrate your Salesforce with applications seamlessly.
2. Verify the Frequency & Extent of the Information Flow
During the integration process, data from external systems is moved into Salesforce to leverage Salesforce analytics and workflows for automating the business processes. As an integrated system involves collaborating multiple applications and users, it requires taking account of how much data will be flowing from source applications and who all will be able to access the same. Salesforce integration partners document every aspect of the information flow beforehand so that the movement of data and user access can be regulated for secure assimilation of applications. Make sure that your Salesforce integration team has a clear insight on this front to avoid any roadblocks.
3. Validate & Document the API Limits
Salesforce enforces defined API limits to balance the transaction loads for optimized performance and making the platform available to all Salesforce customers. Likewise, other to-be-integrated applications may have restricted API limits that can disrupt the workflows and processes leading to an unpleasant integration experience. To conquer such challenges throughout the integration process, these API limits must be documented and monitored efficiently.
4. Determine the Best Integration Approach & Tool
As not every size fits all, the approach and tool to integrate with Salesforce must be aligned to specific business needs, models, and objectives. Choose the appropriate tool that comes with a Salesforce connector or use custom code for integrating with applications following the real-time or batch-wise approach, whatever best suits the business. Determining the right approach and tool assures seamless Salesforce integrations while simplifying and expediting the process.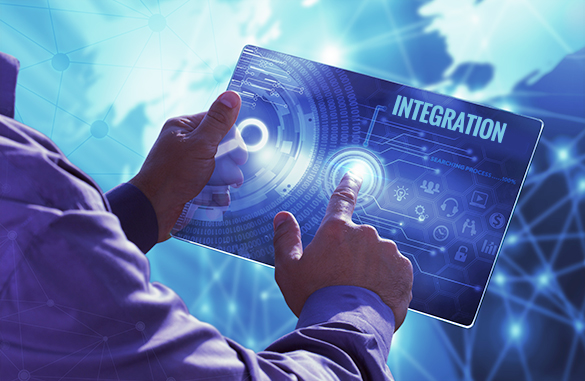 5. Review All Configuration Options
As you initiate the integration process, check out all the options to configure the integrated systems. Standard integration does not require much coding but integrating with complex and large applications needs expert advisory and know-how. Salesforce provides out-of-the-box or "vanilla" features that can be used directly without any modifications. Selecting an out-of-the-box configuration model can help to save significant time, cost, and effort with benefits like automated business processes, streamlined application integrations, enhanced user experience, and scaled business performance.
To Conclude
Organizations spend hugely on Salesforce to streamline their core functions like sales, marketing, and more. Integrating in-use systems with Salesforce helps organizations to reap the benefits of a collaborative, communicative, and transparent system for augmented performance.