The holiday season is one of the most awaited and important times of the year for eCommerce companies. As online shopping demand soars, businesses must provide excellent customer experiences to capture a part of the holiday shopping market. However, customer expectations for personalized messaging, faster purchasing processes, and effective customer service are at an all-time high. Retailers need to meet these expectations while growing revenue and decreasing expenses in the holiday season. This will ensure repeat customers and build customer loyalty.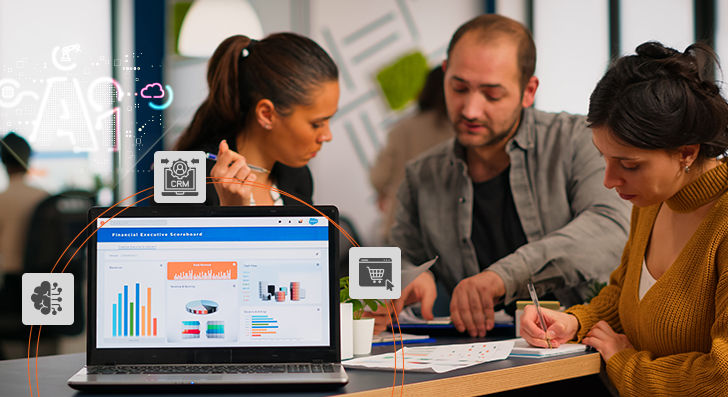 With the help of Salesforce Customer Relationship Management (CRM) and its AI-powered features, combined with real-time data strategies, eCommerce companies can thrive during the holiday rush. The blog explains how a well-executed Salesforce CRM implementation can make all the difference for your retail or eCommerce business.
Understanding the eCommerce Challenge
The holiday season brings a great opportunity for eCommerce businesses to boost sales and attract new customers. However, it also presents unique challenges, including:
1. High Competition
eCommerce businesses compete fiercely for the attention and money of shoppers who are swamped with discounts and promotions during the holiday rush.
2. High Expectations
Shoppers have high expectations for fast, convenient, and personalized shopping experiences. Meeting these expectations is important for retaining customers and promoting repeat business.
3. Peak Traffic
Over the holiday season, traffic to eCommerce websites increases. To avoid disruptions, managing this additional traffic while guaranteeing site performance is crucial.
4. Data Overload
Managing huge amounts of customer data, transactional information, and inventory levels during the holiday rush can be overwhelming without the right tools and strategies.
How Salesforce CRM for eCommerce Helps
Salesforce CRM is a comprehensive solution that helps eCommerce businesses address these challenges directly. Here's how Salesforce CRM, when tailored to meet the specific needs of eCommerce, can prove to be a game-changer:
1. Salesforce Implementation for eCommerce
Salesforce CRM implementation offers a centralized platform for managing sales, marketing, and customer data for your eCommerce business.
Customized Salesforce solutions enable you to tailor the CRM system to your specific eCommerce requirements, ensuring a seamless integration with your existing infrastructure.
2. Salesforce Marketing Cloud
Salesforce Marketing Cloud is an effective tool for developing specialized and focused marketing campaigns. It gives you the ability to create pertinent messaging that connects with your audience by utilizing customer data.
During the holiday season, Salesforce Marketing Cloud allows you to automate email marketing, social media campaigns, and advertising, ensuring your brand remains top-of-mind for shoppers.
3. Real-Time Data Strategies
eCommerce is dependent on real-time data. With the help of Salesforce CRM's integrations with different data sources, you can instantly gather and analyze information on customer behavior, past purchases, and website interactions.
This data-driven approach allows you to make informed decisions, such as product recommendations, pricing adjustments, and inventory management, quickly.
4. AI-Powered Insights
Salesforce CRM incorporates artificial intelligence (AI) and machine learning (ML) capabilities to provide predictive analytics and customer insights.
AI can predict customer preferences, trends, and even potential bottlenecks in your supply chain, allowing you to make proactive decisions during the holiday rush.
5. Personalization at Scale
The capacity of Salesforce CRM to offer individualized shopping experiences at scale is one of its highlights. By analyzing customer data and behavior, you can recommend products, offer discounts, and suggest complementary items that cater to individual preferences.
6. Inventory Management
To avoid stockouts and overstock problems during the holiday season, effective inventory management is essential. Salesforce CRM offers real-time visibility into your inventory levels, assisting you in making informed choices regarding order fulfillment and restocking.
7. Customer Service Excellence
Salesforce CRM offers powerful customer service tools, including case management and self-service portals. These tools make sure that customer inquiries and issues are resolved promptly, improving customer satisfaction.
8. Multi-Channel Engagement
Salesforce CRM allows you to engage customers across various channels, including websites, mobile apps, email, social media, and SMS. This omni-channel approach makes way for consistent messaging and customer experiences.
9. Scalability
The scalability of your Salesforce CRM allows your eCommerce business to grow without limitations. Whether you're a startup or an established retailer, the system can easily adapt to your needs.
10. Data Security
Salesforce takes data security seriously, providing strong measures to guard customer data and transaction data, guaranteeing compliance with industry standards and laws.
Winning Strategies for the Holiday Rush
After highlighting Salesforce CRM's eCommerce capabilities, let's go over some effective approaches for winning the holiday rush:
1. Segmented Email Campaigns
By segmenting your email list using Salesforce Marketing Cloud, you can send tailored promotions to various customer groups based on their interests and past purchases.
2. Real-Time Inventory Updates
Make sure your website displays accurate inventory levels in real time to prevent customers from purchasing out-of-stock items.
3. AI-Powered Chatbots
Use AI-driven chatbots to respond to customer questions and offer immediate assistance, relieving the workload from your customer service staff.
4. Personalized Recommendations
Use AI insights to provide personalized product recommendations, upselling, and cross-selling to improve average order values.
Transform Your E-commerce Business for the Holiday Rush
5. Responsive Website Design
Optimize your website for mobile devices to accommodate shoppers who prefer to browse and purchase from their smartphones and tablets.
6. Performance Monitoring
Continuously monitor the performance of your website to ensure fast load times and smooth navigation even during peak traffic.
7. Inventory Forecasting
Use AI-powered inventory forecasting to anticipate demand and adjust stock levels accordingly.
8. Customer Feedback Analysis
Analyze customer feedback and reviews to identify areas for improvement and address issues promptly.
Conclusion
For eCommerce businesses, the holiday season is a crucial time of year, and the appropriate CRM solution may make all the difference. When properly customized and implemented, Salesforce CRM gives eCommerce firms the tools they need to flourish during this time of increased demand. By leveraging real-time data, AI-powered insights, personalization, and multi-channel engagement, Salesforce CRM allows you to deliver exceptional customer experiences, drive sales, and secure your position in the competitive eCommerce landscape.
To secure your company's success and growth over the holiday season and beyond, investing in a customized CRM solution like Salesforce CRM for eCommerce business is more than just a financial decision. Don't pass up the chance to use the strength of Salesforce CRM to win the holiday rush.