Blockchain has brought a paradigm shift by reinventing the way businesses transact, exchange, store, and share data. This distributed, tamper-proof, and decentralized ledger is the underlying technology for most cryptocurrencies, including Bitcoin (CRYPTO: BTC). In fact, Blockchain has grabbed strong attention in the past few years, all thanks to Bitcoin. However, Blockchain applications are no longer limited to BTC and other cryptocurrencies.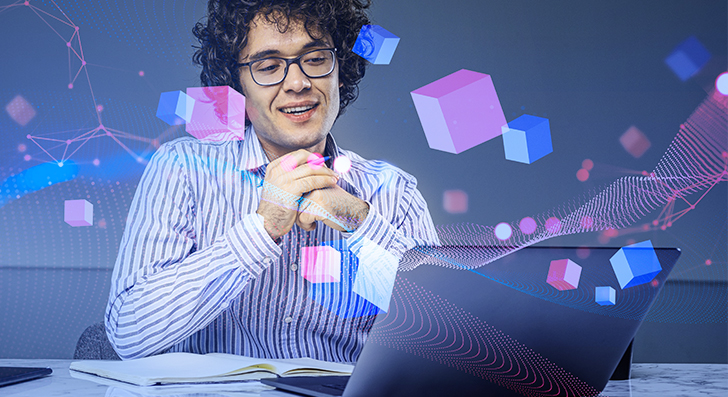 With its ability to build trust, reduce cost, drive innovation, increase transparency, and improve security, Blockchain technology has emerged as a game changer for businesses across industry verticals including Healthcare, Supply Chain & Logistics, BFSI, Retail & eCommerce, Internet of Things (IoT), Real Estate, Media, Government & Voting, and to name a few. From this, it is clear that the popularity of Blockchain and its use cases will continue to skyrocket in the coming years, making it one of the most promising technologies of the 21st century. Before diving deep into the use cases of Blockchain, it is important to note that the worldwide spending on Blockchain solutions is estimated to reach 19 billion USD by 2024, and the global Blockchain market will touch 94 billion USD by the end of 2027.
Promising Blockchain Use Cases Across Industry Verticals

1. Supply Chain & Logistics
Lack of transparency, communication, and data siloing are some of the key challenges associated with the supply chain and logistics sector owing to the hundreds of thousands of companies crowding the logistics space. In addition, data gets manipulated as every logistics company operating in this domain has its terms and conditions, making it hard to understand for others.
A joint study conducted by the logistics giant DHL and Accenture revealed that 500,000+ shipping companies in the United States alone, plaguing logistics and supply chain management with issues like data siloing and transparency. The same report further states that Blockchain's data transparency and immutability can not only overcome the challenges by revealing a single source of verifiability but also build unbreachable trust in the logistics industry. Furthermore, this distributed digital ledger (Blockchain) can make the supply chain and logistics process more automated and leaner by removing intermediaries, which in turn, can potentially save billions of dollars a year for the logistics industry. Walmart, a globally renowned leader in supply chain management is already leveraging the potential of Blockchain technology for improving food traceability and handling payments and invoices to its 70 third-party freight carriers.
2. Healthcare
There are endless possibilities for using Blockchain in the healthcare sector. Though the adoption of Blockchain technology in healthcare is at its nascent stage, it is showing signs of great success. This decentralized, distributed ledger has exhibited unmatched potential in storing and sharing patient personal information, managing electronic medical record (EMR) data, safeguarding genomics information, lowering healthcare costs, and streamlining business workflows. In other words, Blockchain technology is revolutionizing healthcare by storing data on a distributed ledger in an encrypted form that provides patients complete control over their medical records through a private key.
Whenever a patient moves from one healthcare service provider to another, they can easily offer limited access to doctors, nurses, pharmacies, hospitals, and other stakeholders to read medical data stored on a public ledger (Blockchain) using the same private key.
3. Real Estate
The real estate industry is swamped with a multitude of challenges, right from connecting buyers with sellers to verifying and transferring ownership. Furthermore, finalizing a real estate deal can vary from a few weeks to a couple of months or even a year, and it involves a ton of paperwork that demands a lot of effort. Generally, both buyers and sellers prefer to connect with a middleman to cut down on the stress and hassle brought on by the amount of paperwork involved. However, this significantly shoots up the cost of the property since these middlemen charge exorbitant fees for taking care of verifying sellers' ownership and transferring deeds to new buyers.
Using Blockchain technology can not only reduce the amount of paperwork involved but also expedite the buying and selling process by quickly verifying ownership. Furthermore, it reduces the cost of transacting since there will be no middlemen involved in the entire buying and selling journey. Sellers can directly create a digital identity for their property on the Blockchain network and these digital representations can be easily searched and traded using Smart Contracts without requiring a middleman.
A Quick Glimpse at the Key Benefits of Using Blockchain in Real Estate
Cost-effective
Removes middlemen
Quick ownership verification
Safe and smooth transactions
4. Insurance
Fraud is one of the key challenges associated with the insurance industry. The rising prevalence of fraud costs more than 100 billion USD to American consumers and insurers. Using Blockchain technology in the insurance industry can eliminate the risk of fraud since it offers a robust mechanism to create an automated claim system that is secure and immutable and brings much-needed visibility to all stakeholders. Another popular use case of Blockchain in the insurance sector is the adoption of Smart Contracts. Using Smart Contracts, insurers can record all claims on a Blockchain network preventing claimants from making duplicate claims. By eliminating invalid claims, insurers can expedite the claim settlement process.
Summing Up
Blockchain technology is still at its early stage but it is quite disruptive and has proven use cases across industry verticals. Today, a large number of industries are already leveraging the potential of this decentralized, distributed ledger to optimize their operations and unlock new revenue streams. If you are also zeroing in on Blockchain's immutability, security, and transparency to transform your business and supercharge its growth, you can consider partnering with an expert that has rich prowess in engineering enterprise-grade Blockchain applications.