Power Apps is a strong contender in the realm of low-code application development. In a recent report by Forrester, the Power Apps platform has been recognized as a leader in low-code development. The idea behind launching the Power Apps platform by tech giant Microsoft is to empower small & medium size businesses since they often lack the budget to hire a team of developers for application development.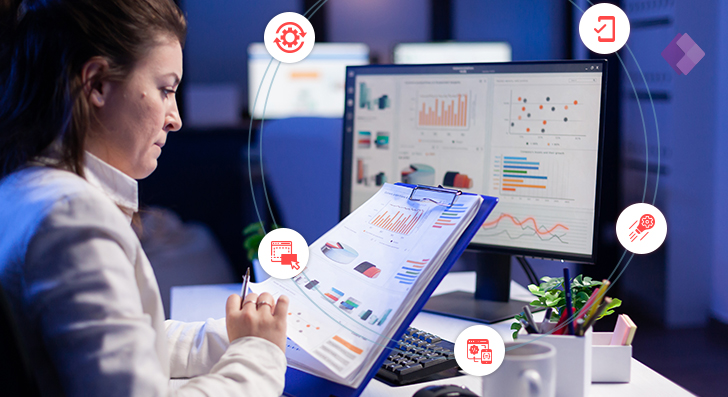 With Power Apps, non-technical professionals can also develop applications using a drag-and-drop interface that reduces the substantial amount of coding required resulting in faster development. Simply put, the Power Apps platform provides a level playing field for SMEs to compete with large enterprises.
Introduction to Power Apps
Launched in 2015, Power Apps is a popular platform for low-code application development in a quick turnaround time. With the help of this platform, professionals having no prior experience in coding can develop enterprise-grade applications to streamline operations, improve workflow capabilities, solve business challenges, accelerate business transformation, and do much more. Besides this, users can also connect applications built with Power Apps to a wide range of data sources such as Excel, Salesforce, Oracle, SAP, OneDrive, Office 365, SQL Server, SharePoint, Power BI, Dynamics 365, and Power Automate. Some of the top industry leaders that are leveraging the potential of Power Apps in their business include H&M, PayPal, EY, KPMG, Wipro, Shell, Toyota, Virgin Atlantic, and Rockwell Automation, to name a few.
Types of Power Apps
There are mainly three types of Power Apps – Canvas, Model-driven, and Portals. Let's look at them briefly.
Canvas Apps: It is the most common type of application developed by businesses to pull data from multiple sources into one place. Designing a canvas application doesn't require a sound knowledge of programming languages, instead, the drag and drop elements allow users to create the application onto a canvas just like designing a slide in Microsoft PowerPoint. Once the application is developed, it can be connected to 200+ data sources through out-of-the-box connectors and deployed for use on the web, mobile, and tablet devices, and even embedded in Power BI dashboards, Sharepoint, and MS Teams.
Model-driven Apps: This development approach focuses on adding components to an application without writing any code. Using the app designer, users can add components such as tables, charts, forms, views, and dashboards, and build applications from simple to complex.
Power Apps Portals: Portals are used for website design. It helps users to create external-facing web portals that allow external partners, vendors, or customers to sign in anonymously, view data in Dataverse, and browse content.
Unique Features of Microsoft Power Apps
Developing an enterprise-grade application through traditional means is not only time-consuming but also demands huge investment. On the other hand, Power Apps provides an all-inclusive rapid development environment to build applications quickly and economically. Now, let's dive deep into the key traits of this low-code application development platform.

1. Streamline Operations
Power Apps development enables businesses to overcome the unique challenges they are dealing with. For instance, creating an employee expense tracking application using Power Apps enables the workforce to key in the details of their expenses and attach a photo of the receipt for quick reimbursement.
From tracking employee expenses to automating communications, leveraging data analytics, and introducing AI into the operations, everything can be streamlined through Power Apps. Today, more than 100,000 organizations across the globe are leveraging the potential of Power Apps to build enterprise-grade applications and APIs that help them streamline different business operations.
2. Faster Development
Gone are the days when application development used to be tedious, laborious, and time-intensive (from a couple of months to a year or so). However, Microsoft has made it possible for businesses to develop applications in a few days and gain the fast-mover advantage. Power Apps have done away with many time-intensive elements from the traditional application development process such as creating a UI, establishing links & navigation, etc. It replaced them with a rapid development environment that offers an intuitive drag-and-drop interface. As a result, users can make a prototype of the application (MVP) right in the interface and develop it faster than ever.
3. Mobile Ready
The applications developed using this low-code platform offer the same user experience across all devices such as desktops, smartphones, and tablets. It simply means that users can access the enterprise-grade application from anywhere at any time. Thanks to the common connectors and intuitive interface that make mobile-friendly application development possible.
4. Drag-and-Drop Interface
When it comes to application development, the first thing that comes to mind is that one should have strong coding knowledge. However, this is not the case with Power Apps. With the Power Apps platform, one can develop both web and mobile applications even if they have very little programming knowledge. The reason being is the Power Apps platform offers drag-and-drop elements with pre-built templates for faster application development.
5. Integration With Office 365 Suite and Other Microsoft apps
Another key advantage of Power Apps development is that it offers easy integration with Office 365 suite, which includes popular work applications such as Excel, Word, Outlook, PowerPoint, Teams, OneNote, OneDrive, etc. Besides this, it can also be integrated with other Microsoft applications such as SharePoint, Power BI, Power Automate (formerly known as Microsoft Flow), Dynamics 365, and to name a few.
Comparison: Canvas App vs Model-driven Apps vs Portals
| Features | Canvas App | Model-driven Apps | Portals |
| --- | --- | --- | --- |
| Coding Style | Low Code | No Code | No Code |
| Responsive | No | Yes | Yes |
| UI Control | Full Control | Limited | Low (customization required) |
| External Access (Anonymous User) | No | No | Yes |
| Licensing Cost | Low | Medium | High |
How to Drive Digital Transformation With Power Apps
Limitations of Microsoft Power Apps
1. Limited Customization
Unlike open-source software, Power Apps is the proprietary platform owned by the tech giant Microsoft, which simply means, it is not possible to customize the application endlessly. In other words, Power Apps offers limited customization capabilities to businesses and some chances existing features in the Power Apps platform may not provide bespoke solutions that a business needs.
2. Not Compatible With External Systems
Power Apps offers seamless integration with Office 365 suite but it is not easy to integrate this low-code platform with legacy systems. Using Power Apps, users can connect to only a handful of third-party applications or services. Simply put, integration with external systems can be a tough row to hoe.
3. Runs Only on PowerApps App Player
Low-code applications developed through Power Apps can't be published on Google Play Store, Apple App Store, and Windows Store.
Power Apps Pricing
Power Apps primarily offers two pricing models – a subscription plan and a pay-as-you-go plan.
The pricing for a subscription plan:
$5 per user/app/month (Run one app per user per month)
$20 per user/month (Run unlimited apps per user for one month)
The pricing for a pay-as-you-go plan:
$10 per active user/app/month2 (It requires an Azure subscription)
Ready to Unlock Power Apps Potential?
Power Apps offers a rapid application development environment that enables users to build enterprise-grade applications in a quick turnaround time without having a programming background. If you are ready to get started with Power Apps development, it is recommended to partner with certified professionals to make the most of this low-code development platform.
Case in Focus – A
Recently, Damco Solutions helped a retail store based out of Jacksonville with Power App development. For the last few months, the store was observing a sharp decline in sales and a demotivated sales staff. Using Power Apps, we not only revived the customer journey but also empowered the sales staff by enabling them to upsell products with similar recommendations, quickly scan products to check their availability, and process transactions with ease. You can also overcome unique business challenges by reaching out to our Power Apps experts.
Case in Focus – B
A leading IT company with global presence was seeking help to automate its travel claims reimbursement and management process. Damco partnered with the client and helped them in digitizing and automating their reimbursement process with Power Apps. Check out the complete case study to find out how Damco automated expense reporting and reimbursement process, and cut down the claim approval time by 40%.