Did you know? There are 6.92 billion smartphone users as of 2023, which simply means that 86.29% of the world's population owns a smartphone. By 2025, there will be 7.33 billion smartphone users worldwide. With the burgeoning of smartphone users globally, the revenue from mobile applications will reach around 613 billion USD by 2025. This may be one of the reasons why businesses across verticals are poised to cash in on the mobile application market growth, which is predicted to reach 567.19 billion USD by 2030 at a CAGR of 13.8% during the forecasted period.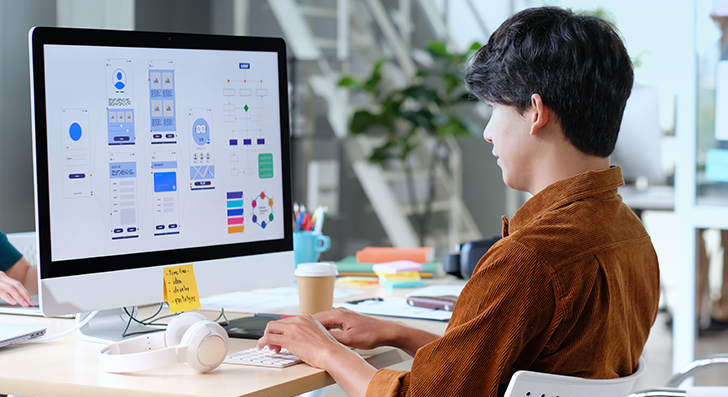 When it comes to application development, designing and deploying a successful mobile application is not as easy as it seems since the Apple App Store is swamped with nearly 2 million applications, while Google Play Store is replete with over 3 million Android applications. Furthermore, the average retention rate of mobile applications after 30 days is merely 2.59% on the Android platform and 4.13% on the iOS platform. In other words, 21% of users abandon an application after a single use, while 56% of users uninstall the application from their smartphone within 7 days of installation. This indicates that the battle for consumers' attention is becoming intense across industry verticals. This informative piece covers the time-tested strategies to develop successful mobile applications that not only cater to unique business requirements but also overcome the challenges or obstacles they are dealing with.
1. eCommerce Application Development
Increasing penetration of mobile internet traffic is bolstering the global eCommerce market, which is estimated to reach 27.15 trillion USD by 2027 at a CAGR of 14.7% during the forecasted period. Developing a successful eCommerce application that drives sales, customer engagement, repeated customers, and application retention rate requires a clear roadmap with all the steps defined in a manner that expedites the development process. For instance, eCommerce application development begins with defining the application goals. Once the goal is defined, it's time to decide on the target audience and determine the key features for eCommerce application development, such as user onboarding, authorization, navigation, multiple payment systems, quick checkout, push notifications, wishlists, product comparisons, and more. After defining the essential features, choose the right platform and technology stack for eCommerce application development. Finally, it's time to test the application and publish it on the app store.
2. Social Networking Application Development
Did you know? There are 302.35 million social media users in the United States as of 2023. In other words, 90% of the total US population is actively using social networking applications. Furthermore, 96% of SMBs use social networks to market their product or service offerings, whereas 97% of Fortune 500 Companies rely on social networking applications to connect with customers. This presents an opportunity for businesses to consider social media application development to unlock new revenue streams.
Developing a successful social networking application that attracts massive users begins with product/market fit identification, identifying the target audience and purpose, analyzing competition, deciding on the revenue model, incorporating advanced functionality and features, building an MVP to test ideas quickly, designing, developing and releasing the application, and finally conducting A/B testing to collect users feedback and improve the application.
3. Food Delivery Application Development
Since 2014, the food delivery market has grown dramatically by 300% faster than dine-in and is accountable for nearly 40% of the total restaurant sales. By 2030, the global online food delivery market size is estimated to reach 505.50 billion USD. This may be the reason why developing a food delivery application seems a lucrative investment.
Developing a successful online food delivery application begins with verifying the needs of the target audience, analyzing the competition, deciding on the right technology stack, choosing the monetization model, and determining the key features such as sign-up/login, search, order placement, multiple payment options, geolocation tracking, in-app call or messaging, push notifications, restaurants listings, reviews and ratings, order history, delivery status, and more. Once the functionality and features are defined, it's time to begin the development of an MVP to test the delivery application on a target audience. Post MVP development, additional features can be added to release the final product.
Summing Up
Mobile application development is worth the investment since it improves customer engagement, increases customer retention and brand visibility, cultivates customer loyalty, generates an additional source of revenue, and helps businesses stand out from the competition. Considering the unmatched potential of mobile applications, it makes sense to develop a robust, scalable, feature-rich, and bespoke mobile application tailored to unique business requirements. If you are also planning to invest in mobile application development, you may hire seasoned app developers from a reliable offshore partner to reduce the high development cost. Besides cost-effective development, you'll get access to a pool of talented application developers when hiring from an offshore region.