Digitalization has transformed the way companies interact with customers. Many market players have already made a significant stride towards adopting digital technologies. This has helped them in harnessing their relation with new-gen customers. As these customers are hyperactive and more centered towards mobile and digital technologies, it becomes imperative for organizations to stay updated on digital advancements. As a result of this change, many industries have been hit by a storm, especially the insurance sector where the business model is based on core methodologies.
The Current Scenario
Insurance organizations have been lagging in providing inventive and customer-friendly digital experiences. Moreover, the competition in the insurance industry is focused majorly on the crucial function of customer engagement. Yet the insurance sector has been failing regularly in delivering as per customer's demand due to multiple organizational silos, different communication channels, and legacy platforms. This has impacted the speed at which new customer engagement strategies are embraced. Thus, managing a good customer relationship upfront is a requisite for every insurance carrier and broker. This is only possible through an agile CRM software that assists insurance firms to revive and strategize their business model and take potential benefit out of wallet share.
Importance of CRM in the Insurance Industry
Here are some statistics to prove the importance of CRM in insurance:
• BFSI accounts for 22% of the global CRM software market.
• According to Nucleus Research, every dollar spent on CRM returns $8.71.
• 64% of companies find CRM to be either impactful or very impactful.
• According to Salesforce, CRM increases sales productivity by 34%.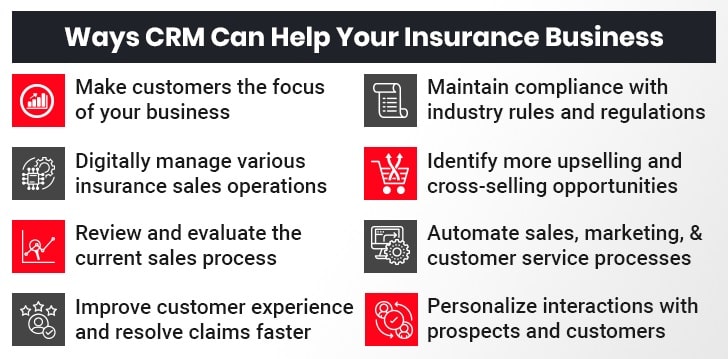 Top 5 Benefits of CRM for Insurance Brokers
Traditionally, insurance brokers adapted conventional methods like paperwork for document management. It was a complicated process because of the amount of bandwidth they required in performing even small data updates due to the complex file-work handling.
But with the rise of digitalization, insurance brokers have taken a step ahead from traditional customer servicing methods to CRM for Insurance Brokers. And, it has brought great success as the insurance CRM Software for brokers excels in integrating the insightful information of customer interactions with the core processing insurance modules. This allows modern brokers to manage all the leads and insurance companies in one place.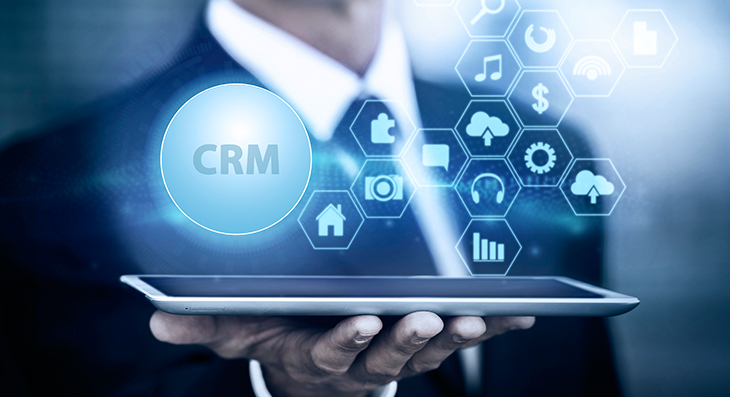 Here are a few benefits of CRM for Insurance Brokers that will help you improve your profit margin and enhance your customer satisfaction simultaneously:
1. Enhancing Customer Experience
Insurance brokers have a very different approach to customer engagement as compared to insurance carriers. Brokers largely rely on personal relations to convert their prospects into customers. Customer retention is crucial for brokers as it profits more than generating new businesses. For building customer loyalty, one needs to enhance customer satisfaction by keeping up with the demands of the customers. CRM for Insurance brokers benefits customer engagement by efficiently organizing the collated data of customers with the interaction data. This makes identification of the next steps for customers and brokers easy and accurate and thereby, improves the customer experience.
Businesses can deploy solutions like Dynamics 365 for insurance brokers and empower them with top-class tools that facilitate omnichannel support. It enables insurance agencies to offer a connected, holistic, and consistent experience across all channels.
2. Strengthening Data Security
Insurance is a data-driven industry that deals with a massive amount of data. With such humongous volumes of data, comes a big responsibility to keep it secured. Besides, nowadays one of the core concerns of the customers is how a company they choose to partner with, deals with their data especially while engaging with medium-sized insurance brokers. So, to mitigate this challenge, modern Insurance Broker CRM solutions come up with built-in data security measures. With efficient CRM software, brokers make sure that there is virtually no risk of unauthorized access to data.
3. Improving Collaboration and Communication
For Brokers, working with multiple insurance companies and not letting the efficiency in the coordination get diluted is a challenge in itself. To mitigate this, CRM Software for insurance brokers brings a resolution by staging all the important data of interactions with multiple insurance companies and customers in conjunction- with a single dashboard. The dashboard illustrates insights from the interaction data to help the brokers define the next steps conveniently. At the same time, brokers can also send reminders to customers for renewals from the dashboard. This improves CSAT score with effective communication and hence, Broker CRM Software earns customer loyalty.
4. Tracking Leads Efficiently
Lead management is one of the trickiest tasks for brokers today when prospects could scroll through a million options of buying insurance on the internet. Insurance CRM for brokers has helped insurance brokers on this front by tracking the leads through various sources and presenting the data on a single screen. Moreover, Insurance CRM Software for brokers also follows up the leads throughout the sales cycle as per their status – hot, warm, and cold.
5. Automation of Manual Tasks
As an insurance broker, it is hard to maintain a balance between the crucial task of meeting the prospects for sales purposes and at the same time, managing documentation. It is now impossible for the brokers to travel from place to place for document collection of prospects in the process of policy issuance. To make this easier, CRM for insurance brokers gives customers and prospects the option to submit documents online. Besides, brokers can automate the auditing of such documents for parking at the earliest. This saves a significant amount of time for insurance brokers.
Leverage the Power of Insurance CRM and Move a Step Closer Towards Success.
Conclusion
Insurance CRM Software has revolutionized the industry by designing automation for every complex task. Insurance brokers have also been the beneficiaries of the same. Therefore, CRM Software allows brokers to do what they do best, i.e., build relationships and offer insightful and personal product information. This supports in generating new and retaining existing businesses and thereby, increasing CLV. With the insurance industry only looking to become even more competitive, CRM for insurance brokers makes the broker stand out from the crowd. The disruption is reaching every doorstep of the insurance landscape.
If you as an insurance firm are looking forward to enhancing your ROI with the efficiency of CRM Software for brokers, click here to know more.