In the modern digital world, businesses are often faced with the challenge of reaching their target audiences with the right and consistent message across multiple channels effectively. Whether you're a small startup or a large enterprise, the need for efficient multi-channel marketing has never been greater. To address this need, a lot of businesses are turning to Salesforce Marketing Cloud for their marketing automation needs.
In this blog post, we'll explore why Salesforce Marketing Cloud is the ideal solution for businesses of all sizes and how partnering with Salesforce Marketing Cloud implementation experts can help streamline your multi-channel marketing efforts.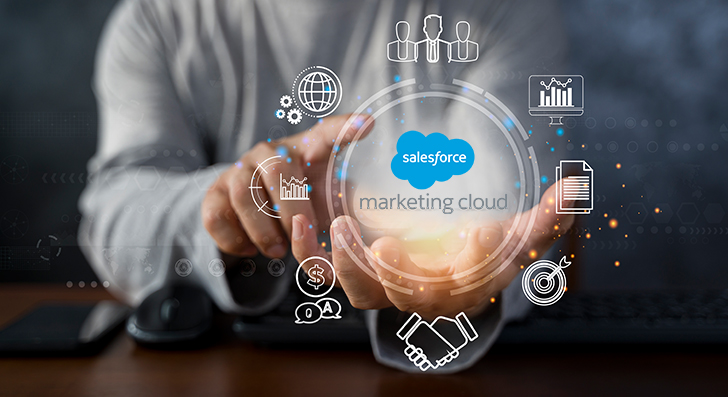 The Significance of Multi-Channel Marketing
In a world where consumers are bombarded with information from multiple sources, a multi-channel approach allows businesses to connect with their audience where they are most active and channel of their choice. This can include email marketing, social media, SMS, mobile apps, and more. By leveraging multiple channels, businesses can create a cohesive and personalized customer journey that drives engagement and conversions.
Common Challenges in Multi-Channel Marketing
While multi-channel marketing offers immense benefits to businesses, it comes with its fair share of challenges. Here are some common challenges that businesses face:
1. Customer Data Silos
Different channels often collect customer data independently, resulting in data fragmentation. This makes it challenging to get a comprehensive understanding of customer interactions.
2. Ineffective Campaign Management
Managing campaigns across various channels can be time-consuming and prone to errors when there are no the right tools and processes in place.
3. Complexity in Personalization
Delivering personalized content and offers across channels calls for advanced segmentation and targeting capabilities.
4. Inaccurate Measurement and Analytics
For marketing strategy optimization, accurate measurement of campaign performance across channels is crucial, but doing so without a centralized system can be challenging.
5. Limited Compliance and Data Security
Businesses need to adhere to regulatory compliance standards and protect customer data, which becomes more challenging with multi-channel marketing.
Introducing Salesforce Marketing Cloud to Master Multi-Channel Marketing
Salesforce Marketing Cloud is a comprehensive marketing automation platform designed to address these challenges and empower businesses to excel in multi-channel marketing. With its range of tools and capabilities, Salesforce Marketing Cloud helps drive marketing efficiency and revenue. It assists organizations of all sizes create, manage, and optimize their marketing campaigns efficiently.
Here are some key reasons why Salesforce Marketing Cloud stands out:
1. Integrated and 360-Degree view Of Customer Data
You can eliminate data silos by centralizing customer data with Salesforce Marketing Cloud. Your CRM and other data sources can be integrated to give you a complete picture of your customers. Better segmentation and personalization are made possible by this consolidated data, leading to more successful marketing campaigns.
2. Advanced Automation
The foundation of Salesforce Marketing Cloud is automation. You can save time and lower the possibility of errors by automating operations like social media posting and email marketing. You can improve customer engagement by using automated customer journeys to provide the right message at the right time.
3. Better Personalization at Scale
Personalization is the need of the hour. Salesforce Marketing Cloud provides robust personalization tools, allowing you to customize content, offers, and recommendations to individual customers or segments. This level of personalization can significantly improve conversion rates and customer satisfaction.
4. Efficient Multi-Channel Campaign Management
With the help of Salesforce Marketing Cloud, you can manage your marketing campaigns across email, social media, SMS, mobile apps, and more from a single platform. This centralized approach simplifies campaign management, making it easier to maintain consistency across channels.
5. Improved Measurement and Analytics
For marketing efforts to be optimized, precise analytics and measurement are essential. You can monitor the effectiveness of your campaigns across channels using Salesforce Marketing Cloud's comprehensive reporting and analytics features. This data-driven strategy enables you to make decisions that are supported by data and continuously enhance your marketing strategies.
Experience Success Tailored to Your Business: Salesforce Marketing Cloud Holds the Key
Role Played by Salesforce Marketing Cloud Implementation Partners
Despite having a multitude of capabilities and advantages, Salesforce Marketing Cloud can be difficult to implement and optimize. Here is where partners for the deployment of Salesforce Marketing Cloud prove to be useful. These professionals know the top strategies of implementation and have a specialization in modifying Salesforce Marketing Cloud to suit your unique business requirements.
Ways in which partnering with implementation experts is beneficial:
Experience

Salesforce Marketing Cloud implementation partners have extensive experience working with the platform. They understand its capabilities, limitations, and best practices, ensuring a smooth and efficient implementation process.

Customization

Since every business is unique, off-the-shelf solutions may not be able to entirely meet your requirements. Implementation partners can personalize Salesforce Marketing Cloud to align with your brand, industry, and specific marketing goals.

Integration

Effective multi-channel marketing calls for Seamless integration with other systems and data sources. Implementation partners have the expertise to integrate Salesforce Marketing Cloud with your CRM, e-commerce platform, and other essential tools.

Training and Support

Implementing a new platform generally requires training for your team. Implementation partners can provide comprehensive training and ongoing support to make sure your team can make the most of Salesforce Marketing Cloud.

Optimization

It's crucial to continue to improve your marketing techniques after deployment. Implementation partners can assist you in data analysis, campaign optimization, and market dynamics adaptation.
Choosing the Right Salesforce Marketing Cloud Implementation Services
When choosing a Salesforce Marketing Cloud implementation partner, you need to consider the following factors:
1. Technology Expertise
Seek out partners who have a track record of implementing Salesforce Marketing Cloud successfully. To determine their level of experience, check their certifications and client reviews.
2. Industry Domain Experience
If possible, pick a partner who has expertise in your industry. They'll be more cognizant of your unique requirements and difficulties.
3. Flexibility To Accomodate Customization
Discuss your customization requirements with potential partners and ensure they can customize Salesforce Marketing Cloud to meet your unique needs.
4. Seamless Integration Capabilities
Ask about their experience with integrating Salesforce Marketing Cloud with other systems you use, such as CRM, e-commerce, or data analytics platforms.
5. Responsive and Robust Support and Maintenance
Ask them about their maintenance and post-implementation support services aka Salesforce Managed Services for Marketing Cloud. A trustworthy partner should be available to handle any problems and offer continuing support.
Conclusion
Multi-channel marketing is crucial for business success and Salesforce Marketing Cloud has emerged as a powerful solution for organizations of all sizes. Its ability to integrate customer data, automate marketing tasks, enable personalization at scale, and streamline campaign management makes it a great choice for businesses.
To derive maximum benefits from Salesforce Marketing Cloud, partnering with Salesforce Marketing Cloud implementation experts is highly recommended. These specialists bring a wealth of knowledge and experience to the table, ensuring a successful implementation and ongoing optimization of the platform.
When starting on your multi-channel marketing journey or seeking to enhance your existing efforts, consider Salesforce Marketing Cloud as the cornerstone of your strategy, and select implementation partners who can guide you to success. With the right tools and expertise, you can streamline your multi-channel marketing efforts, engage your audience effectively, and drive growth for your business.