Managing customer expectations is one of the biggest challenges faced by marketers today. Traditional methods of marketing make it tough to meet the demands of customers and manage customer relationships. This is where Salesforce Marketing Cloud comes to the rescue.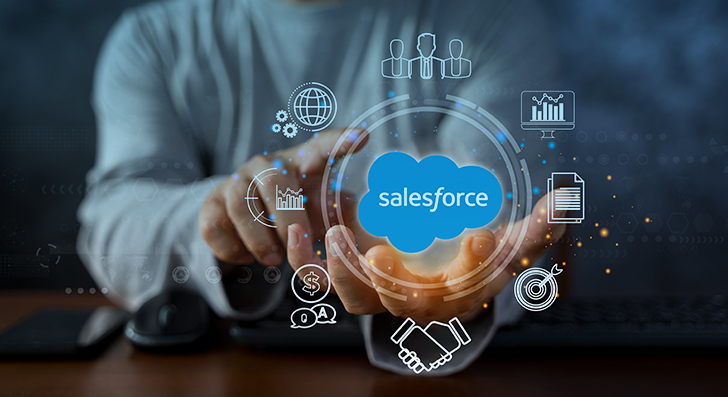 Regardless of the marketing channel you select to connect with your clients, Salesforce Marketing Cloud has the tools to help you. At times, the number of tools available at your disposal might overwhelm you and you might be confused as to how you need to get started. In this blog, we will understand the important strategies that you can make use of for the successful implementation of Salesforce Marketing Cloud.
Top Strategies for the Success of Salesforce Marketing Cloud Implementation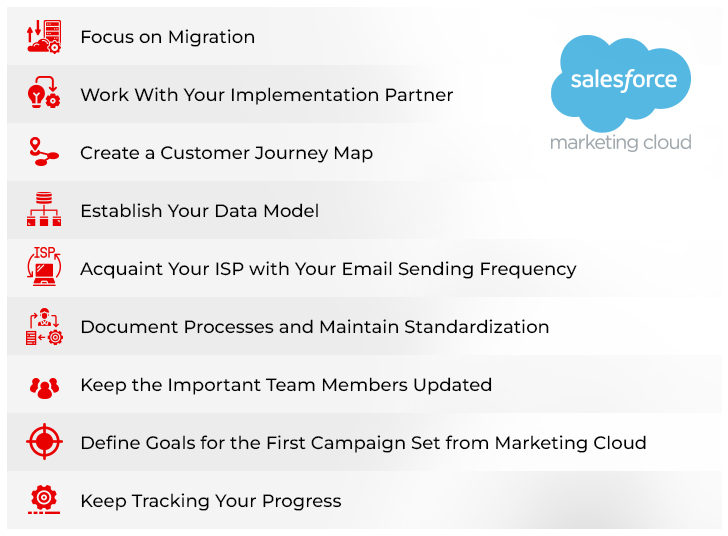 Focus on Migration
If you are shifting to Salesforce Marketing Cloud from some other Email Service Provider (ESP), you need to guarantee that your migration process is seamless and smooth. This can be attained by ensuring the following:
Your landing pages and related forms are integrated
Your email templates are compatible with Salesforce Marketing Cloud or create new templates
Maintenance of automation workflow logic after migration
Non-disruption of scheduled messaging
Migration of all the PPC display ads
All this requires time and rushing through the process to get things done can lead to disastrous consequences. Thus, it is beneficial to set up timeline goals and stick to them to produce positive results.
Work With Your Implementation Partner
Your Salesforce marketing cloud implementation partner will simplify the whole process of implementation for you. However, you should not depend entirely on them and wait for the results. Once the professional has done their task, ask them questions to know what they have done and request them to walk you through the process. This will help you become an active participant and you'll be able to understand the CRM better.
After choosing Salesforce Marketing Cloud as your marketing tool, you might not be using all its features in the initial phase. You need to understand your primary business goals and communicate with your team internally to understand the tools that you should begin with. Slowly, as you and your team will get accustomed to the Marketing Cloud, you can experiment with other features and increase their usage.
Create a Customer Journey Map
Though you might already be adhering to your marketing efforts depending on your customer journey, the implementation of the Marketing Cloud can be a great opportunity for you to understand and draw your customer journey better. Consider the new tools available for you, the various channels of communication that your team might employ, and separate touchpoints for data collection to know about the critical challenges encountered at different stages. Compare these with the ability of the Marketing Cloud products that you are planning to use. This way, you'll be able to match the expectations of your customers with the Marketing Cloud products that you require.
Establish Your Data Model
The effectiveness of your campaigns depends on the personalization of the data you provide to them. Thus, it is important to set up a data model in the initial stages of implementation and analyze the data that you presently have, the information you require, and the data that you gather to fill the gap. You also need to be prepared to include flexibility that helps you add or remove any data points in the future.
Acquaint Your ISP with Your Email Sending Frequency
As every email is sent via a particular IP, it is important to acquaint your ISP with your email sending frequency. This will ensure that your email deliverability doesn't get reduced. In the beginning, if you send the same number of emails as you did in the past with your old marketing platform, your ISP might suspect you of spamming. Thus, the best thing to do is carry out an IP warming process, wherein you initially send a small portion of your daily volume of emails and gradually increase the volume over the next few weeks to avoid any issues of deliverability.
Boost Your Campaigns with Salesforce Marketing Cloud
Document Processes and Maintain Standardization
Maintaining standardization helps you ensure that you don't face any hassles in the later stages. It is important that you document all your processes so that you are able to easily track the progress of the Marketing Cloud implementation. Here are some of the vital things that you should document:
Your present data model
Your data flow mapping including various data sources, data silos, and flow of data between integrations
The folder rankings for asset management and content
List of API connections
Standardization is significant when it comes to maintaining folder structure, file name, and hierarchy. This helps you easily browse through your asset pool and content later when it begins to pile up. Also, including the year in the nomenclature of file naming will help you identify how old the content is.
Keep the Important Team Members Updated
Every department in a business plays a crucial role in the overall functioning of the organization. You need to make sure that the important players who will be impacted by the Marketing Cloud implementation are informed about it and also trained for the same. Thus, you will have to encourage communication by creating accountability and transparency within the creative team, data team, sales team, customer care personnel, and others who deal with customers.
Define Goals for the First Campaign Set from Marketing Cloud
The first campaign that you set from your Marketing Cloud needs to have a clearly defined goal that best matches your business objectives. Designate important responsibilities and assign the required resources to individual team members. This will help you in understanding any gaps in implementation and future needs.
Keep Tracking Your Progress
Your implementation of the Salesforce Marketing Cloud becomes successful when your first marketing campaign goes live, but it does not end there for you. Depending on the performance of your campaign, analyze what worked for you and what didn't so that you can modify your future campaigns accordingly.
Summing Up
Salesforce Marketing Cloud is an emerging field that equips businesses with powerful digital marketing tools for marketing automation and customer engagement. You become accustomed to the fundamental features of the Marketing Cloud after successfully implementing it as your main marketing tool. The successful implementation of the Cloud offers immediate value to your organization, engages your team, and adapts to the needs of your prospects and customers.
Case in Focus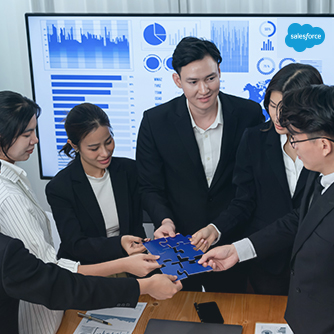 Japanese Manufacturer Achieved Shorter Sales Cycle and Maximized Deal Size Through Implementation of Salesforce Sales Cloud and CPQ