Even if you are not using Salesforce, it's quite likely you've heard of it before. After all, it has taken the entire CRM industry by storm. For the 12th consecutive year, Gartner has conferred Salesforce a Leader in its Magic Quadrant Report on CRMs. From this, you can draw an analogy between Salesforce and Usain Bolt, like if Gartner Magic Quadrant Report on CRMs were a marathon, Salesforce would be a Usain Bolt of that marathon, leaving other powerful competitors including Adobe, MS Dynamics 365, Zendesk, Oracle, SAP, etc. in the dust. In the below diagram, you can clearly see how Salesforce is way ahead of other contenders.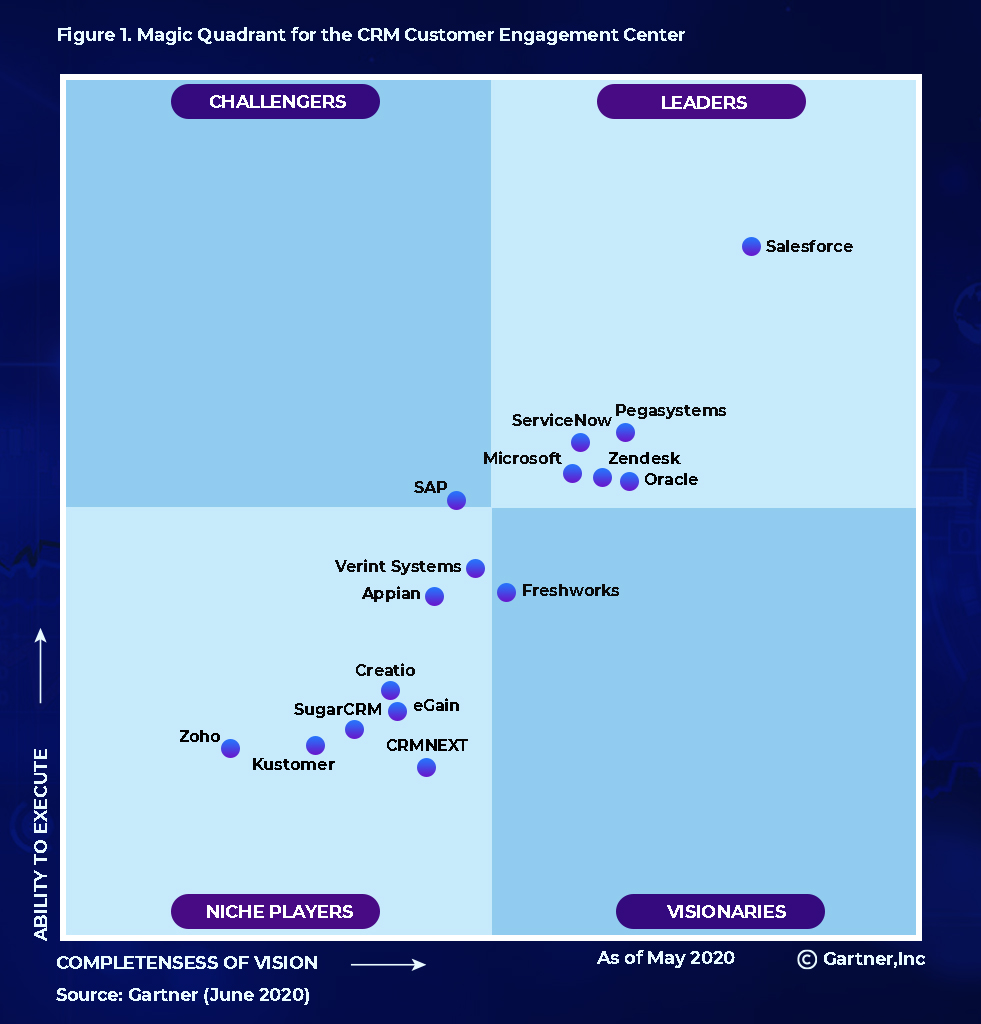 However, designating Salesforce as "only a CRM" won't be fair, since it is just the tip of the iceberg. In fact, it offers a complete suite of applications focused on marketing, commerce, analytics, sales, service, application development, and more. By leveraging these solutions with the help of a Salesforce consulting partner, you can cater to your customers' needs in a better way and grow your business. Now, let's dig deeper to find out different ways to use Salesforce beyond a CRM.
1. Salesforce Marketing Cloud
Without having a robust marketing strategy in place, you can't sell a product to your customers. With Salesforce marketing cloud, you can not only devise a result-oriented marketing strategy, but also target the right customers on the right avenues at the right time. It comes with both B2C and B2B marketing capabilities and allows you to target potential customers through email marketing, push messages, and marketing through other channels including social media, text, chat, etc.
Leveraging the Salesforce marketing cloud can help you accomplish:
Customer acquisition
Upselling opportunities
Lead generation
You can also optimize customer experiences by keeping a tab on their buying behavior, resulting in more sales and profits. Besides this, a Salesforce consultant can also help you automate a slew of operations, freeing up more time for vetting lead generation, lead nurturing, and lead qualification strategies.
2. Salesforce Service Cloud

Once you've got customers on board, it becomes your sole responsibility to deliver an unparalleled experience. With Salesforce service cloud, you can offer quick and customized service to your customers that none of your competitors can match. Always keep in mind that personalizing your customer experience will not only convert your existing customers into loyal ones, but also make them your brand advocates. The best part of using the Salesforce service cloud is that it helps businesses exceed customer expectations by personalizing conversations irrespective of whether they interact with customers over email, social media, text message, AI-powered chatbot tool, phone, or any other channel.
3. Salesforce Service Cloud
Many online store merchants are on the lookout for proven ways to accelerate their sales and profits. If you are one of them, Salesforce for commerce is engineered exclusively for you. Whether you have a B2B or B2C online store, you can leverage the potential of Salesforce Commerce to grow your business. Some of the leading brands (Coca-Cola, Puma, etc.) across the world are using Salesforce to:
Automate repetitive processes
Offer better product recommendations using AI to drive conversions
Keep content personalized and updated with a hybrid CMS
Incorporate modern technology to scale up their business
Build personalized campaigns to offer seamless commerce experiences
4. Salesforce Integrated IT Solutions
Indeed, Salesforce plays a vital role in improving the customer experience but it's not just limited to customers, in fact, you can leverage it to empower every employee in your business. By using Salesforce for IT, you can build intelligent applications that automate key processes and foster collaboration resulting in enhanced productivity of your workforce.
Parting Thoughts
In the end, we would like to tell you that Salesforce is no longer limited to CRM capabilities. It has become a go-to platform for businesses embarking upon their digital transformation journey. If you also want to make your business customer-centric and data-driven, you should opt for Salesforce consulting services from a certified partner.