Having an expert Salesforce administrator in your team will not only improve overall performance but also unlock exciting and new use cases for the Salesforce platform. This will provide you improved visibility into the processes of your company. Nevertheless, discovering the perfect candidate for your company can be a daunting task. For mid-sized businesses, it is quite common to hire an independent in-house admin for managing all things concerned with Salesforce. However, since every Salesforce configuration is unique, hiring a professional with the correct knowledge of the entire platform can be impossible or difficult. In addition to this, the hired in-house resource may have limited knowledge to address complex and ciritial scenarios in Salesforce system. This is where Outsourcing Salesforce admin services comes into the picture.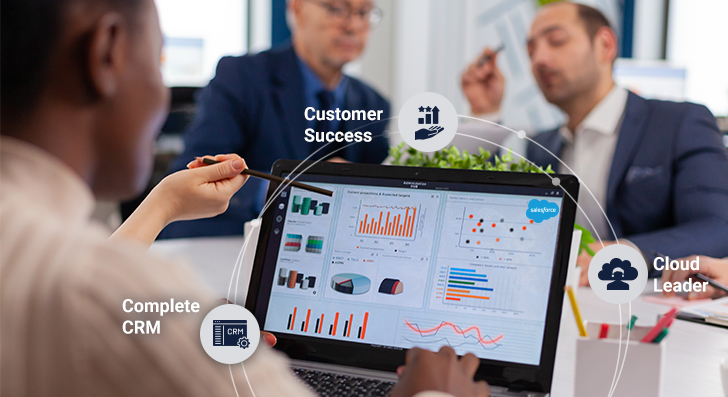 An on-demand Salesforce administrators have expertise in the various aspects of managing Salesforce at peak performance. They assist clients in maintaining their instance in multiple ways. Salesforce admins can complete platform-based projects that boost usability and adoption on Salesforce. These projects also add to business productivity, providing a huge return on investment. An on-demand administrator will be immensely useful to a small to medium business without inside Salesforce technical capabilities for maintaining their org.
An on-demand administrator, whether at onsite or at offshore in a remote or virtual setup, is useful for businesses that are in the hiring process or searching for someone to manage their instance while an employee is on leave. If your Salesforce Administrator is unexpectedly swamped with work, you can benefit from the quick onboarding an on-demand administrator. This way you won't have to worry about filling these temporary positions.
A virtual or remote administrator can create brand-new custom objects and run applications. They can create and implement workflows and reports, alter forms and displays, and come up with additional ways to enhance internal business processes. On-Demand Administrators collaborate with your team on projects. Additionally, if you engage an on-demand administrator, your business will save additional money because you only pay for the hours they are actually working for you.
Important Ways in Which Salesforce Admin Services Streamline Business Operations
Salesforce admin services play an important role in streamlining business operations by automating tasks, optimizing processes, and ensuring that the Salesforce platform is aligned with the goals and workflows of the organization.
The role of Salesforce administration is pivotal in the realm of Salesforce Managed Services as well. Salesforce managed services involve the ongoing management, optimization, and support of a company's Salesforce environment. Within this framework, Salesforce administrators play a central role in ensuring the platform operates smoothly and aligns with the organization's goals.
Here are some important ways in which these services help streamline operations:
1. Customization
Salesforce administrators add value to a business and can modify the platform to meet your unique business requirements. In order to provide a seamless integration with your operations, they configure fields, objects, page layouts, and workflows to mirror your processes.
2. Data Management
Administrators make sure that data is reliable, consistent, and current. They can establish data enrichment processes, data cleansing procedures, and validation standards, resulting in better decision-making and more efficient operations.
3. Process Automation
Admins can use tools like Process Builder, Workflow Rules, and Flow to automate repetitive and manual operations. This lowers the possibility of mistakes, saves time, and enables your staff to concentrate on more worthwhile tasks.
4. Tools for Collaboration
Salesforce offers team members the collaboration tools they need to work together more successfully. To improve cooperation and information sharing, administrators can set up Chatter groups, file sharing, and communication channels.
5. Streamlining of Workflows
By outlining processes and removing bottlenecks, administrators improve workflows. They are able to create notifications, escalation processes, and approval processes that keep operations running smoothly.
6. Insights into Business Performance
Custom reports and dashboards made by admins offer information on how well businesses are performing. These insights enable data-driven decision-making by allowing you to pinpoint inefficiencies, bottlenecks, and improvement areas.
7. Integrated Systems
Salesforce admins can integrate Salesforce with other business systems such as e-commerce platforms, marketing automation tools, and accounting software. This integration discards data silos and promotes data sharing across multiple departments resulting in better overall efficiency.
8. Task and Case Management
Administrators can build up automated case routing, escalation policies, and service-level agreements using tools like Salesforce Service Cloud. This guarantees that support requests and consumer enquiries are resolved quickly and effectively.
9. Support and Training
Admins offer training to users so that they can navigate and use Salesforce more efficiently. This boosts user adoption, decreases user frustration, and reduces errors that can disrupt operations.
10. Automated Communication Workflows
Salesforce administrators can configure follow-up emails, status updates, and customer notifications as part of automated communication workflows. This improves client happiness and guarantees prompt responses.
11. Scalability
Salesforce can be scaled by admins to meet growing data and user demands as your organization expands. This scalability helps the growth of your company and eliminates operational slowdowns.
12. Remote Access
Your team can have remote access set up via Salesforce admin services so they can work from any location. Businesses with scattered or remote teams will particularly benefit from this.
13. Regulatory Compliance
Salesforce admins can configure Salesforce to follow industry-specific rules and compliance specifications. By doing so, operational standards are maintained and potential legal problems are avoided.
14. Collaboration with Salesforce Developers
Salesforce administrators and Salesforce developers are complementary roles that work together to transform business needs into effective Salesforce solutions. Their collaboration is essential for maintaining a well-optimized and customized Salesforce environment that meets the evolving needs of the organization. Effective communication and mutual understanding between these two roles are crucial for achieving success in Salesforce implementation and management.
In addition to the standard administrative tasks, businesses could benefit from on-site or remote training from on-demand Admins. The admins can also offer advice on how to use Salesforce, which is particularly useful for groups where members are in charge of running the platform's daily operations. A Salesforce admin consultant can evaluate your company's operational processes and offer suggestions for improvements.
You can choose Managed Services and Support for more complex projects rather than engaging an entire staff of developers, consultants, BAs, QAs, and architects. This feature is appropriate for small firms where hiring specialized administrative employees would be expensive. Managed Services offer customizable help for clients who are searching for complex implementation of numerous processes or who have projects that require in-depth development.
Conclusion
Salesforce is a useful tool for establishing and maintaining client relationships. This robust cloud computing platform serves as more than just a storage facility for customer data. Your instance can be altered to suit the requirements of your business or clientele. Making the most of this SaaS requires hiring a Salesforce partner or consultant.
Salesforce admin services optimize your Salesforce instance to match your company processes, improving productivity, reducing human labor, and streamlining operations. This results in cost reductions, increased productivity, and improved team and customer experiences.