Salesforce is the most preferred cloud platform for multiple businesses across the world to develop customized CRM solutions that best match their customer-facing business requirements. It helps businesses in improving customer relationships, automate marketing, and streamline sales operations. When it comes to leveraging the complete potential of the Salesforce system, you need to decide whether to outsource the maintenance and support of your Salesforce operations to a Salesforce Managed Service Provider (MSP) or hire an in-house team of Salesforce technology experts including Salesforce administrators and Salesforce developers.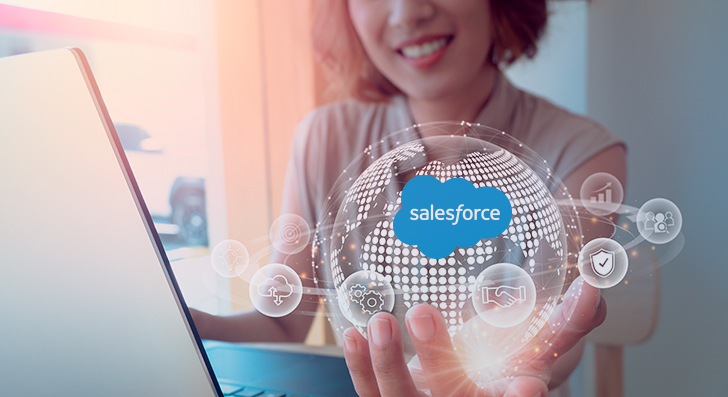 Common Approaches of Salesforce Implementation
When it comes to implementing Salesforce in a business environment, there are three traditional approaches that are followed:
Whatever you choose to do, there are certain Salesforce factors you should consider while trying to maintain your Salesforce instance:

1. Hire an external vendor when the need arises
Many companies consider hiring Salesforce teams when their system stops functioning or face some complex or critical technical and functional challenge. Since you use the services only in the event of a breakdown, you only pay for services when you call the team to fix your Salesforce system. This can prove to be a cost-effective solution but it comes with its own limitations. The approach can be a bit unreliable as you might have to wait for long hours to get your issue resolved if the service provider is busy with another client's request. In case your problem needs urgent attention, you might feel helpless and face huge losses. Also, you won't be able to prevent problems proactively from arising, only fix issues when they arise.
2. Use In-House IT Personnel
A lot of companies divert their Salesforce issues to their existing IT team. As the technology team already has the responsibility of managing everyday IT tasks and multiple applications, it becomes challenging and burdensome for them to gather the know-how on Salesforce CRM in a quick time. The CRM comes with a learning curve as well and IT professionals do not generally have the adequate skills and knowledge to implement Salesforce seamlessly without any disruption to the business. The time spent on mastering Salesforce by the IT team can make other vital IT tasks take a backseat and result in business losses. The time-consuming implementation process also increases the burden on the IT team.
3. Hire an in-house Salesforce team
Multiple large organizations prefer hiring an in-house Salesforce consultant/administrator/team. Having a Salesforce professional on-site allows organizations to implement the Salesforce instance more strategically, generate timely performance reports and offer the necessary feedback and guidance to keep the system running. However, hiring in-house can prove to be a costly affair for businesses. Once the implementation is over, the Salesforce instance needs to be functioning at its peak performance. This is where the in-house resource may not have end-to-end knowledge of Salesforce to address a critical and complex scenario or requirement. The costs of hiring, maintaining, and retaining experts are huge and a lot of companies can't bear that. This is where Salesforce Managed Services prove to be beneficial.
Advantages of Salesforce MSP Over In-House Team
A Salesforce Managed Service covers everything ranging from Salesforce implementation, enhancements, integration to customer support. This allows businesses to reduce costs and efficiently maintain the systems without having to hire any full-time employees. When you opt for managed services from a trustworthy Salesforce Managed Service Provider, you get access to the right expertise and skills to help you with any issues that you might encounter with your Salesforce products including the complex and critical ones.
There are multiple advantages of choosing Salesforce Managed Services over an in-house team for both big and small businesses. Let's have a look at the most important advantages:

1. Access to the right talent to fill the skill gap
Every company, regardless of its size, has some or other skill gap it needs to fill. By opting for Salesforce Managed Services, you get access to customized solutions that help you fill the skill gap quickly and easily. Flexible and on-demand hiring options allow you to get the right resources at the right time at reasonable prices.
2. Cost-effective
Hiring Salesforce developers is quite expensive for an organization. As per the current market data, the average annual salary for a Salesforce Administrator in the US is in the range of $80,000 to $90,0000 depending on various factors. Thus, assembling a Salesforce team in-house is a costly affair indeed. By hiring Managed Service Providers, you get to cut down on costs and avoid added expenses on processes like recruitment, hiring talents, training, retention and fixed costs like salaries, increments, etc.
3. Regular updates and support
our Managed Services Provider takes care of the regular Salesforce system updates essential for keeping your systems functioning effectively. This will ensure that your business processes do not face any interruptions. The team also lets you know which version of the update is actually beneficial for your processes.
4. Regular updates and support
Your Managed Services Provider takes care of the regular Salesforce system updates essential for keeping your systems functioning effectively. This will ensure that your business processes do not face any interruptions. The team also lets you know which version of the update is actually beneficial for your processes.
5. Better scalability
The requirements of your business increase with its growth. When you choose the in-house team model for Salesforce, you are needed to undertake the hiring process again and again to suit the growing needs of your business. The process can be costly, time-consuming, and expensive. If you select the Managed Service Provider model, you receive quick access to resources by upgrading or updating your contact. Salesforce Managed Service Providers take the responsibility of hiring and integrating new talents. In conclusion, you can scale up and down the team as per your business requirements in a hasslefree way.
6. Anytime Access to different skills
Salesforce Managed Service Providers have access to some of the most experienced talents. This allows organizations to easily utilize the talent to leverage their Salesforce CRM knowledge. The common talents that you can receive access to include Salesforce Developers, System Administrator, and Project Manager. You can also hire resources who have the knowledge on new Salesforce products if the need arises.
Tabular Comparison of Salesforce MSP and In-House Team
| | | |
| --- | --- | --- |
| Indicators | In-House | Salesforce MSP |
| Cost of hiring talent | High | Low |
| Scalability | Limited | High |
| Company knowledge | More, as the professionals work as per the guidelines of your company | Less, as the professionals don't work within the company premises |
| Communication and control | Higher | Lesser |
| Data security risks | Lesser | Moderate |
| Knowledge and expertise | Depends on your in-house team | Access to diverse professionals |
| Availability | Business hours | Round the clock |
| Work approach | Single minded dedication on the project at hand | Multiple projects and deadlines to deal with |
| Management | Challenges with team handling and attrition can arise | Communication is easy and streamlined |
Summing up
Both Salesforce Managed Services and hiring an in-house team come with their own set of advantages and disadvantages. However, the notion that Managed Services are only used by organizations that cannot bear the expenses of an in-house team is false. These days, multiple large-scale organizations also choose Managed Services owing to the innumerable benefits they provide.
Case in Focus:
A Leading P&C Insurer Improves its Agent Productivity by 40% By Implementing Salesforce Financial Service Cloud
The client is one of the largest property and casualty insurance companies operating in the United States since the 1920s. They needed a full-fledged platform for keeping track of agents, agencies and their customer-facing operations. Damco provided the client with a full-fledged self-service and 360° platform to better track agents-driven operations. The client's pre-existing IT team also experienced increased productivity with enhanced support from Damco through a flexible, robust, and responsive managed service solution. Read More