Salesforce AppExchange plays a central role in the Salesforce ecosystem and is a valuable resource for businesses looking to maximize the value of their Salesforce implementation. A marketplace brimmed with a range of pre-built apps, components, and integrations, Salesforce AppExchange aims to enhance, customize, and optimize your CRM experience. These apps are designed to seamlessly integrate with Salesforce and are developed by third-party vendors called Salesforce AppExchange partners. AppExchange apps provide businesses with additional features, tools, and capabilities that can address specific needs and requirements.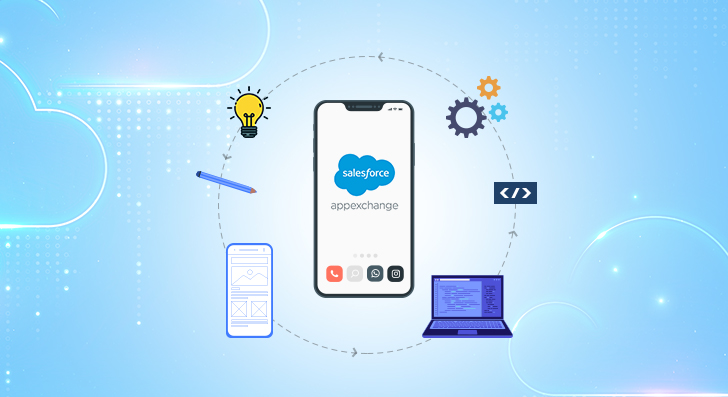 Let's understand how Salesforce AppExchange improves the efficiency of your CRM:
1. Better Functionality
AppExchange apps can give your Salesforce instance new features and functionalities that may not be available out of the box. These features enable you to customize your CRM to meet your unique business needs and expectations.
2. Customization and Flexibility
AppExchange app development creates apps that can be easily customized to align with your specific business processes. A lot of apps provide configuration options that enable you to adapt them to your business needs without any extensive coding.
3. Scalability
Many apps available on the AppExchange are scalable, allowing you to expand your business as your user base and data volumes rise.
4. Time and Cost Effective
You can utilize existing AppExchange apps to save time and money by forgoing the need to develop custom solutions from scratch. These apps are pre-built and ready to use, which can shorten the time it takes to integrate them.
5. Integration
Salesforce and AppExchange apps are fully integrated, ensuring efficient data transfer between your CRM and the added functionalities. Through integration, information accuracy is improved and data silos are reduced.
6. Fast Implementation
In comparison to developing custom solutions, AppExchange apps can be implemented rather quickly. Custom development and AppExchange are the two chief options available for businesses to improve the functionality of their CRM. However, organizations that urgently need to handle particular difficulties can especially benefit from AppExchange.
7. Quality Assurance
Salesforce performs a thorough assessment of many AppExchange apps to make sure they adhere to quality standards, which can provide some assurance regarding the dependability and security of the apps.
8. Availability of Expertise
AppExchange apps are developed by Salesforce AppExchange partners who have a specialized domain expertise. This enables you to leverage their experience and knowledge to address particular business needs.
9. Innovation
The wide range of apps available in the AppExchange ecosystem allow you to continuously discover and use cutting-edge solutions to stay ahead in your sector.
10. Community and Support
Active user communities, forums, and support channels are available for many AppExchange products. This allows users to interact with one another, ask questions, and receive help from both the vendor and other users.
11. Reduced Risk
With the help of well-reviewed and established apps, you can lessen the risk linked with building and maintaining custom solutions, which might have unforeseen flaws or restrictions.
12. Lowered Development Costs
You can use third-party expertise for particular functionality rather than spending money on creating and maintaining in-house development teams.
13. Consistency
AppExchange apps can offer a consistent user experience, which is beneficial for preserving a smooth workflow between various CRM components.
Salesforce AppExchange provides a range of pre-built ready-made applications that can greatly improve the features and functionalities of your Salesforce CRM. By utilizing these apps, you can customize your CRM to meet your unique requirements, save money and time, and access the knowledge and expertise of third-party vendors. This helps you drive efficiency and innovation in your business processes.
Ways to Use Salesforce AppExchange to Boost the Efficiency of Your CRM
Making use of Salesforce AppExchange can greatly improve your CRM (Customer Relationship Management) efficiency by giving you access to a range of pre-built applications that work well with your Salesforce environment.
Here's a step-by-step guide on how you can boost the efficiency of your CRM with the help of Salesforce AppExchange:
1. Understand Your Requirements
Start by identifying particular challenges, pain points, or improvement areas in your current CRM processes. Find out what features or functionalities can best meet your needs.
2. Explore AppExchange
Visit the Salesforce AppExchange marketplace and look for applications that address the needs you have identified. To narrow down your options, use filters, categories, and reviews.
3. Analyze Apps
Analyze each app carefully to see if it meets your needs. Examine the features, user feedback, star ratings, and suitability for your Salesforce edition.
4. Shortlist the Promising Apps
Make a list of the apps that seem to best meet your demands and are the most promising. Pay attention to their price structures and whether a trial period is available.
5. Request Demos
Contact the app vendors to ask for demos or trial access. This will enable you to evaluate the app's usability and functioning first-hand.
6. Test Integration
Examine the app's compatibility with your current Salesforce environment throughout the trial period. Make sure the app and your CRM can exchange data easily.
7. Collect Feedback
Participate in app testing with users and important stakeholders. Obtain feedback on its features, usefulness, and effect on users' workflows.
8. Analyze ROI
Determine the possible return on investment (ROI) of the app. Take into account elements like time saved, higher productivity, and better customer experiences.
9. Requirements for Customization
See whether the app needs to be customized to fit your particular business procedures. Analyze the ease of customisation and any related costs.
Unlock the Potential of Salesforce with a Dedicated Developer.
10. Select the Right App
Based on your feedback, evaluations, and ROI analysis, choose the app that best meets your needs and is in line with your business objectives.
11. Implementation
Work with a Salesforce AppExchange partner to implement your chosen solution. To ensure a seamless integration, adhere to their implementation guidelines and suggestions.
12. User Training
Train your users how to use the new app inside their existing workflows. List its advantages and offer any supporting materials or documents that may be required.
13. Monitor and Improve
Monitor the effectiveness of the app and how it impacts the efficiency of your CRM. Gather customer input and deal with any problems as soon as they arise.
14. Stay Updated
Examine the updates and new releases of the app on a regular basis from the vendor. By doing this, you can be confident that you're using the newest features and advancements.
15. Consider Integrations
To increase the value and effect of the newly adopted app, consider integrating it with other tools and processes you employ.
16. Share Your Successes
If your chosen app leads to significant improvements in the efficiency of your CRM, share the success stories with your team and management to depict its value.
17. Scale and Improve
As your business needs evolve, explore additional apps on AppExchange and keep increasing the efficiency of your CRM.
You can optimize your entire CRM operations by carefully choosing and integrating pertinent AppExchange apps to speed processes, increase data accuracy, improve customer experiences, and more. Keep in mind that a well-thought-out app strategy can help your organization be more productive and make better decisions.
Unlock the full potential of Salesforce AppExchange with our development services.