ChatGPT is a new-age artificial intelligence (AI) chatbot that interacts with people in a human manner. It is a futuristic Generative Pre-trained Transformer (GPT) that has taken the AI world by storm with its ability to produce human-like text responses to multiple prompts. Generative AI helps automate tasks that were previously done by humans and boosts process efficiency and resource productivity, decreases costs, and makes way for new opportunities for growth.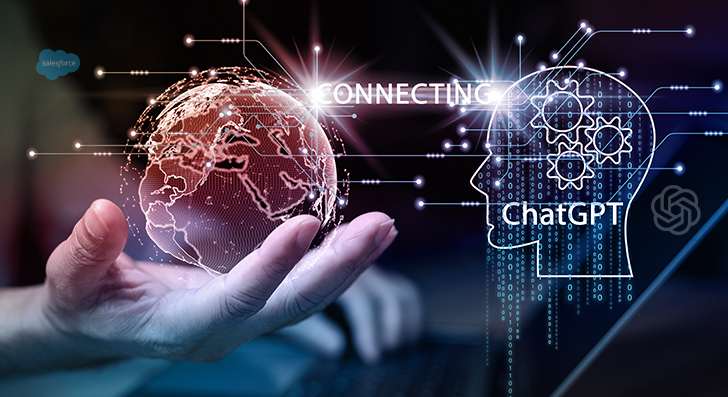 ChatGPT carries out multiple tasks like text compilation, query answering, text summarization, drafting business proposals, language translation, and a lot more. The AI chatbot is trained using a huge collection of text datasets, which help identify connections and patterns between languages to produce contextually relevant and consistent responses. ChatGPT can also be used for offering customized responses to customer inquiries by understanding user context. Moreover, it can be modified for particular tasks, enabling organizations to personalize the model to their particular use and improve its performance.
Salesforce is the most popular Customer Relationship Management (CRM) software out there. It can be easily integrated into any business model for improving accuracy and increasing sales. When AI like ChatGPT is integrated with Salesforce, the power of both the platforms combine to make way for better streamlining and automation of processes and ultimately better customer experience.
Important Use Cases for ChatGPT in Salesforce

1. Lead Qualification
ChatGPT integration can utilize data from the Salesforce CRM for qualifying leads based on the initial response of the prospects and offering customized recommendations depending on their needs and interests.
2. Sales Assistance
ChatGPT integration with Salesforce can help sales teams in their interactions with customers, offering relevant recommendations and information to close deals.
3. Customer Support
You are able to offer quick support to your customers, resolve issues, and answer their questions in real-time with ChatGPT integration. With the mixture of speech and text analytics, it can also make usual recommendations even stronger and more relevant to the prospects. This can help in decreasing wait time for support and improving the customer experience.
4. Help Desk
Routine help desk tasks such as updating account information, resolving common system issues, and resetting passwords can be easily automated with ChatGPT integration with Salesforce.
How Can Salesforce Benefit From ChatGPT Integration?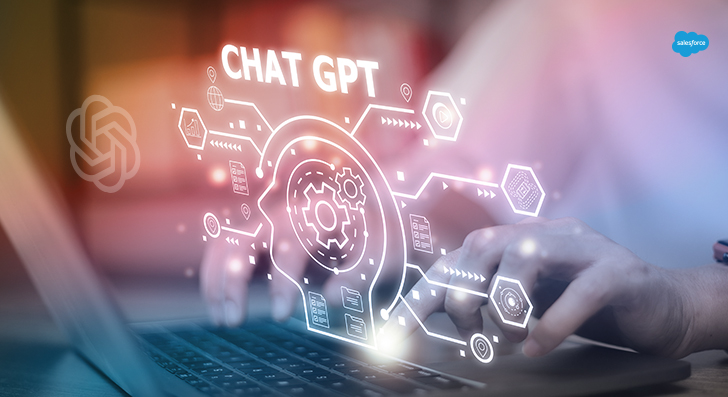 To improve customer satisfaction and boost business ROI, it is vital to have the right tools for streamlining sales processes by managing customer interactions. Salesforce, one of the most powerful CRM platforms, when combined with the accuracy and speed of ChatGPT can drive tangible business results and improve the marketing and sales efforts of a business.
Developed by OpenAI, ChatGPT is an advanced language model that can offer accurate and swift answers to varied questions. This makes it an optimal solution for businesses that have to quickly respond to customer requests and queries. ChatGPT integration with Salesforce can help businesses harness the power of both of these platforms to streamline and automate processes and deliver top-notch customer services.
Here are some important ways in which Salesforce can benefit from ChatGPT integration:

1. Better Productivity
ChatGPT can help you draft customized and relevant sales enablement content like social media posts, presentations, product descriptions, email templates, etc. All this helps the sales team become more efficient in their outreach strategy and efforts. When you integrate ChatGPT with Salesforce, you can score and rate leads in real time depending on their behaviors and activities. This lets you know which of your leads can become your buying customers. As a result, you get to increase engagement and conversion rates. ChatGPT integration can also help manage redundant and tedious administrative tasks of the sales operations team, allowing you to concentrate on more important tasks.
2. Advanced Marketing Strategies
ChatGPT helps evaluate customer data and sort them out depending on their requirements, behaviors, and preferences. This helps the marketing team in running more targeted marketing campaigns. By using advanced machine-learning algorithms, ChatGPT helps overcome the language barrier that can boost the customer experience, and promote global outreach. Also, it can help businesses in increasing their online presence with the help of round-the-clock availability on social media platforms and websites to deliver fast solutions to customer queries. Moreover, the AI platform can also analyze industry trends to offer crucial insights that help you devise a vigorous marketing plan.
3. Improved Customer Service
ChatGPT allows you to quickly respond to customer queries by helping you create a conversational AI chatbot. Conversational Artificial Intelligence (AI) refers to a set of technologies including voice/virtual assistants and chatbots with which customers can interact. This advanced AI chatbot allows you to send customized emails with relevant messages to your customers and build trust with them. Also, it can continuously monitor and analyze the feedback of your customers to improve the system and offer better customer services. Thus, by integrating ChatGPT with different digital platforms like social media, web chat, messaging apps, and online portals, you can enhance your online presence and offer accessible and timely support to your customers.
4. Real-Time Training and Support
To leverage the capabilities of ChatGPT to the fullest, you need human skills. Integration of ChatGPT with Salesforce allows you to offer support as well as real-time training to new Salesforce admins, allowing them to boost their skills and reach their full potential. Based on factors such as market trends and customer interactions, the AI chatbot can also draw forecasts in real-time using historical data. This in turn helps you improve your business strategy and decision-making. The advanced algorithms of ChatGPT help provide efficient and personalized customer services, improve efforts of sales and marketing, automate repetitive tasks, and boost overall productivity.
Conclusion
ChatGPT integration with Salesforce can bring about tremendous benefits for an organization. This AI technology has a great unexploited potential in Salesforce that can transform the way you interact with your prospects and customers. If you wish to gain a competitive advantage for your business, you need to effectively leverage ChatGPT within your ecosystem.
To use the Salesforce CRM to its full potential and improve your business ROI, you need the right technology partner. We are a Salesforce Gold Consulting Partner with more than two decades of expertise in Salesforce implementation. With our Managed Services, we can help integrate ChatGPT into your products to improve their performance and take your CRM to the next level.
AI Case in Focus
Insurance Claim Evaluation of Real Estate Damage via AI-Based Image Analysis and Estimate Matrix
The client is a leading independent insurance adjusting firm in the USA, known for outstanding claim services. They had a Property Claims Estimation System that generated Claim Loss Reports owing to incorrect data provided by surveyors and human errors. Damco helped the client break the problem statement into smaller components and provided an AI roadmap to tackle their situation. Read More