Artificial Intelligence, once regarded as a futuristic technology, has quickly become a key enabler for businesses to seize untapped opportunities, drive sustainable growth and gain a competitive advantage. Today, AI is disrupting industries, transcending boundaries, and propelling businesses to new heights of success, innovation, and efficiency. Not to mention, AI is helping CIOs, CTOs, and IT directors in navigating the fast-evolving landscape of digital transformation.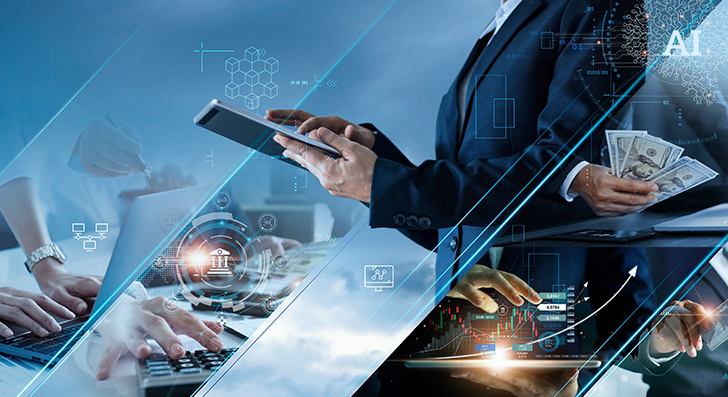 Since the beginning of the AI revolution, the demand for custom AI product development has surged dramatically. These modern solutions allow businesses to drive workforce productivity, automate repetitive tasks, enhance customer experience, analyze large volumes of data, and make better business decisions. This may be one of the reasons why the global adoption rate of AI has more than doubled and now stands at 35%, a sharp uptick of a four-point increase from the previous year. What's more interesting to note is that by 2025, 95% of customers' interactions with brands will be powered by AI. Furthermore, AI is poised to witness an annual growth rate of 37.3% during the period 2023-2030, while the annual revenue from AI services is estimated to reach 126 billion USD by 2025.
Artificial Intelligence development is here to stay and the future of this disruptive technology seems quite promising. Now, let's dive deep into how businesses across verticals are leveraging the potential of AI to drive innovation and digital transformation, unlock new possibilities for growth and success, and harness tangible benefits.
1. AI in Logistics and Supply Chain
Artificial Intelligence (AI) is bringing a paradigm shift in the logistic and supply chain industry by delivering the robust optimization capabilities required for demand forecasting, predictive maintenance, intelligent decision-making, increasing productivity, improving operational efficiencies, lowering supply chain costs, and supply chain automation.
AI capabilities empower supply chain businesses to perform manual and repetitive tasks automatically using automation technologies such as RPA, digital workers, warehouse robots, autonomous vehicles, etc. Using AI in the supply chain, businesses can achieve logistics automation, inventory management automation, warehouse automation, quality checks automation, and back-office automation. According to Gartner, businesses operating in the supply chain industry are likely to witness a 2X increase in machine automation in their processes over the next five years. Besides automation, AI enables supply chain businesses to leverage data in real-time for predictive analytics/demand forecasting, which in turn, averts potential risks, improves forecast accuracy, and prevents the bullwhip effect. In fact, a report by McKinsey reveals that the early adopters of AI in the supply chain have managed to improve inventory levels by 35%, logistics costs by 15%, and service levels by 65%.
2. AI in Entertainment
The entertainment industry is one of the early adopters of AI that witnessed significant advancements in various aspects such as content creation, distribution, and consumption. Today, a large number of organizations are leveraging the potential of Artificial Intelligence for content personalization, improving user experience, and building a strong brand presence.
Popular music and video streaming platforms such as Spotify, Netflix, and Amazon Prime Video have been successful in leveraging the potential of AI for content personalization. These on-demand streaming platforms use AI algorithms to analyze user data, such as user preferences, user behavior, search history, etc., and recommend highly personalized content tailored to their customer preferences resulting in improved user experience and increased engagement. Besides content personalization, AI in entertainment can also be used for subtitle generation. Using AI, entertainment companies can quickly generate accurate and eye-catchy subtitles in multiple languages, which in turn, makes their content fit for consumption for audiences belonging to all demographics. For instance, YouTube allows content creators to automatically generate captions for all videos uploaded on its platform, providing easy access to their content to a wider audience.
Supercharge Your Customer Experience With Conversational AI
3. AI in Banking and Finance
The banking and finance industry relies heavily on data, and AI can help banks and financial institutions process huge volumes of data, identify patterns and insights hidden in large datasets, and make informed decisions. In other words, AI can transform the way banking and finance institutions interact with customers, manage monetary regulations and day-to-day transactions, and scale their investments and revenue. Besides this, AI implementation in banking and finance can help businesses in fraud detection, managing risk, analyzing market sentiments, improving back-office operations, automating repetitive tasks, and collecting data for analysis.
According to a report, nearly 80% of banking institutions are familiar with the potential benefits that Artificial Intelligence brings to their vertical, and by 2023, banks are likely to save a whopping 447 billion USD using AI-powered applications. What's more interesting is that the global market size of AI in banking is estimated to grow at a CAGR of 32.6% from 2021 to 2030.
Harness the Transformative Power of AI to Revolutionize Your UX
4. AI in Education
AI-assisted learning methodologies are transforming the education industry at scale. Using Artificial Intelligence, educational institutions can personalize the learning experience for students based on the data collected from their test results, exercise completion time, interaction with educational materials, and overall performance. Besides personalized learning, AI can be used to unburden teachers by automating administrative tasks that are manual, tedious, repetitive, and time-consuming in nature, such as checking assignments, test assessment, grading, and more.
5. AI in Real Estate
Artificial intelligence is transforming the real estate industry by unlocking a sea of opportunities for brokers, agents, and clients. Using Artificial Intelligence, real estate professionals can analyze and predict property valuations, rental yield, market conditions, and other critical aspects influencing the real estate market. Furthermore, real estate documents such as title deeds, mortgages, and lease agreements can be easily managed and processed automatically with the help of Artificial Intelligence. Virtual tours are another latest development in the real estate industry. AI technology can be leveraged to provide a 3D view of the property to clients without letting them step foot on the actual site. In other words, virtual property tours developed using Artificial Intelligence can give potential buyers a true sense of the property, in terms of how it looks and feels.
6. AI in Manufacturing
AI has emerged as a game-changer in the manufacturing industry by revolutionizing operations across product assembly, inventory management, quality assurance, equipment predictive maintenance, and defect Inspection. Using AI, manufacturers can not only optimize processes, make intelligent decisions, and address operational challenges but also attain unmatched levels of productivity, efficiency, and accuracy. The impact of Artificial Intelligence in the manufacturing industry is further fueled by the Industry 4.0 revolution focussed on automation, digital transformation, real-time data, and interconnectivity.
Summing Up
Artificial Intelligence is transforming businesses across industry verticals. From supply chain to entertainment, banking and finance, and education, AI has not only become an integral part of diverse sectors but also driving innovation and redefining business landscapes. If you are also planning to embrace AI to unlock new growth possibilities, it's wise to partner with a professional AI development company to build a business case around it. By doing so, you will understand how to unlock the potential of this disruptive technology to your business advantage.
Case in Focus
A leading software development company looking for an expert to improve customer engagement on their website. Damco partnered with the client and developed an advanced chatbot that utilizes AI to have natural language conversations with website visitors and direct them to the product page they are looking for. This, in turn, improved customer engagement, and the company was able to generate additional revenue of 10.8 million USD.