Damco Solutions Inc, has announced that it has partnered with Nividous, an intelligent automation platform, to streamline core and non-core processes in organizations.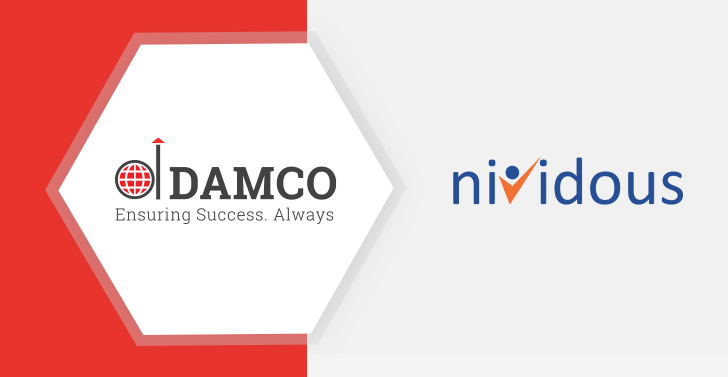 Through this alliance, the company aims to leverage Nividous' hyperautomation capabilities to deliver optimal business value across industry verticals. The offering automates processes, increases efficiency, improves auditing and compliance, reduces efforts and costs, and elevates employees' and customers' experiences.
"Damco is dedicated to helping various business sectors around the world in modernizing and accelerating their digital transformation initiatives. With Nividous' entry, we have found the right hyperautomation platform partner to execute BPM and other intelligent automation solutions for the clients," said Mohit Gupta, Founder & Chief Executive Officer, Damco Solutions Inc. He added, "Together, we would be working on building synergies with our product lines, especially in the Insurance and Finance sector, to help improve process throughput, enhance auditing and compliance, among others."
Commenting on the partnership, Kaushal Mashruwala, Co-founder of Nividous, said, With this partnership, Nividous aims to empower end customers with its Intelligent Automation Platform. Our goal is to leverage the Nividous platform's out-of-the-box hyperautomation capabilities alongside Damco's personalized technology services and solutions delivery expertise to deliver better client experiences and continue to transform their processes at speed.
To know more about the partnership and how Damco can help businesses, please visit this link. Damco's extended partner network includes some of the most exemplary partnerships with established leaders and innovators like Microsoft (MS Silver Partner), Salesforce (Salesforce Gold Partner), monday.com, UIPath, AWS, Google Cloud, and more. With seamless integration capabilities, specialized skills, top-tier technologies, and mature thinking, Damco has been building solutions that today's digital world needs.
About Nividous
Nividous, a global intelligent automation company, helps businesses to unleash the true potential of their workforce by humanizing work with its Hyperautomation platform.
The Nividous leadership team realized quite early that automation must be approached holistically and not siloed. This is why from day one, Nividous has focused on building a comprehensive business automation platform that harnesses the power of RPA, AI, and BPM. These three key pillars natively available on the platform are its vital differentiator.
The company also offers vertical solutions that are RPA and AI-enabled and built on configurable process automation capabilities to empower businesses to operate with flexibility and agility.