Customers have graduated from the need for 'experience'. Now the new basic is 'connected experience' that demands establishing organic and meaningful connections at every touchpoint of the customer journey. To establish a wholesome relationship with customers, organizations need to align their data, from different departments, processes, and applications.
Salesforce, the numero-uno in the customer success technology, enables organizations to offer relevant experience by unifying sales, service, and marketing functions. Salesforce collates scattered data and surfaces insights not known before. But the challenge organizations face is how to make sense of data from other apps in the light of the one delivered by Salesforce.
MuleSoft, the prime vendor of integration software for connecting applications, data, and devices reported that disconnected data silos are creating business challenges for more than 83% of IT decision-makers. Integrating these information silos will create an always-updated IT framework that exchanges information in real-time.
MuleSoft connects Salesforce with other core systems, applications, or databases, essentially breaking data-silos. With MuleSoft Salesforce Integration, teams get access to a single source of truth – data and insights centralized over Salesforce CRM and other cloud products or enterprise systems, such as ERP or SaaS applications.
MuleSoft Salesforce Integration is a relatively simpler API-led integration that fuels analytics, higher efficiencies, and provide insights for decision making.
Here, we would touch upon the major benefits of MuleSoft Salesforce Integration that can be realized by organizations – across industries, across business sizes.
Establishing One Point Data Source
When organizations are racing to digitize business models – making data accessible and central becomes a critical capability. One of the biggest challenges that customer-centric organizations face is ever-increasing integration needs that span beyond IT and cover business functions like sales, marketing, HR, and management.
MuleSoft Salesforce Integration brings data together, on-prem or in the cloud, utilizing pre-built connectors and point-and-click integration options.
How efficient is MuleSoft in unlocking and integrating data can be judged from the fact that Salesforce acquired MuleSoft in 2017 – to enable users to build a single customer view, without having to venture outside the Salesforce technology ecosystem.
Optimizing IT Operational Expenditure
IT teams in data-led organizations have an ongoing task – implementation, maintenance, and governance of an increasing number of applications and systems. Going by a recent study of global IT leaders, close to three-fourth of the time of an IT team goes in troubleshooting the existing apps – making innovation a rather distant goal and widening the gap between budget allocation and IT project demands.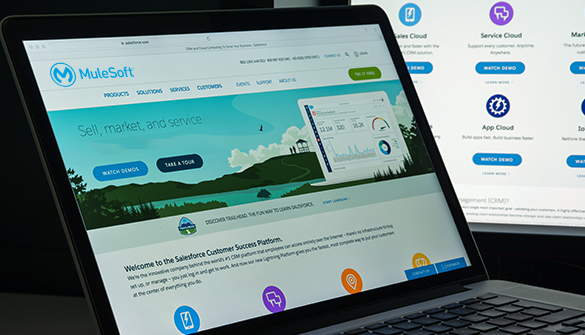 MuleSoft Salesforce integration prioritizes API development and minimizes app downtime – saving significantly in integration development and maintenance, as fewer technologies are needed for API building, reuse, and integrations.
MuleSoft's Anypoint Platform has allowed Salesforce-using organizations to retire legacy integration tools that were maintenance-intensive and realign the IT team's goal from 'keep the lights on' to 'develop brighter lights'.
Fast Tracking Legacy Modernization
Replacing obsolete software and on-prem systems with newer technologies like cloud or mobile is imperative. But it requires time and financial investment. Through Salesforce MuleSoft Integration, organizations can connect Salesforce to legacy systems like abstract mainframes or AS/400 much faster. Instead of waiting to shift the complete load to the cloud, organizations can move legacy data to web and mobile applications that work seamlessly with Salesforce.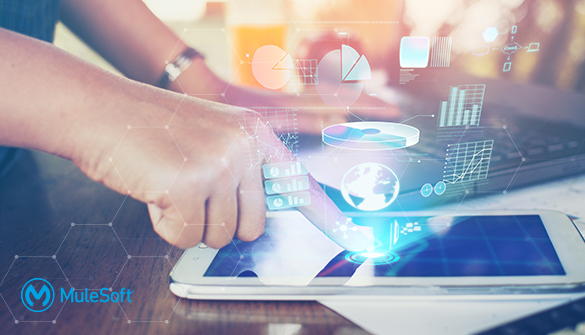 This is a handy approach for organizations that want to adopt Salesforce but are wary of ROI as their IT framework is majorly legacy.
Taking the API-led route to modernizing a business-critical legacy system fastens transformation at optimized TCO, especially for customer-centric organizations that can't afford downtime.
The Bottomline
Salesforce MuleSoft Integration establishes an IT architecture beyond silos, enabling the achievement of business goals in a shorter payback period. Many businesses have found greater confidence in the Salesforce solution because they could bring their other systems in unison, thanks to MuleSoft.
A point that needs attention is – both MuleSoft and Salesforce are SaaS products. The TCO depends on how efficiently their integration is implemented and how wholesome is the data that follows. To drive this transformation, a good approach is to hire a partner who has expertise in – MuleSoft, Salesforce, and Data Migration. This will ensure a holistic integration which is not only lightweight but also scalable to enable data exchange in the future.
One Data, Any Number of Platforms