From staying connected to managing day-to-day tasks, mobile applications have brought a paradigm shift in the way users interact with the fast-evolving digital world. However, with over 8 million applications available across iOS and Android platforms, it's not enough for a mobile application to simply exist with mere functionalities, instead it must captivate and engage users whilst offering immersive experiences that users demand. Today, mobile applications have transcended mere utilities and this dynamic shift has unlocked a new imperative: crafting intuitive mobile application experiences that strongly resonate with users. This is where the art of user-centric design comes into play, transforming the way mobile applications are developed.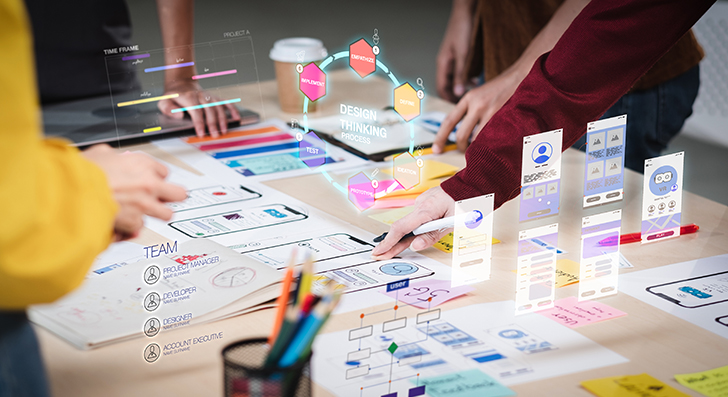 User-centric Design: Tapping Into its Limitless Potential
As the name suggests, user-centric design places the user at the heart of the development process. This dynamic paradigm transcends traditional application development principles, encapsulating an intricate understanding of user behaviors, needs, and expectations. Its essence lies in crafting immersive experiences that resonate through enhanced user engagement, increased loyalty, and brand affinity. This approach has proven to be more than just a mere aesthetics; it's a strategic advantage to anticipate and fulfill user needs seamlessly whilst navigating complex digital landscapes effortlessly. In other words, user-centric design is the fulcrum upon which the success of application development hinges. Many recent studies reveal that companies that invest in mobile ui ux design witnessed higher conversion rates and sales, improved brand credibility, increased customer satisfaction, competitive advantage, better customer retention, higher ROI, and more.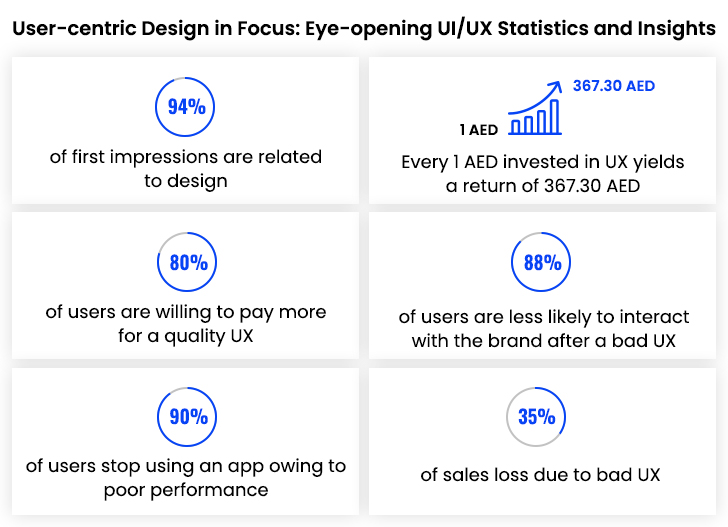 Unveiling the Process: Steps Involved in User-centric Design
1. User Research: Understanding the Target Audience
Before the mobile application design and development process begins, a deep understanding of the target audience is pivotal. This involves conducting research pertaining to their demographics, pain points, preferences, and behaviors. By delving into user personas, businesses can gain insights to lay a solid roadmap for successful user-centric mobile application development.
2. Ideation and Conceptualization
Once the target audience is defined, the next step is brainstorming ideas to address end-user needs and pain points. This stage involves creative thinking and exploration of user-centric solutions. Popular techniques such as organizing creative design workshops can foster smooth collaboration, which in turn, leads to innovative application ideas.
3. Wireframing and Prototyping
In this stage, the visual representation of an application's layout, features, and functionalities is created using wireframes and prototypes. These interactive mockups facilitate enterprises to test the application's user flow and navigation, before getting into the detailed app design and development phase.
4. Iterative Design and Testing
User-centric mobile app designing is an iterative process since it involves continuously refining the application based on user feedback. Usability testing, both in real-world scenarios and controlled environments not only uncovers potential issues but also facilitates adjustments that improve mobile app user experience and engagement.
5. Responsiveness and Adaptability
These days, mobile applications are accessed on an array of devices with varying sizes and orientations. A user-centric application is responsive and adaptive to these varying contexts to provide a consistent and seamless experience across all devices. Incorporating interactive gestures and intuitive touch interactions further improves user engagement and experience.
6. Visual Design and Branding
The visual aspect of an application plays a critical role in user engagement. This is the stage where an application starts taking shape. Visually appealing elements, intuitive interfaces, and consistent branding contribute to user-centric mobile app ui design. It's considered wise to choose a typography, color scheme, and icons that not only align with the brand but also appeal to the target audience. In many studies, it was found that users take merely 50 milliseconds (0.05 seconds) to form an opinion about an application's credibility, highlighting the significance of a visual design and consistent branding.
How to Slash Your Enterprise Mobile App Development Cost in Half
7. Performance Optimization
No matter how appealing and immersive an application design is, poor performance can ruin the overall mobile user experience. A study conducted by Google indicates that when a page load time increases from 1 second to 3 seconds, the probability of bounce increases by 32%. This indicates that optimizing the performance of an application is critical for improving user engagement.
Summing Up
In a competitive world saturated with mobile applications, the key to success lies in crafting intuitive mobile app experiences that resonate deeply with users, seamlessly adapting to their needs, behaviors, and preferences. The art of user-centric design is a secret weapon that steers organizations toward a digital future. Let the principles of user-centric design guide you as you navigate the landscape of application development. If you are also planning to embrace user-centric design in mobile application development, you may seek help from an expert who has an innate potential to transcend mere apps and forge unbreakable bonds with users.
Case in Focus
The client is a leading player in the technology industry. Recognizing the need to stand out in a saturated app market, the client partnered with Damco Solutions with the goal of enhancing user experiences and embarked on a journey to develop a user-centric mobile application. The results of the user-centric approach were remarkable – the client witnessed an increase of 68% in user engagement and a substantial increase of 45% in user retention.