In the current corporate climate, appliance manufacturing and servicing companies face increasing challenges in ensuring efficiency, productivity, and customer satisfaction. The rising complexity of appliances and the requirement for timely maintenance and repairs calls for organizations to consider advanced technologies to streamline their operations. Staying competitive and meeting customer expectations has become increasingly challenging. The future of appliance manufacturing firms is now intrinsically linked with new-age technologies that can elevate their existing service levels in the eyes of their customers. A right technology can promise to revolutionize how manufacturers operate, deliver products, and provide service and support to their customers. One such technology that has revolutionized the industry is Field Service Management Software (FSM).
In this blog post, we'll explore how FSM solutions are transforming appliance manufacturing and servicing businesses and why investing in a quality field service business management software is important for staying competitive in this evolving industry.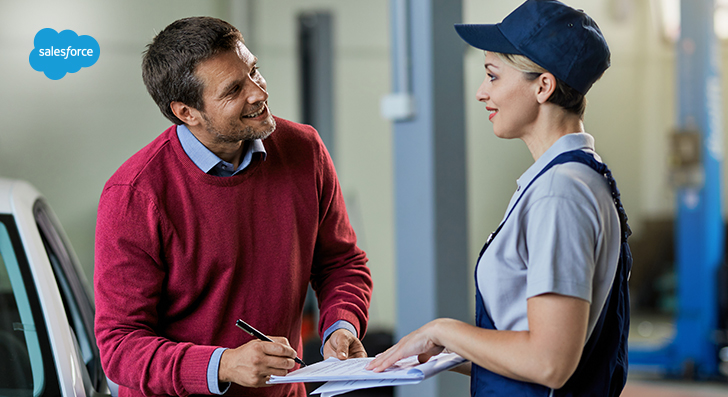 The Development of Appliance Manufacturing and Servicing
From manual, labor-intensive processes to highly automated, technologically driven processes, appliance manufacturing and servicing have gone a long way. Businesses used to rely significantly on paper-based documentation, manual scheduling, and spreadsheets, which frequently resulted in inefficiencies, errors and delays. But, with the evolution in the industry, the need for effective management of field service operations and empowering field operation teams has also increased.
Consumers of today want faultless operation from their appliances, whether it's a refrigerator, washing machine, or HVAC system. Manufacturers and service providers of appliances must make sure that not only are their products of a high caliber, but that they are also promptly and properly maintained. This is where the role of a field service management solution becomes pivotal.
Role Played by Field Service Management Software
Field Service Management Software (FSM) is a comprehensive solution that assists businesses in managing their field service operations efficiently. It offers multiple functionalities, such as dispatching, inventory management, customer communication, and analytics.
Let's consider the important ways in which FSM software optimizes appliance manufacturing and servicing:
1. Efficient Scheduling and Dispatching
Scheduling and dispatching account for one the most important functions of FSM software. It uses real-time data and intelligent software to make sure that the right technician with the right tools and skills is assigned to the service calls. This optimization reduces travel time and increases productivity on-site, resulting in quicker resolutions and more customer satisfaction.
2. Optimized Inventory Management
A well-maintained stock of equipment and spare parts is necessary for appliance service. FSM software enables companies to monitor their inventory levels, order replacement items as necessary, and cut carrying costs. Additionally, it gives professionals on-site access to real-time inventory data, ensuring they have the right supplies on hand to finish the work the first time.
3. Seamless Communication With Customers
Building trust and ensuring satisfaction with customers requires effective communication. Field service business management software provides tools for automated appointment reminders, service status updates, and customer feedback collection. These features boost customer experience and save time for both technicians and office staff.
4. Efficient Work Order Management
FSM solutions make way for the creation and management of digital work orders. This removes the need for paper-based forms, reduces the risk of errors, and enables technicians to access all necessary information digitally, including service history, customer preferences, and equipment manuals.
Simplify and Optimize Field Service Operations with Optima Pro
5. Accurate Analytics and Reporting
Advanced FSM software provides analytics and reporting features. These resources offer insightful data on a range of field service activities, including technician performance, service call trends, and client satisfaction. Businesses can make wise judgments to better optimize their processes by analyzing this data.
6. Mobile Accessibility
Modern FSM software is built to be accessible on mobile devices. Technicians can access their schedules, update work orders, capture signatures, and even process payments while in the field. This mobile functionality improves productivity and reduces paperwork.
6. Integration Functionality For Optimum Usage Of Field Service Data
FSM software integrates seamlessly with other business systems, such as CRM software, accounting software, and IoT devices. This integration ensures a holistic view of operations and enhances the overall efficiency of the organization.
Top Reasons to Invest in a Field Service Management Solution
Investing in a reliable Field Service Management Solution is a strategic move for appliance manufacturing and servicing companies. Here are some key reasons why businesses in this industry should consider FSM software:
1. More Efficiency in Servicing Customers
FSM software automates and optimizes multiple tasks, decreasing manual effort and the possibility of errors. This results in increased operational efficiency and productivity, enabling businesses to serve more customers in less time.
2. Improved Customer Experience
Factors like fast response times, accurate scheduling, and effective communication contribute to a positive customer experience and nurture customer loyalty. Satisfied customers are more likely to become loyal, repeat customers and may even recommend the business to others.
3. Cost Savings
Effective resource allocation, reduced travel time, and better inventory management lead to cost savings for the business. FSM software enables businesses to operate more efficiently and increase profitability.
4. More Competitive Edge
Businesses who can provide exceptional service and reduce downtime have a big advantage in today's competitive market. FSM software equips companies with the tools they need to outperform their competitors.
5. Better Data-Driven Decision-making
The analytics and reporting capabilities of FSM software offers crucial insights that can inform strategic decisions. Businesses can better manage resources, identify trends, and improve operations.
6. Scalable Service Operations
FSM software can expand with enterprises as they grow. FSM solutions can adjust to your changing needs regardless of how many technicians you have on staff.
Conclusion
Field Service Management Software has become a vital instrument for success in the constantly evolving world of appliance manufacturing and servicing. The functionalities provided by FSM solutions, including scheduling and dispatching, inventory management, customer communication, work order management, analytics, and mobile accessibility, are vital for optimizing operations and staying competitive.
For businesses in the field service sector, investing in a robust Field Service Management Solution is not just an option; it's a strategic necessity. It enables them to boost efficiency, improve the customer experience, realize cost savings, get a competitive advantage, make data-driven decisions, and scale their operations as necessary.
Appliance manufacturing and servicing businesses must adopt FSM software to handle the challenges of today and tomorrow as technology advances and customer expectations rise. Adopting the samewill help improve customer experience and thrive in this dynamic sector.