Today, businesses are doing almost every possible thing to stay afloat. While some have modernized legacy IT assets to improve business agility, others are embracing the latest technology trends in the early stage for future-proof software product development. Though both approaches play an instrumental role in driving digital transformation, the latter one is more likely to help businesses emerge as a leader in their space. The reason being is the early adoption of any new technology can help enterprises introduce innovative offerings that can disrupt and dominate the market afterward.
Building an innovative software product that not only streamlines operations but also meets evolving requirements might seem alluring to businesses. However, the crucial thing to note here is that merely 4/7 of new product ideas make the way to the final stage of development. Most of the time, innovative software product development ideas do not culminate into reality owing to the mistakes made while selecting a software product engineering company. To avoid this faux pas and discover how to find a reliable product engineering partner right the first time, read on to this informative piece to make an informed decision.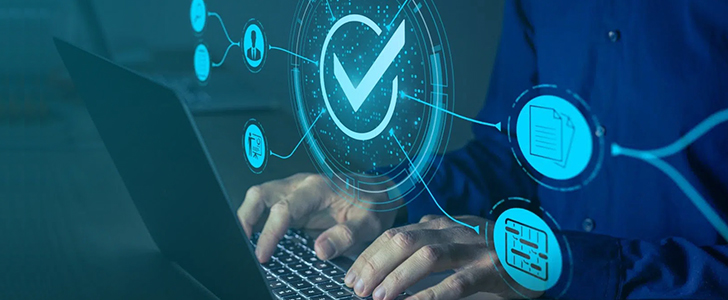 Undoubtedly, choosing the right software product development company seems like an uphill task, since there is a sheer number of options available, which can be overwhelming for anyone. In fact, 22,000+ companies offering bespoke software development services are listed on Clutch alone. Besides Clutch, there are tens of thousands of software product engineering companies available on GoodFirms, LinkedIn, Google Search, The Manifest, DesignRush, and other platforms. In such a scenario, a checklist or a step-by-step guide can help in narrowing down the wide options and shortlisting the best company tailored to the project requirements. Now, let's dig deeper into the steps that need to be followed religiously when looking for a software product engineering company.
Step 1: Define Project Requirements and Objectives
First things first, before reaching out to potential product engineering firms, invest some time in defining project requirements and objectives by creating mockups, workflows, and functionality documents. In other words, there must be clarity on what sort of software product is required (e.g. web/mobile/desktop app), who is the target audience, what technical skills will be required, what the end-users can expect from the product, and how it will address the problems. Having a well-defined plan laid out before moving into the development stage can be helpful in describing a clear idea to the product development team. This will further help in determining the timeline and budget estimates.
Step 2: Begin the Research and Start Looking Out for Companies
There are plenty of options available when it comes to finding a software product engineering company right the first time. For instance, one can begin the research and ask for recommendations or seek referrals in their network first. If there is someone in the network who had a positive experience working with a product engineering partner in the last few months or a couple of years back that would make the research much easier and save a significant amount of time and effort. If that doesn't work, continue the search further and look for companies on Google SERPs. Both organic and paid search results are ideal for finding the right partner for software product development. Besides this, look out for authoritative B2B platforms where software product engineering companies are listed. The best thing about B2B marketplaces is that they allow users to filter search results based on location, client budget, industry focus, minimum project size, and more. When looking for software product development companies, try to collect as much information as possible, including:
Company size and structure
Service offerings
Experience in similar projects
Workflows and business practices
The breadth of technical expertise
Average hourly rate
Step 3: Take a Sneak Peek at Case Studies and Project Portfolios
The next critical thing that needs to be taken into consideration when looking for software product engineering companies is case studies and project portfolios. By taking a sneak peek at the case studies and portfolios, one can easily narrow down the wide options and shortlist some companies based on the information gathered such as the number of projects delivered successfully, the level of experience companies have, and the industries and clients they have worked for. Many outsourcing companies may not reveal crucial information about their clients or projects due to strict non-disclosure agreements. However, the case studies and project portfolios can provide an idea of the company's development potential.
Deliver Market-Winning Products Faster With RAPADIT
Step 4: Check the Development Methodology
This is another important step that helps in selecting the best software product development company. Before partnering with any company, examine the company's technical expertise, architecture, and development process. This will help in ensuring that the shortlisted companies possess the right set of skills and can deliver the projects on time. When shortlisting software product development companies, always consider those that follow an agile methodology over scrum or a waterfall approach and have a well-documented development process in place.
Step 5: Ask About Pricing and Engagement Models
Last but not least is the pricing and engagement model since these are crucial for both large and small companies. When it comes to software product development, it is strongly recommended to seek pricing and engagement models from different companies and not fall for cheap services. Always remember that quality comes with a price, and there is a reason why top software product engineering companies charge a decent amount for development. In other words, look out for companies that offer affordable digital product engineering services, not cheap.
Summing Up
The global market for product engineering has been growing incessantly over the past few years, and it is estimated to reach 2041.4 billion USD by 2028. With the rising growth, it becomes challenging to choose the right company, particularly, when there are plenty of options available. Fortunately, this step-by-step guide can help decision-makers choose the best company that comes within their budget and caters to unique software development needs.